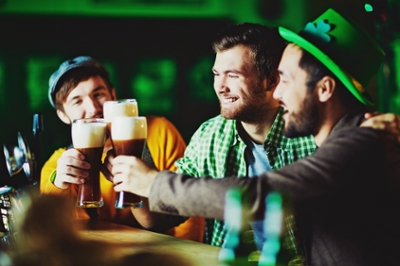 St. Patrick's Day is no time for celebration for those of us who work in the trauma unit. Each year we end up treating far too many people who decided to drink and drive. According to the National Highway Traffic Safety Administration (NHTSA), there were 10,265 road deaths caused by alcohol impairment across the country between February 2015 and February 2017. More than 100 of those occurred in along the Wasatch Front.
Due to the prevalence of alcohol involved motor vehicle crashes our colleagues from the social work department complete an alcohol assessment on trauma patients. Screening for alcohol or substance abuse in trauma patients and connecting those that meet a particular set of criteria has been an effective way for our trauma center to reduce injury in our community. Alcohol is such a significant contributing factor to traumatic injury, identifying problem drinkers and guiding them to resources to help them, is a vital part of our community focused injury prevention efforts.
NHTSA offered a few tips to stay safe and to prevent drunk driving. Those tips include:
If you will be drinking, plan on not driving. Plan your safe ride home before you start the party. Designate a sober driver ahead of time.
If you become intoxicated, do not drive for any reason. Call a taxi, phone a sober friend or family member, use public transportation, etc. Also, try NHTSA's SaferRide mobile app, which allows users to call a taxi or friend and identify their location so they can be picked up.
If someone you know has been drinking, do not let that person get behind the wheel. Take their keys, take them home, or help them arrange a sober ride.
If you see an impaired driver on the road, contact your local law enforcement. Your actions could help save someone's life.
While you are out celebrating this St. Patrick's Day please don't get behind the wheel of your vehicle. Driving after a night of partying is deadly. Law enforcement officers all across Utah and the region are doing what they can to prevent any injury or death caused by those that attempt to drive after drinking.
At University of Utah Health, specifically within the trauma service, we want you to be safe while celebrating this St. Patrick's Day holiday. Keep the roads safe this holiday, and please don't drink and drive.