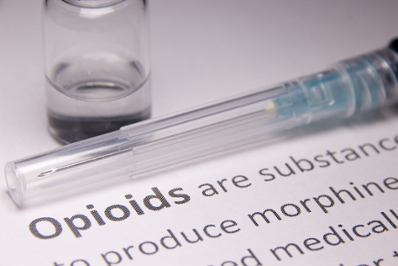 Generally, Utahns are a happy bunch of folks. It's not uncommon to find a Utah city ranked on national polls measuring happiness and healthy living among local communities. But Utah also holds the dubious honor of ranking seventh in cases of opioid drug overdose. That's why doctors like Melissa Cheng, MD, MOH, MSPH, assistant professor in the Department of Family and Preventive Medicine in the Division of Occupational and Environmental Health at the University of Utah School of Medicine, are determined to do something about it.
While the root of the high incidence of opioid overdose cases in Utah remains inconclusive, it is safe to assume that the cavalier culture surrounding prescription medication use (and misuse) is a big factor. "Patients count on prescription medications to be a regular part of their treatment, and for many years, doctors didn't hesitate to prescribe them," Cheng said. Today, local leaders recognize the need for change in how our communities battle drug abuse. And it starts with initiating measures geared toward educating the public about personal responsibility and adjusting expectations about their health care provider, followed by training health care providers to better identify and address signs of addiction.
A Change in the Public Attitude
Since opioids, for example, have such a strong presence in our communities, it isn't always clear to users that they could be misusing these medications, and just because a medication is readily available doesn't mean it is free from risks. "When a person takes a legal prescription medication for a purpose other than the reason it was prescribed, or when that person takes a drug not prescribed to him or her, this is misuse of a drug," said Michael Klein, PhD, Director of the Food and Drug Administration Controlled Substance Staff. Also, misuse occurs when that person exceeds the recommended dose, hoping for a bigger or faster response.
Modern medicine has created a care culture that promotes quick and pain-free care in pill form, and people have come to expect that very thing when they visit the doctor. Now, campaigns like "Use Only As Directed" are designed to prevent and reduce the misuse and abuse of prescription pain medications in Utah by providing information and strategies regarding safe use, safe storage, and safe disposal. "We are now educating the population that you don't need opioids to treat injuries or for pain management," Cheng said. "Medications will not always be part of their care." But there's another player in this game, and it's the health care provider.
A Change in the Provider Attitude
In an effort to maximize profits in the competitive health care field, many health care organizations have turned to social media as an effective marketing platform for promoting services and staff. Consumers can find patient satisfaction surveys about many health care systems with a single click of a button. While a helpful guide for referrals, patient satisfaction surveys create added pressure on providers. "There's this social expectation among patients that since they are in a lot of pain, they expect a prescription," Cheng said. "They have this thought process that says, 'I've taken the time to visit the doctor, I've paid my copay, and now I expect something for it.'" Many times, a health care provider will get a poor rating because he or she didn't provide medications. "This isn't a benign practice," she said, expressing concerns that physicians are being rated under the same format as a consumer rating coffee at a Starbucks, for example.
Also, better screening for misuse and abuse of drugs and alcohol requires more time spent talking with the patient. In an effort to maximize the number of patients treated, many providers lack the time to talk in-depth with their patients and learn more about their lifestyles and challenges. Yet, such background knowledge could prove essential in uncovering early signs of addiction. "In Utah, only six percent of substance use disorder treatment referrals are from health care providers, whereas 56 percent originate from the criminal justice system," Cheng said. "If we can turn those numbers around, we can make significant impacts on reducing crime and societal costs."
In the latest Utah Legislative session, HB175 passed, requiring health care providers to receive SBIRT training as part of their CME requirements. This initiative, called Screening, Brief Intervention and Referral to Treatment (SBIRT) is a comprehensive evidence-based public health approach to early intervention and treatment for people at risk of developing or currently experiencing a substance abuse disorder. "SBIRT allows for substance abuse screening in any health care setting using free validated questionnaires," Cheng said. This, along with motivational interviewing, where providers spend five to 10 minutes talking with the patient is pivotal.
Overall, Utah communities are healthy. But by changing the care culture and empowering health care providers for better screening, Utah can move toward positive change in the battle against addiction.