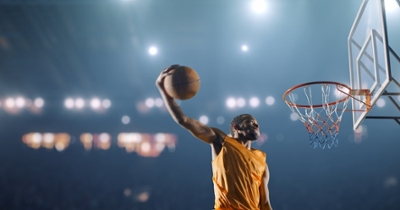 It's been 10 years since NBA All-Star Amare Stoudemire sustained the second serious eye injury of his career—a poke that provoked a sight-threatening retinal detachment—and decided to speak up about the need for athletes, especially kids, to consider protective sports eyewear.
But change is slow to come.
A new study published in the Journal Pediatrics confirms that basketball is still the leading cause of sports-related eye injuries in the United States, while recent high-profile injuries prove players' eyes are as vulnerable as ever without protective eyewear.
Former University of Virginia basketball player Akil Mitchell was poked in the eye when he went up for a rebound in January of 2017. The poke dislodged his left eye from its socket—and yes, it was gruesome. Fortunately, ophthalmologists were able to save his vision.
And just two days before this year's March Madness bracket was announced, Kansas State point guard Barry Brown got poked in the eye in a game against Kansas. Without Brown, the Wildcats lost in a Big 12 Conference tournament semifinal game.
"Getting players of any age to wear protective eyewear is still a tough sell," says William Barlow, MD, an ophthalmologist at the John A. Moran Eye Center and member of the Utah Jazz medical team at University of Utah Health. "It's not required, but we definitely encourage it. Basketball in particular is dangerous because of the close, direct contact that allows for injury to the eyeball—those fingers to the eye. Also, flying elbows have a significant chance of causing fractures to the bones around the eye socket."
More common eye injuries among basketball players include scratched corneas, dislocations of the corneal flap created during LASIK vision-correction surgery, orbital hematomas and hemorrhages, and hyphema—when blood collects in front of the eye and can block vision.
"We hear all the reasons for not wearing eye protection. Some players feel it's cumbersome, or they think it might cause distortion or impair peripheral vision, or fog or sweat will accumulate on the lenses. I get it," Barlow says. "But sports goggles have improved in recent years. You can get anti-fog coating on impact-resistant lenses, and for players who wear regular glasses, those lenses can be placed right in the goggles. So, the bottom line is that whether you're a high school player or an NBA star the right protective eyewear made with polycarbonate lenses is the best defense against sports eye injury. Unfortunately, in my experience, we are usually discussing this in the setting of an injury with the primary goal being to prevent further injury."