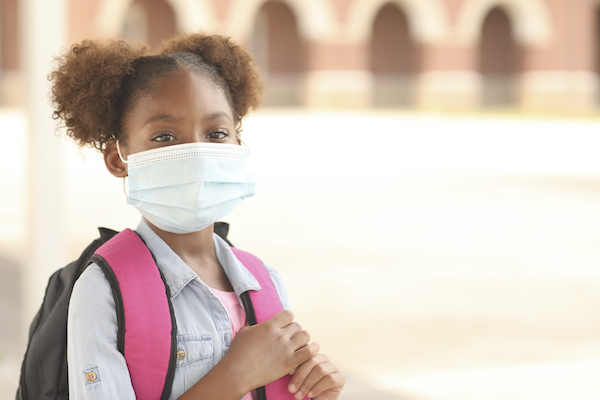 As healthcare professionals continue to learn about the virus that causes COVID-19, many parents are tasked with the decision of sending their child to school. Adam Hersh, MD, is a professor of pediatric infectious diseases specializing in epidemiology at University of Utah Health. Hersh also consults with school districts about their reopening plans. Hersh has two young children of his own, giving his expert guidance as both a pediatric infectious diseases doctor and a parent. He answered questions about COVID-19 and returning back to school.
How have school openings in other countries gone?
We learned a fair bit from other countries, but we have to be cautious of how to apply what we observe from other countries to our own communities, state, and nation because the circumstances are not entirely the same.
The biggest difference we have seen is the vast majority of countries that have reopened schools like in Scandinavia, parts of western Europe, and some countries in Asia have generally had a better epicurve (declining number of cases) at the time that schools reopened. Unfortunately, in most communities in the United States, we aren't experiencing a decline.
When schools reopened in a number of other counties, there were different approaches to mitigating transmission: not all schools required masks, not every school environment achieved three or six feet apart from students, and not every school used the hybrid model (partial in-person and partial at home). Not every country created these cohorts that we are talking a lot about in the United States right now.
When schools reopened in other countries, case counts did not reverse and go in the wrong direction as a result of schools reopening. There are some examples of clusters of cases identified in schools—most notably in Israel. Whether or not that was the consequence of transmission that happened in the school or if it was a spillover happening in the community is to be determined. In general, when the epidemiologic curve was going in the right direction and when the appropriate kind of mitigation strategies were put into place, schools were not associated with a change in the direction of case counts.
What are the theories as to why case counts didn't increase?
It's important to understand that when the appropriate mitigation strategies are put in place in a school environment and outside the walls of a school, we have ways to control this disease. In a lot of places where the decision was made to reopen schools, the communities were doing all the right things. That's the main reason why case counts did not appear to increase.
There are also differences in how children experience COVID-19, such as the spectrum of childhood and how children experience the infection compared to adults. That has played a role in why school reopenings in many countries have largely been successful.
There's a couple important key points to emphasize:
It's clear when kids are infected with SARS-CoV-2, which causes COVID-19, they are much less likely than adults to get sick.
Children account for less than 1% of all COVID deaths in the United States, yet they account for 20-25% of our population. Children are accounting for somewhere in the range of 5-8% of all infections in our countries, yet again, they account for 20-25% of our population, so they are underrepresented in our case counts. There are a few reasons why that may be the case:

In the early months of the pandemic, children were circulating in the community less than adults, which has contributed to why (early on) they contributed less to infection. The underrepresentation of children in case counts has persisted as we have moved forward with reopening our communities.
There's growing evidence that younger children (under age 10) are less susceptible to acquire the infection. Once they acquire the infection, the likelihood of being asymptomatic is higher than it is in older children and adults. That contributes to the underrepresentation of case counts.
What remains uncertain is contagiousness. There's some suggestion that young children (under age 10) are less contagious when infected than older children or adults.
Is there a danger that children could come home and pass the virus on to adults in their household?
There is suggestion that younger children may be less contagious and/or more likely to be asymptomatic. Even if they are less contagious than adults in their household, they are still potentially contagious. We still need to be cautious in saying that even though children are less likely to transmit the infection, it does not mean they can't transmit the infection. One of the big concerns is not so much how children fare by reentering school but whether they should be exposing themselves to the virus by being in a school environment. If they were to acquire the infection and bring it home to the rest of the family, it could impact those who are at higher risk for infection and could potentially experience a complicated case.
When we talk about schools reopening in the United States, the conversation is focused on using aggressive forms of mitigation of transmission. The cornerstones are universal face covering, physical distancing, and cohorting.
Universal face coverings: All community members of the school need to wear a face covering at all times.
Physical distancing: The challenge that all classrooms have is achieving recommended and optimal spacing for students, especially for prolonged periods of time. It's for that reason there have been strategies under development of not having the entire class physically present at the same time.
Cohorting: Keeping groups of children and teachers together as much as possible is crucial. They should not mix with other groups. To some extent, that happens naturally, especially in elementary school where the classroom is a cohort and doesn't mix a whole lot. There's going to be a lot of emphasis on keeping those boundaries tight.
How is a family's home life going to change with a student in school? How do you protect the rest of your family?
I want to emphasize it's the hope of school leaders to create a safe physical environment for the child. When talking about opening schools, they are looking at implementing aggressive mitigation strategies. We aren't talking about a free-for-all in the school environment. Nonetheless, you can't reduce transmission to the virus to zero in any congregated setting. There's a number of things to think about.
In a lot of circumstances, people are beginning to use face coverings in their own home when people are going to be together, especially when one family member is at risk of more severe complications. Just because you're related doesn't mean the risk of transmitting the virus from one person to another is mitigated in any way. Other things that are important to consider are thinking about your day-to-day routine, such as your closeness to other people (even in your household) and considering eating meals outside with your family.
Among schools that opened internationally, are classes sizes comparable to U.S. class sizes?
There's so much variability on how school openings occurred worldwide. There's no standard. There were some schools in some countries where physical distancing was achieved. Many countries kept students far apart and they used a hybrid model. In some countries, plexiglass barriers were used around desks to serve as a barrier for respiratory droplets. This is an area for research investigation to understand what is necessary to maximize safety.
How does ventilation impact classrooms and COVID-19 transmission?
To some extent, we are stuck with what we have in many schools. Many schools have older HVAC systems that don't do air exchanges as frequently as would be ideal. Some classrooms don't have windows. Ventilation is an important part of mitigation, though it's not a strategy that can be easily modified or improved this fall in a lot of school buildings. Optimizing the filtering in HVAC systems is in the control of school buildings, but redesigning the HVAC system is something for the future. People are talking about the value of keeping doors and windows open to classrooms to improve ventilation. Due to the possibility of aerosolization and aerosol transmission, things like keeping physical distancing, wearing face coverings, and staying home when you have symptoms are paramount.
If a family is faced with the decision to send their child to school, how can the family make the best decision?
You need to look at what's going on at the school and your own family circumstances. I would recommend families find out the details of school reopening plans and what kinds of physical distancing will be achieved if in-person learning is going to happen at their school. They should ensure the school is committed to universal face coverings and understand their local community transmission. Schools are a reflection of their community. If disease transmission rates are going up in their community, that's going to be a factor against more in-person learning. The other thing that's individualized is the health of a child and the health of everyone in the child's world.