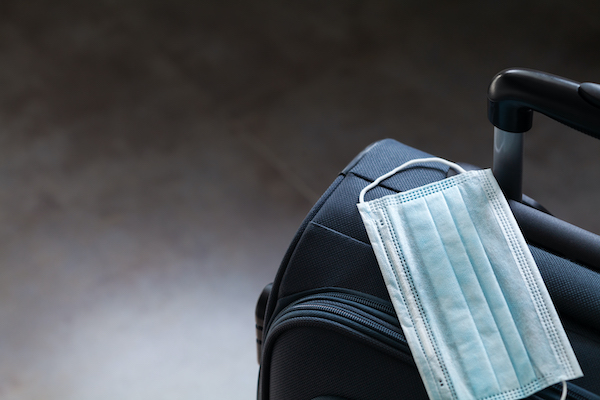 This Labor Day weekend, millions of Americans are looking to squeeze in one more vacation as summer comes to an end. Since travel increases a person's risk for COVID-19, it's important to be cautious and practice good hygiene to help reduce transmission of the virus if you decide to travel. Doctors from the Division of Infectious Diseases at University of Utah Health offer tips and advice to keep you and your family safe.
Don't travel if you are sick
If you are sick or have been around someone with COVID-19 in the past 14 days, the Centers for Disease Control and Prevention (CDC) advises you not to travel. You can spread COVID-19 to others even if you aren't showing symptoms. The CDC recommends staying home as the best way to protect yourself and others from COVID-19.
Things to consider
Reconsider travel if you are high-risk for COVID-19. Risk of complications increases with age. Those who have diabetes, lung disease, heart disease, or are obese run an increased risk of getting infected with COVID-19. Severely immunocompromised or much older adults are advised not to travel.
Who are you traveling to see? You can expose someone to infection if they are high-risk for severe disease. If you get infected while traveling, you can spread the virus to others and possibly bring the virus into your household.
Consider where you are going and whether any travel restrictions are in place (such as mandatory quarantine) and whether quarantine is required when you return.
Travel by car
Avoid travel in a car with people who are not in your household.
If you need to stop at a gas station or convenience store:

Wear a mask, physical distance, and wash your hands before leaving.
Try to avoid making contact with others and touching common surface areas.

If you are pumping gas:

Disinfect the gas pump handles before using and wash your hands for 20 seconds with soap and water afterwards.
Hand sanitizer that contains at least 60% alcohol should be used if soap and water are not available.

Avoid public restrooms, if possible.

If you use a public restroom, wash your hands thoroughly and avoid touching frequently touched surfaces on your way to the car.

Do not drink from public water fountains.
Keep in mind state and county mandates in place where you travel.
Travel by plane
Call your airline ahead of time:

Check if the airline is adhering to COVID-19 mitigation strategies.
Make sure your family is sitting together and that there is space between you and another passenger.

Use the restroom before your flight and avoid using the restroom on the plane, if possible.
Wear a mask at all times.

Adding a face shield will provide another layer of protection.

Increase air circulation on the plane by opening your personal air vent.
Minimize eating and drinking on the plane as it requires removing face coverings.

A face shield would be beneficial in this circumstance.
Essential items to bring
Disinfecting wipes
Hand sanitizer
Extra face masks
Face shields
Water bottles
Personal food from home
Supplies to change a baby
Essential medicines
High-risk activities to avoid
Large family gatherings:

Consider ways to minimize the risk of exposure to infection before mixing families together.
Masks should be worn when not eating or drinking.
Avoid physical contact such as hugging.
Always keep a distance of six feet from others while socializing and eating.
Consider individually plating and not sharing dishes.

An activity where many people are gathering in one place, such as concerts, bars, and amusement parks.

Consider outside areas where you can spread out like parks and beaches.

Eating inside restaurants

Consider making your own food or eating outside

Activities that involve shouting, singing, or breathing heavily
After travel
Carefully monitor your symptoms and avoid contact with others for a 10- to 14-day incubation period. If you develop any symptoms of COVID-19, call U of U Health's coronavirus hotline at 801-587-0712. You can also reserve a test time to get tested for coronavirus at one of U of U Health's five testing sites.