How a Registered Dietitian Personalizes Their Plate
The theme of this year's National Nutrition Month is "Personalize your plate." There is no one-size-fits-all approach to nutrition and health. We are all unique with different bodies, goals, backgrounds, and tastes! In the spirit of the theme, we have asked four University of Utah registered dietitians to show us how they approach balanced nutrition by sharing what they eat in a day.
Hello everyone, my name is Vanessa Browning and I am a registered dietitian with Wellness and Integrative Health at the University of Utah. My approach to meals is to aim for balance by including lean proteins, lots of colorful vegetables, a little bit of whole grains/starches, and healthy fats. The other reason I strive for balance in my meals is that I want to feel satisfied. If I put time into preparing something, I want it to nourish me and give me energy until my next meal. Variety and flexibility are important too! These 3 meals are very common in my house; however, they are changed up often based on the vegetables and protein sources I have available so I don't get bored.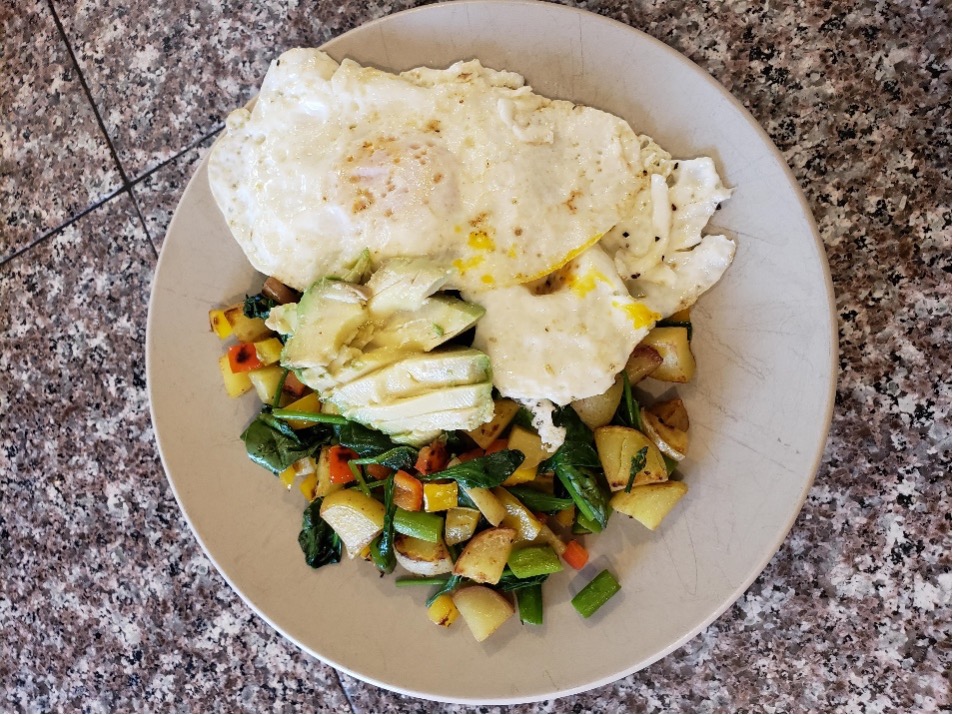 Breakfast - Vegetable Hash with Eggs and Avocado
Breakfast is my favorite meal of the day and the one that I feel is most important in providing the nourishment to get my day started right. My go-to breakfast has been some combination of vegetable hash with eggs and avocado. Although the eggs and avocado stay the same, the veggie hash changes depending on what I have in the house and allotted time. For this breakfast, I diced up a few baby red potatoes, orange and yellow bell peppers, and asparagus. I also added a generous handful of spinach. The eggs are fried up in a tiny bit of olive oil (sometimes I scramble them). Then I sliced about ¼ of a large avocado on top. I love this breakfast because it keeps me satisfied for hours and it's delicious!
This may seem like it takes a while to prepare but there are a few tricks to speed it up, and the more often you cook, the faster you get.
Here's my recipe and method for this breakfast…give it a try!
3 baby potatoes - any color (equals approx. ¾ cup)
3 stalks of asparagus (discard tough ends)
½ of a bell pepper - any color
Large handful of spinach
¼ large avocado
2 eggs
Salt and pepper to taste
Olive oil or cooking spray
Directions:
Chop potatoes small (1/4 - 1/2 in thick) - put into microwave safe bowl, cover completely with water and microwave for 4-5 minutes
Start heating non-stick pan on stove at medium heat
While potatoes are cooking and pan is heating, chop the bell peppers and asparagus (small pieces will cook faster)
Strain potatoes and put all the vegetables (except spinach) into non-stick pan with 1 tsp of olive oil (or cooking spray), salt and pepper to taste. Cook for approx. 4-5 minutes or until veggies are cooked through.
Add the spinach for the last minute of cooking (cooks very quickly).
Pour vegetables onto plate and use that same pan to cook 2 eggs however you like (turn stove heat to low) - sometimes I scramble them, sometimes I fry them - you may need a tiny bit more cooking spray or olive oil to keep eggs from sticking.
Put eggs on top of veggies with the avocado and enjoy!
Extra Tips: You can use ¾ cup frozen hash browns for extra quickness and ease (no chopping potatoes or microwave time). You can also try scrambling the eggs into the veggies inside the pan if you prefer.
Don't forget - you can use whatever vegetables you like or have in the fridge!
Lunch -- Homemade Lunchable With the Works
This lunch is great for me because it is very easy and quick to put together. I have always loved to eat with my hands so this satisfies that part for me as well. I throw everything I want onto one plate and build my lunch-able from there. This is a good example of staple foods that are always in the house and on our grocery list. This is easy to change up with different cheeses, vegetables, crackers, proteins, etc. which helps with variety. For this lunch I used a couple of slices of low-sodium chicken, sliced carrot sticks, bell peppers, ¼ large avocado, 1 cup spinach, 1-2 oz. cheddar cheese, and approximately 10 whole grain crackers. The protein from the chicken, healthy fat in the avocado and fiber in the veggies keeps me satisfied until dinner.
Dinner -- Pasta Salad with Veggies, Chicken and Feta Cheese
The best thing about pasta salad is you can throw anything you want in there, which if you cannot tell, seems to be a running theme for me. This meal is prepared at least two times per month in our house. It does take us a little time because of cooking the chicken breast and some of the veggies, but it's well worth it because there are lots of leftovers! I loaded this pasta salad with tons of veggies - carrots, bell peppers, zucchini, asparagus, spinach, and marinated artichoke hearts. I cooked the chicken and pasta on the stovetop while the zucchini, asparagus, bell peppers, and carrots were roasting in the oven. This all went into a large mixing bowl with the chopped spinach, artichoke hearts and ¼ cup feta. I mixed in a little extra virgin olive oil, balsamic vinegar, salt and pepper to taste. So delicious and filling and I got 2 more meals from it!