How a Registered Dietitian Personalizes Their Plate
The theme of this year's National Nutrition Month is "Personalize your plate." There is no one-size-fits-all approach to nutrition and health. We are all unique with different bodies, goals, backgrounds, and tastes! In the spirit of the theme, we have asked four University of Utah registered dietitians to show us how they approach balanced nutrition by sharing what they eat in a day.
Hello everyone, my name is Sarah Zou and I am a registered dietitian working for Wellness and Integrative Health. My approach to meals is to plan ahead - I live alone and cooking for one can pose some unique challenges. By planning ahead, I'm able to have delicious and healthy meals on hand while reducing food waste and the amount of money I spend on food. I also eat a semi-vegetarian diet out of concern for the environmental impact of animal meats and to limit my individual contribution to climate change. This means I don't eat meat every day, on average I probably have meat 3-4 times a week. Here is what a pretty typical day looks like for me:
Breakfast - Avocado Toast on Rice Cakes with Two Eggs
This has been my go-to breakfast for many months now. I have honestly lost track of how long I've been eating this as breakfast. I love avocado toast, and instead of bread I use rice cakes for extra crunch and speediness - I don't have a toaster, so it's much faster than toasting bread in a pan! The rice cakes I buy are made with brown rice so they're a healthy whole grain product with lots of fiber.
I spread a quarter of a small avocado on each rice cake, sprinkle with Trader Joe's Everything But the Bagel Seasoning (so good!), and top each one with an egg that I lightly fry in a non-stick pan with cooking spray. It looks like this, before and after adding the egg. The combination of protein, fiber, and healthy fat is a fantastic way to start the day and keep me full until lunch.
Lunch - Spinach Mushroom Quesadillas on Whole Wheat Tortillas
I truly believe that whoever invented quesadillas must have been a genius. They are one of the most versatile meals - you can pretty much put whatever you want in the filling since everything tastes good with cheese! And even better, they take almost no time to cook. Tip: quesadillas are a FANTASTIC way to use up random leftovers.
This week I prepped a batch of spinach and mushroom filling by sautéing red onion, frozen spinach, and fresh sliced mushrooms in a pan. At lunch, I turn it into a meal by folding the pre-cooked filling into a whole wheat tortilla with a handful of reduced fat shredded cheese and toasting both sides in a pan. It takes 5 minutes to heat up and melt the cheese and tastes incredible while providing a healthy amount of vegetables and fiber. Sometimes I'll use salsa as a condiment, but today I chose Trader Joe's Jalapeno Sauce. It reminds me of a hot sauce that's common in taco shops in Austin, where I lived for several years. I've already gone through 3 or 4 bottles. I may be a little obsessed. Be warned - it's definitely got some kick!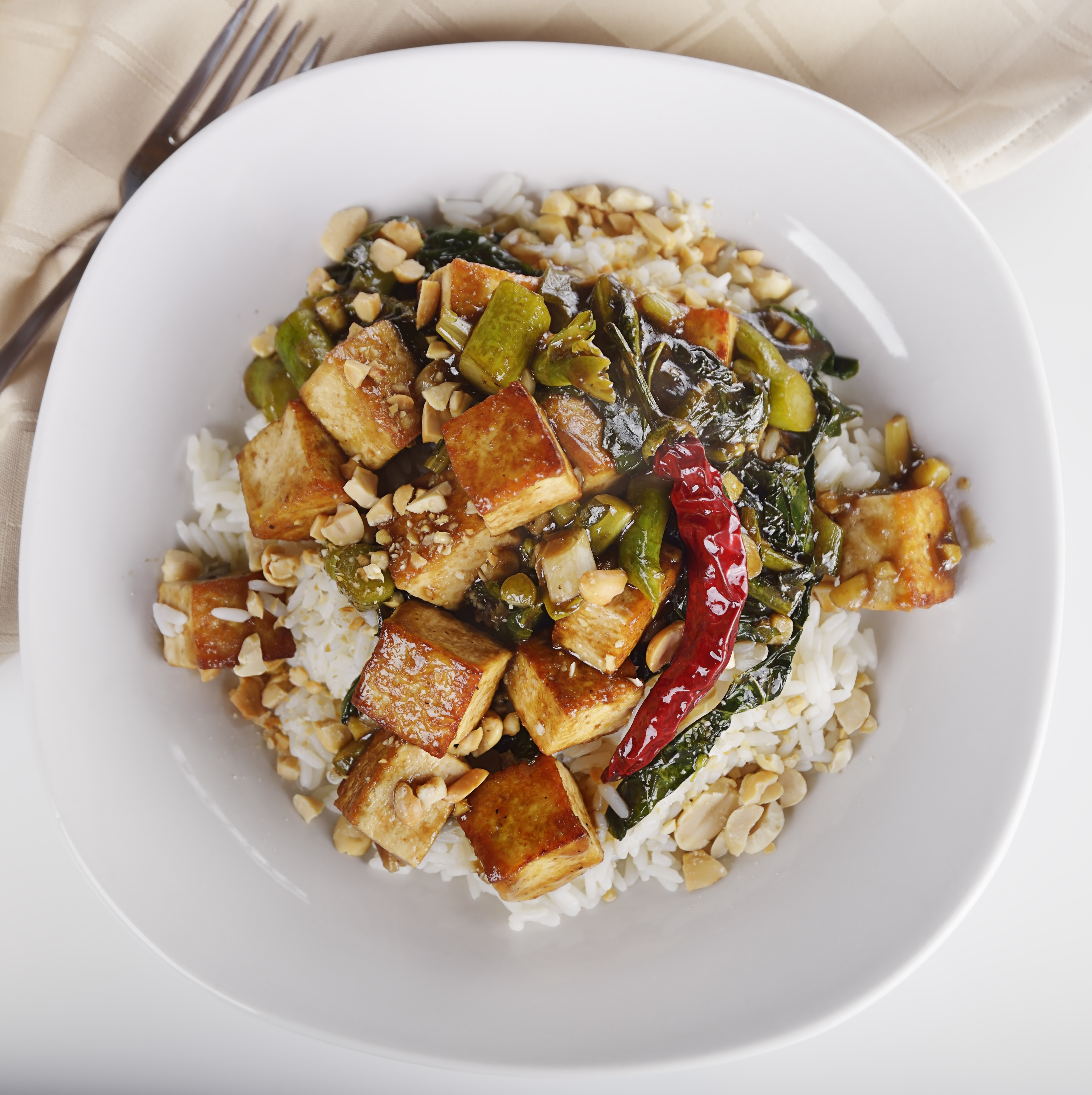 Dinner - Miso Glazed Tofu and Veggie Stir-fry over Rice
This was a recipe I had never tried before, mostly born out of a desire to use up the huge container of miso paste in my fridge. Overall I liked it, but in the future I would probably use even more miso paste while using a little less maple syrup as I found it to be a bit sweet for my taste buds (I am not a sweets person). You could also substitute peanut butter instead of the miso for an equally delicious sauce. I usually have carrots in my crisper drawer so that's what I used and added broccolini for some greens, but I could see this recipe working well with a variety of veggies.
I ate this dish with a cup of white rice for a complete meal: tofu for protein, carrots and broccolini for vegetables, and rice as the starch. Brown rice has more fiber and protein, but I grew up eating white rice and prefer it with Asian dishes. I also had plenty of fiber today so I didn't sweat it. A great example of how all foods can fit in a healthy diet — it just comes down to balance.
I've included the recipe below for anyone who's interested. It makes 2-3 servings, and the leftovers reheat well. I am all about making a batch of food that I can enjoy more than once - less cooking, less time, and dinner is just a few microwave minutes away. A win-win in my book!
Recipe: Miso Glazed Tofu and Veggie Stir-fry
Ingredients (makes 2-3 servings):
Half a container of firm or extra firm tofu
5-6 stalks of broccolini or 1 small head of broccoli or 4 cups broccoli florets
2 medium carrots
2 cloves garlic, minced
1 Tbsp ginger (fresh or frozen)
3 Tbsp miso paste
2 Tbsp maple syrup or honey
1 tsp sesame oil
2 Tbsp mirin (optional, substitute with water if not using)
Neutral flavored vegetable oil for cooking
Water
Directions:
Using half the container, cut tofu into 1 inch cubes and set aside in a colander to drain
Prepare the sauce: mince garlic and ginger and place in a small bowl. Add the miso paste, maple syrup, sesame oil, and mirin (or water). Mix until combined.
Prepare the veggies: peel and slice carrots into coins. Trim the bottom inch off each stalk of broccolini and discard. Chop broccolini into bite size pieces. The stalks are edible, don't waste those!
Place a wok or large pan over medium high heat and add 1 Tbsp of vegetable oil.
Once the pan is hot, carefully add the tofu to the pan and brown on both sides until lightly golden, about 3 minutes on each side. For better browning, resist the urge to touch or stir the tofu.
To the browned tofu, add 1-2 Tbsp of sauce and stir. Cook for 1 minute.
Add the carrots and broccolini, and the remaining sauce to the pan. Stir.
Add 4 oz water to the pan to steam the veggies.
Continue to cook over medium high heat, stirring occasionally, until most of the water has evaporated and the sauce has reduced, about 6-8 minutes. Taste and adjust seasonings as desired. I find that there's plenty of salt in the miso and mirin and didn't need to add any, but if you substituted water you may find that it needs more salt.
Serve immediately with rice.