How a Registered Dietitian Personalizes Their Plate
The theme of this year's National Nutrition Month is "Personalize your plate." There is no one-size-fits-all approach to nutrition and health. We are all unique with different bodies, goals, backgrounds, and tastes! In the spirit of the theme, we have asked four University of Utah registered dietitians to show us how they approach balanced nutrition by sharing what they eat in a day.
Hello everyone, my name is Sharee Thompson, a registered dietitian nutritionist working for the Office of Wellness and Integrative Health. My approach to meals is to plan ahead and make the cooking process as simple as possible. To ensure I'm getting the nutrients I need each day, I focus on a balanced plate that incorporates a wide variety of foods. I always am sure to include a protein, healthy fat, and as many vegetables as possible (fresh & frozen), both starchy and non-starchy. I always say, the more color the better! I also love oatmeal and all types of beans - black, white, pinto, chickpeas, lentils, you name it. They are such a great source of protein and fiber.
I am all about simplicity. I really enjoy cooking but like to limit time spent in the kitchen cooking to two nights per week. I'll typically choose two recipes: one that is super easy to throw together, and another that is a bit more time consuming. Two helpful things that I always do - double all recipes and roast a variety of vegetables each week. Cooking in bulk helps me to make sure that I have healthy and nutritious lunches and dinners all week, even though I only cook twice. One way that I switch things up is to "remake" leftovers." It's easy to get creative with this. Mixing and matching different leftovers/ingredients, and switching up toppings, dips, and sauces used, are all ways to help create whole new flavors with little to no additional work. For the veggies, I always select a wide variety each week to roast in the oven. Veggies are so incredibly versatile. You don't need to worry about what foods or dishes they'll pair well with. Just buy and cook them and I promise they'll get eaten! This week, I had spaghetti squash, purple potatoes, sweet potatoes, brussels sprouts, bell peppers, broccoli, and zucchini. I spent some time peeling, chopping, and cooking, which I know can be tedious - but I only do this one time per week and I am set for the entire week. I'll toss the veggies in olive oil and the potatoes in coconut oil, both with some salt and pepper and roast in the oven at 400 degrees for 40-50 minutes (stirring every 10-15 minutes). It makes it so easy to add a cup or two every time you eat and they can easily be incorporated into any dish, including breakfast.
Breakfast: Egg scramble w/ spinach and zucchini, topped with jalapeno sauce, avocado, purple potatoes, sweet potatoes, and strawberries
My breakfast always includes eggs, veggies, a fruit, and avocado. The balance of the protein, fiber, and healthy fats not only keep me feeling full for hours, but it is also very satisfying. I will oftentimes include crumbled goat cheese as well — my absolute favorite. Veggies are all from my weekly one-time prep! Did I mention it makes it so easy to throw them into anything?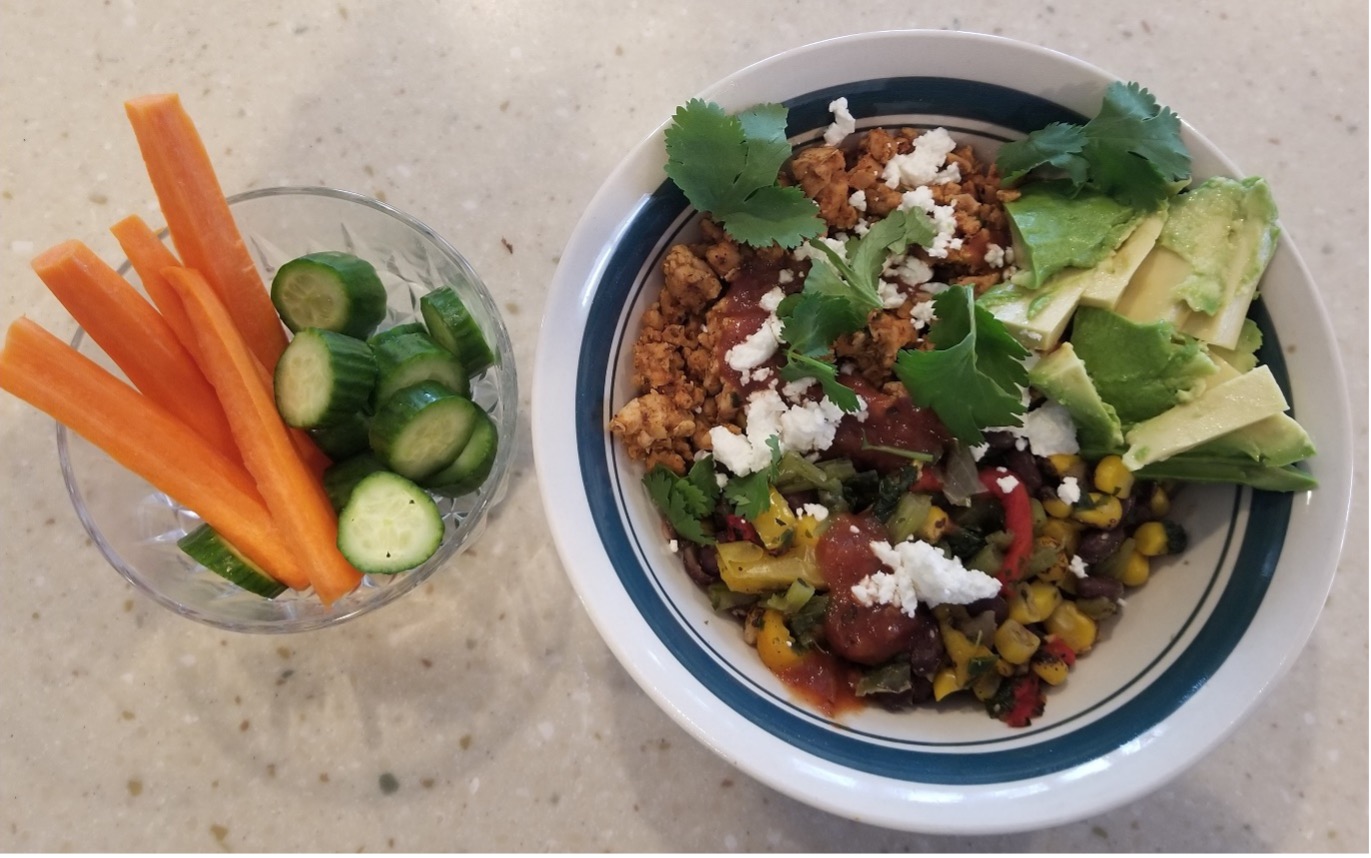 Lunch: Taco bowl - ground turkey with taco seasoning, veggie mixture, topped with crumbled goat cheese, salsa, cilantro, and avocado. Side of carrots and cucumbers.
Lunch is always leftovers from dinner or some variation of it. I have this specific taco bowl quite often! This was my "easy meal" that I had prepared for the week. So quick and delicious. The night prior (to allow for thawing), I combine the following: one can black beans, bag of frozen spinach, frozen fire-roasted corn, frozen fire-roasted bell peppers (green, yellow, red) and onions, with a little salt and pepper. By the next day, the mixture will be thawed and ready to incorporate into the meal. For this meal, the only cooking I had to do was brown ground turkey and add taco seasoning. Then I assembled everything into a bowl.
Note: I also use this frozen veggie mixture with breakfast. Adding it to eggs with salsa and avocado is delicious!
Dinner: Lentil fritters w/ garlic hummus, baked chicken thighs, broccoli, and avocado
For my second dinner I prepared this week, I made lentil fritters. This was a fun and unique way to incorporate both lentils and potatoes. To make things even more simple, I purchased prepared lentils — "Fillo's Peruvian Lentils" - they are delicious, prepared with healthy ingredients like olive oil, veggies, and a variety of spices. This particular brand also carries a variety of other types of legumes prepared similarly. I found them at Sprout's. Feel free to also prepare the lentils yourself. Tip: legumes can easily be incorporated into any meal for added taste, protein, and fiber. I also plan to incorporate these fritters into breakfast, pairing with a couple of eggs and avocado.
Lentils are a great source of plant-based protein, but for me, I wanted to add an additional source of protein to ensure I was meeting my needs. I opted to add baked chicken thighs. I also added the veggies I had left on hand from the week, which was broccoli. I've included the recipe for the lentil fritters below if you'd like to try it out yourself!
Recipe: Lentil Fritters
Serves: 8-10 fritters
Ingredients
1 cup cooked lentils
1 cup shredded and drained gold potatoes (about 4-5 potatoes)
¼ red onion, minced
2 garlic cloves, minced
½ teaspoon salt
¼ teaspoon dried parsley
¼ teaspoon paprika
1/8 teaspoon cayenne pepper
1/8 teaspoon black pepper
1 egg
2 tablespoons flour of choice
1 tablespoon olive oil, butter, coconut oil, etc.
Dip of choice - I chose garlic hummus
Instructions
Cook lentils, if needed, according to package. If you're using already cooked lentils, add them to a large bowl. Peel potatoes and use a grater to shred potatoes, then place in a cheesecloth or paper towel to drain the potatoes of excess liquid. Add the potatoes and remaining ingredients to the bowl and mix to combine.
Place a large sauté pan over medium heat. Add healthy fat of choice. Once warm, use a spoon to scoop out a patty size of the mixture. Form patty in hands and place in the pan. Repeat with the remaining ingredients. Cook for 6-8 minutes per side, or until golden brown.
Serve with your favorite dipping sauce.