The Huntsman Mental Health Foundation was founded to support the Huntsman Mental Health Institute (HMHI) and its work to advance mental health care through community, research, clinical, and education initiatives.
Made possible by a generous $150 million donation from the Huntsman family, HMHI was established in 2021 with a vision to free the world from mental health stigma, bring an end to suffering, and integrate mind and body to improve life for every person.
Changing the Future of Mental Health
"We've seen the destructive power of mental health issues in our own families and it's something that affects us all in one way or another. While some people might be lightly impacted, others suffer in a lonely silence of darkness and despair, without seeing a clear path forward in their lives.
Through their philanthropy, our parents dedicated their lives to relieving human suffering of all kinds around the world—donating millions of dollars to establish the Huntsman Cancer Institute, as well as to support survivors of domestic abuse, earthquake and flood victims, international relief efforts, and many other causes.
After our father's death, we came together as siblings and directors of the Huntsman Foundation to continue his legacy, placing our focus on mental health because of its widespread reach. We determined that the best way to help end the suffering associated with homelessness, addiction, and suicide is by investing in mental health research and treatment.
And while our goals to eliminate stigma, discover new treatments, grow the mental health workforce, and provide equitable care for those in need are challenging, we're inspired and humbled by the difference we can make, especially when we bring others along to work together.
We invite you to reflect on your own story and join us in our mission to end stigma and change the future of mental health."
Under the leadership of CEO Mark Hyman Rapaport, MD, the Huntsman Mental Health Institute is bringing together the best of all fields to develop innovative solutions to complex disorders like substance use and addiction, depression and suicide and to solve mental health challenges including workforce shortages and stigma. Following are areas of need that will help HMHI to continue its work as a convener, collaborator, caregiver, and problem solver.
Build a Mental Health Crisis Care Center
By supporting the Kem & Carolyn Gardner Crisis Care Center, you are helping people facing a psychiatric crisis get on the path to mental wellness. Because of your generous support, the programs and collaborations at the Center will ensure that patients and their families receive the absolute best immediate help and ongoing support in one convenient location.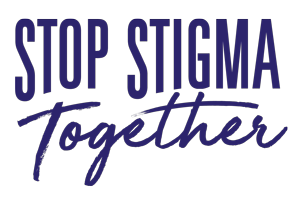 End Mental Health & Substance Use Stigma
Your generous donations help support a nationwide movement to eliminate mental health and substance use disorder stigma. One in five US adults experiences mental illness each year, yet nearly half do not seek the help they need because of stigma. Stigma robs people of their joy in life and, worst case results in ultimate harm. Help us end mental health stigma and establish true well-being.
Help Young People Heal and Grow
Your support helps children and teens suffering from anxiety, depression, and severe mental health conditions. From outpatient therapy to multi-day hospital stays, day treatment, residential treatment for youth, and specialty assessment and treatment programs, your support ensures that we can continue to fund programs for children and teens aged 5-18.
Address Mental Health Provider Shortages
By investing in the training of our next generation of providers, you can help bring exceptional clinicians to Utah. HMHI connects the power and the passion of academic medicine with the exploration of science and physician education. We are devoted to caregiver education and training tomorrow's leaders in mental health. Your gift helps recruit potential students, and fund residency and fellowship programs.
Expand Suicide Prevention Services
Your gift supports community crisis response and suicide prevention programs. Donations ensure that certified crisis staff has specialized training and the infrastructure available to respond to callers facing a mental health crisis through the 988 suicide and crisis lifeline and the Utah Warm Line and in-person when needed through our Mobile Crisis Response Teams. Your support also ensures that students, educators, and parents can chat anytime with a crisis counselor through the SafeUT app.
Support Innovation and Discovery
You can be a catalyst for change by supporting research that applies the most advanced methods in imaging, genetics, epidemiology, and big data analysis to better understand the brain's complex functions. Your gift helps researchers better translate that research into new clinical and medicinal treatments that help patients maintain a better quality of life.
"Mental health is a complex challenge that touches nearly everyone. To make a meaningful impact requires not only vision and focus, but bold collaborations and resources beyond what the Huntsman family has invested. We know that we cannot do this alone."
Generous Donors Creating Hope
Kem and Carolyn Gardner
Gifts That Keep on Giving
Kem and Carolyn Gardner's tremendous history of giving back is reflected in communities across the state of Utah, especially at the University of Utah.
In March 2022, the Gardner family donated a generous $5 million to support the new Kem and Carolyn Gardner Crisis Care Center. Slated to open in 2024 in South Salt Lake, the new Center will be named in their honor. Their gift will help build a welcoming place for every adult experiencing a mental health crisis and help transform their care.
"We have to do something different and find better ways to treat youth and adults," said Kem Gardner. "HMHI has an inspiring vision for this Center and we're eager to support it."
Jazz Foundation
Fighting Back Against Bullying
In November 2021, Isabella "Izzy" Tichenor, age 10, died by suicide. To honor Izzy and her family, and help other young people, the Utah Jazz Foundation made a generous donation to SafeUT, an app that provides real-time crisis intervention for students, parents/guardians, and educators.
Thanks to the donation, SafeUT developed a bullying prevention campaign that launched in 2022 and is reaching more than 87,000 students. The campaign encourages students to think about how their words—in person or online—affect others and calls on students, parents/guardians, and educators to use the confidential SafeUT tip feature if they or someone they know is being bullied.
"We are committed to ensuring that every young person knows that they are valued for who they are. And we want to ensure that there are resources available, places to go, and people who can be a lifeline when they need it," said Mike Maughn of the Utah Jazz Foundation.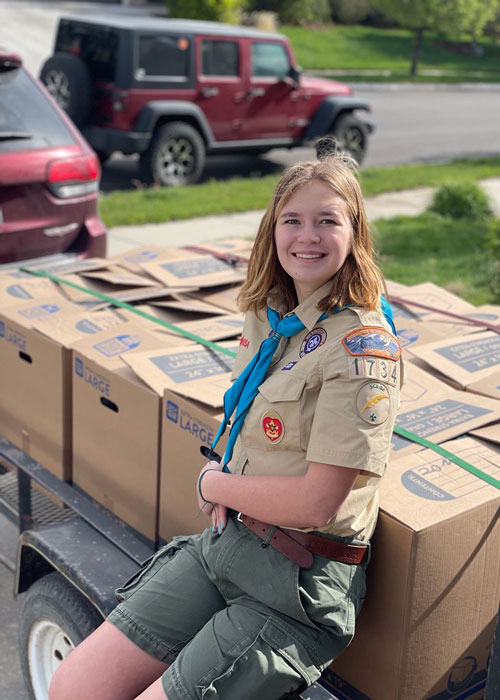 Kayla Hall
Inspiring Others by Sharing Her Story
During a mental health crisis, Kayla was admitted to the hospital. She had to remove every piece of clothing she might use to harm herself. She spent her days in the hospital feeling cold and exposed in only a thin hospital gown.
"Being in the hospital with a mental health condition is not a comfortable experience; walking around with almost nothing on was humiliating," said Kayla. She decided she wanted to give back by changing that experience.
Kayla shared her story on Facebook and asked for donations to put together clothing kits for girls so they can begin the healing process with safe, warm clothes. The response was remarkable. Kayla was able to put together 130 kits for girls in a range of sizes. "I hope this helps other girls. I want them to feel comfortable when they are in this very vulnerable situation so that it's easier to heal and feel better."
The Huntsman Mental Health Foundation (HMHF) welcomes you to give in the ways that suit you best.
Endowments
An endowment is a way to honor a loved one, a caregiver or faculty member, or the entire organization. Endowments provide long-lasting support and are compelling incentives for attracting and retaining exceptional physicians and scientists and, consequently, help raise the visibility of the Institute.
Matching Gifts
Many employers sponsor matching gift programs and will match a charitable contribution made by an employee. Please contact your employer's human resources department directly to find out if you can double your impact.
Memorial and Honor Gifts
Celebrate a milestone or honor/memorialize someone special in your life. You can give in honor of your loved ones and support researchers and clinicians in finding new discoveries and treatments.
Securities and Property Gifts
Gifts of stock, bonds, or mutual funds are encouraged. Donors who transfer stock or property may receive charitable income tax deductions or minimize capital gains taxes. Before transferring, please consult your tax advisor.
Pledges
A pledge can be paid over three to five years. Making a pledge allows the donor to commit to a larger gift amount while enjoying the tax benefits of the actual amount given in a specific calendar year.
Leave a Legacy
Planned and deferred gifts allow you to provide a more considerable legacy than might be possible through cash gifts during your lifetime. Planned gifts can also provide significant estate-tax and income benefits. There are several types of planned gifts, including:
Bequests through a will or trust
Gifts of appreciated securities or closely held business stock
Beneficiary designation on a retirement plan, brokerage account, or donor-advised fund
Life insurance policies and
Outright gifts of real estate or other personal property.
Making a Gift
When making a gift, you may choose a single gift, spread your contributions over a period of time, or choose a deferred giving option. Consider the choices below or reach out directly if you have questions.
Gifts Online—Can be made with a credit or debit card transaction
Cash or Check Gifts—Can be hand-delivered or mailed to:
Huntsman Mental Health Foundation
c/o Victoria Davison
Senior Director, Advancement
500 Huntsman Way
Salt Lake City, UT 84108