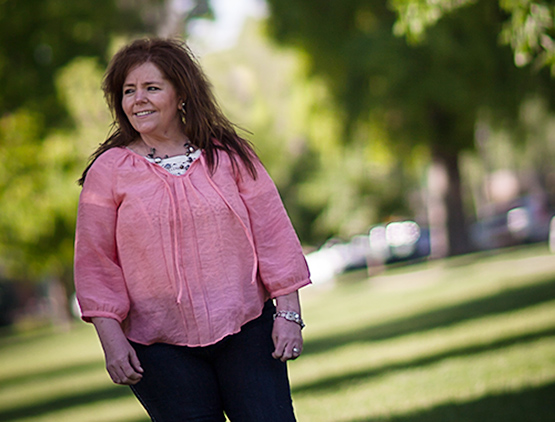 Imagine a life where dancing or bending down to tie your shoe is virtually impossible. That's the life Teralin Childs lived. But with the help of University of Utah Health's dermatology services and the comfort of one doctor, Childs has regained the simple joys in life.
Childs was diagnosed with bullous congenital ichthyosiform erythroderma, or more commonly known as epidermolytic hyperkeratosis, at birth. Bullous congenital ichthyosiform erythroderma is a rare genetic skin disorder characterized by blisters, skin fragility, and ichthyosis. For Childs, the disorder prevented her skin cells from shedding normally causing her skin to thicken over her entire body. The Las Vegas native and her family were forced to leave Nevada because she could not cool her skin or adapt to the heat. "I don't deal with heat," said Childs. "I blister."
The skin disorder disrupted Childs' life. "I couldn't bend," said Childs. "I would go down on my hands and knees, straight legged and straight armed." Seeking relief, Childs visited with multiple doctors- each without success. "I've had doctors try to sand the skin off my feet… that hurt," said Childs. "You name it, they tried it."
But at the age of 12 Childs enrolled in a study at the University of Utah. There she met C. David Hansen, MD. Childs said the treatment and new physician changed her life. "All of a sudden, I looked like everybody else."
Childs continued with the life changing treatment for 30 more years before switching to a different medication. Throughout the whole process, Childs said she had one constant—Hansen. "He's been my doctor ever since," she said. "He is always there and he makes me feel comfortable."
"There's so much research that comes here and learning possibilities for all the residents," she said. "It gives them ways to understand a disease." Childs said the treatment opened new doors and gave her a new lease on life. For the first time, she was able to experience life like never before. "I get to do things I never got to do—dance, play and swim."