University of Utah Health Sciences made significant contributions to diverse aspects of health and science research in 2015. Here are some of our favorites. Visit Newsroom for a complete list.
The laws of probability say that elephants, large and live long-lived, should be cancer magnets. Yet they get the disease far less frequently than people do. Joshua Schiffman, M.D., a pediatric oncologist at the Huntsman Cancer Institute has discovered their secret to evading it. Now his team is investigating whether the knowledge can be applied toward novel therapeutic treatments. Journal of the American Medical Association
Despite modern medicines, one of the biggest remaiining challenges for diabetics is maintaining healthy blood sugar levels. An abnormal balance can lead to health complications, and in the worst cases to premature death. Biochemist Danny Chou, Ph.D., created a long-lasting novel smart insulin that can automatically adjust blood sugar in mouse models for diabetes. His goal is to bring the drug to clinical trials. Proceedings of the National Academies of Sciences
A grim reality for multitudes of workers, studies demonstrate that sitting for long periods of time can lead to poor health and an early death. However, a new study led by Srinivasan Beddhu, M.D., suggests that a simple activity can mitigate these bad effects. "Based on our results we would recommend adding two minutes of walking each hour in combination with normal activities," says Beddhu. Clinical Journal of the American Society of Nephrology
New York Times, Time Magazine, Scientific American
Most of us will encounter lower back pain at some time or other, but there is little consensus on the best way to treat it. Now, a study led by physical therapist Julie Fritz, Ph.D., P.T., A.T.C., suggests that in this case, time is on your side. Expensive, invasive procedures are often unnecessary and could even make things worse. More often than not, the best thing is to hold off to see if recovery happens on its own. Journal of the American Medical Association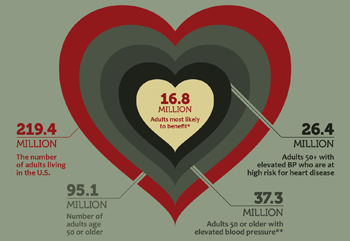 Alfred Cheung, M.D., led 17 of 100 clinical sites that took part in the Systolic Blood Pressure Intervention Trial (SPRINT). Results from the landmark clinical trial suggest that achieving a blood pressure target of 120 mmHg, lower than current guidelines, may significantly reduce risk for heart failure, heart attack and death. Adam Bress, Pharm.D., M.S., led a parallel study demonstrating that millions of Americans could potentially benefit from the treatment. New England Journal of Medicine, Journal of the American College of Cardiology
New York Times, US News World Report, Yahoo News
Rounding out the Top Ten ...
NBC News, United Press International