with Dr. Benjamin Chan
The ultimate resource to guide you on your journey to and through medical school. Get the inside scoop from pre-med advisors, physicians, faculty, alumni, and current medical students about all areas of medical school. Topics will range from tips to getting admitted (and having your application stand out), to familiarizing yourself with the culture of medical student life, and finally how to prepare for a residency and the Match. Hosted by Dr. Benjamin Chan, Associate Dean of Admissions at the University of Utah's School of Medicine, 'Talking U & Med Student Life' brings valuable information to anyone thinking about a career in medicine whether you're in high school, pre-med or already a medical student. The views and opinions expressed in these podcasts are solely those of the participants, and in no way reflects those of the UUSOM.
Latest Shows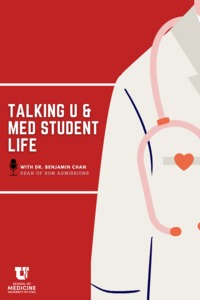 Feb 26, 2021
How do you keep yourself motivated while applying to med schools after being rejected 5 times? What's it like dating another med student and finding balance to study and spend time together? Hear from MS2 Andrew on how he remained resilient while applying to med school, his experience getting his ...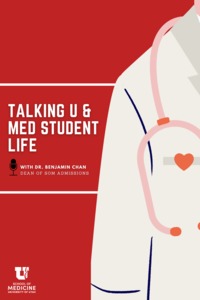 Feb 12, 2021
What's it like singing in the 6th Global Parliament of World Religion? How can working with refugees and Special Olympics athletes influence your pathway to medicine? Hear MS1 Sarmishta's story about how she strengthened her application when re-applying to the UUSOM, her experience attending a ...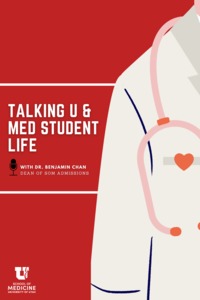 Jan 27, 2021
What's it like being a star on reality TV? How do you apply all of your non-traditional pre-med life experiences towards med school applications? On this episode of Talking U & Med Student Life, Hear MS1 Alan's story and inspiration towards becoming a physician, and how he balances his studies, ...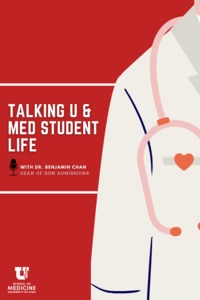 Jan 13, 2021
What's it like moving from Boise, Idaho to Middlebury, Vermont? How can an outdoorsy lifestyle influence you to pursue a career in medicine? On this episode of Talking U & Med Student Life, MS2 Joe talks about rural medicine, why he ended up in Utah, and how to get started snowboarding in the Utah ...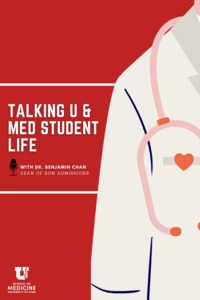 Nov 4, 2020
How does a nursing student transition to a career as a doctor? All while juggling a passionate and creative hobby such as cosplay? On this episode of Talking U & Med Student Life, hear how MS2 Erin balances her cosplay work with her studies and how being a cosplayer has brought her joy and opportuni ...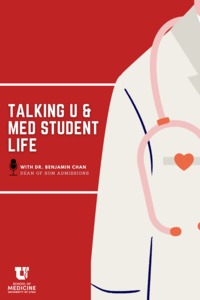 Oct 21, 2020
Interested in hearing about taking a gap year, managing your wellness, and learning how to attend med school virtually? On this episode of Talking U & Med Student Life, hear what first-year med student Lilly has to say about what brought her to the U and how she is navigating med school practically ...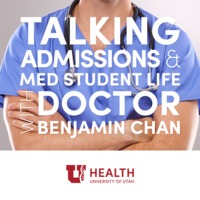 Oct 5, 2020
Talking Admissions and Med Student Life will be back soon with a new format to celebrate our 150th episode. In the meantime, I wanted to introduce you to a new podcast called Clinical. Hear a six-minute sample of the current story called, Unit on the Brink: Voices from the COVID Frontline. It's th ...
Sign Up for Weekly Health Updates
Weekly emails of the latest news from The Scope Radio.
For Patients
Find a doctor or location close to you so you can get the health care you need, when you need it.

Find a Doctor
Shows