Focused, precise, informative. With access to over 1,000 board-certified physicians trained in 200 medical specialties from University of Utah Health, The Health Minute helps you better understand your health and the health topics you're hearing about. Every day we get physicians' perspectives on the health and medical issues that impact you and your family. Produced by The Scope Radio, The Health Minute is a daily prescription of practical advice so you can live a happier and healthier life.
Latest Shows
Aug 21, 2019
If you have a hernia and it's causing you pain, you need to get it treated. Hernias will not go away on their own. Learn what treatment options are available from surgeon Dr. Rodney Barker in 60 seconds on this Health Minute. ...
Jul 25, 2019
Hernias are a common condition and can form in anyone regardless of age or gender. On today's Health Minute, Dr. Rodney Barker talks about how to identify whether or not you have the condition and how to best treat hernias. Learn more about this health topic in the full-length interview. ...
Jun 21, 2019
Your kids need a lot of sleep—a recommended nine to eleven hours. But electronic devices could be ruining their quality of sleep. On this Health Minute, pediatrician Dr. Cindy Gellner explains why screen time before bed can impact their sleep cycle as well as some simple bedtime rules to keep your ...
Jun 20, 2019
When most people think of drowning, they think of yelling and splashings like we see in movies. According to Dr. Scott Youngquist, drowning is actually "dramatically undramatic." On today's Health Minute, learn how to spot a real drowning. Learn more about this health topic in the full-length i ...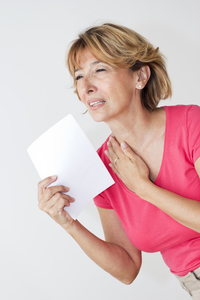 Jun 19, 2019
How do you know if hormonal therapy is right for you? On today's Health Minute, women's expert Dr. Kirtly Parker Jones explains why estrogen hormonal therapy is an effective way to treat symptoms of menopause, including hot flashes and dryness. Learn more about this health topic in the full-length ...
Jun 18, 2019
Nauseous? Stomach cramps? Vomiting? Could it be food poisoning? On today's Health Minute, emergency room physician Dr. Troy Madsen explains how to tell if your symptoms could be from food poisoning after you ate something questionable. Learn how long until food poisoning takes effect and how long yo ...
Jun 17, 2019
Skin cancer is one of the most common and potentially dangerous forms of cancer in the United States. It's also one of the most preventable if you take steps to protect yourself from harmful UV rays. On today's Health Minute, dermatologist Dr. Christopher Hull shares four simple ways you can protect ...
Sign Up for Weekly Health Updates
Weekly emails of the latest news from The Scope Radio.
For Patients
Find a doctor or location close to you so you can get the health care you need, when you need it.

Find a Doctor
Shows