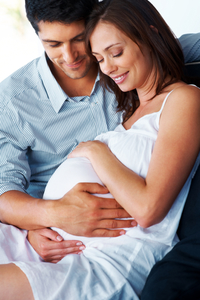 Can't Get Pregnant? What to Do Part 1
Mar 27, 2014
How long should a couple try to conceive before seeking help from a specialist? Dr. Kirtly Jones talks about what you should do when you've made the decision to have a baby, but for some reason or another can't seem to conceive.
Transcript
Announcer: Medical news and research from University of Utah physicians and specialists you can use for a happier and healthier life. You're listening to The Scope.
Interviewer: If you're a couple that's had trouble conceiving children on your own, you might wonder, well, what are my options? What next, where do I even start? We're with Dr. Kirtly Parker Jones from the University of Utah. Let's talk about that for a second, a couple wants to have a baby but they're not able to on their own, what's step number one?
Dr. Kirtly Parker Jones: Well the first step, of course, is to decide whether you've been trying long enough to give it a go. Now unfortunately adolescents are told, it only takes once in the back of a car and you're going to get pregnant. Well that may be true for teenagers, but in fact the chances of a young couple in their twenties, who are healthy, of getting pregnant successfully in one cycle, in one ovulation, is about one in five.
Interviewer: So, 20%, that's really relatively low.
Dr Kirtly Parker Jones: Yeah, 20 to 24%, it is low. It's lower, you know most animals have sex once a year and they manage to make babies, and we are lucky to have 13 times a year. So normally we consider a couple infertile if they've tried for a year and have not conceived.
Now, trying, what is trying? Well trying means having sex about three times a week. Some people say, well I have sex once a month, and I'm sure it's when I ovulate. Well, in fact, the day of ovulation isn't necessarily your most fertile time and you may miss the time all together because if you ovulated the day before, having sex the day after ovulation isn't going to get you pregnant. So having sex regularly about three times a week for a year. For a young couple, if they haven't conceived in a year, that's the definition of infertility.
Now it turns out that 85% of normal couples are going to conceive in about six months, in fact, if someone comes to me as a young couple and haven't conceived in within six months, I don't roll my eyes and send them away, I say, well let's do some simple things. I'll take a history and make sure you're having periods about once a month and we can get a semen analysis, two simple things. Because a sperm count is $100 and taking a history is essentially free and the visits, what is it if a woman needs a pap smear and needs her health care anyway, and it also offers an opportunity for preconceptual counseling.
The people who haven't conceived for a year, then I do the workup which includes taking that same history, getting a semen analysis and then doing a test to see if the tubes are open. That's a simple x-ray that can be done by a radiologist or by your gynecologist or [inaudible 00:02:36] specialist.
Well who can do this evaluation at one year? Well if you're under 35, it could be your nurse practitioner, if she's been trained and is able and interested. It could be your family doctor can order these if they're trained and they're interested, or it can be your gynecologist who is trained and is interested.
Now what about this over 35 business? Human fertility peaks in the mid 20s, it then goes down kind of slowly from 28 to about 35 and then it starts accelerating and so, over 35, sometimes we say well, why don't you try for just 6 months, even though people over 35, it can take them longer, if I make them wait a year, then they're 36. So at 35 if people have been trying 6 months, it's worthwhile doing the simple cheap stuff because you don't want to wait until they're 36, 37, 38 before we get busy trying to do things, interventions to help them get pregnant. And if they're over 35 and they have tried a year, that might be a good time for a referral to a specialist. These people are called reproductive endocrinologists. They have a lot more tools, in terms of their armamentarium to treat infertility and if it's been a year and you're over 35, it's time to see a specialist.
Announcer: We're your daily dose of science, conversation, medicine. This is The Scope, University of Utah Health Sciences Radio.