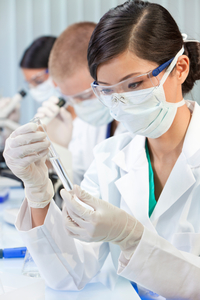 Researchers Can No Longer Ignore Sex, Gender Differences
Aug 26, 2014
Researchers have overlooked differences in sex and gender for a long time. Jean Shipman, director of Spencer S. Eccles Health Sciences Library, says this criterion may determine funding for most future medical research. The 2014 info fair, "Women's Health Sex and Gender Research Conference," focuses on this issue, and the public is invited!
Transcript
Announcer: Medical news and research from University Utah physicians and specialists you can use for a happier and healthier life. You're listening to The Scope.
Interviewer: There are new requirements for researchers to consider sex and gender differences in their research designs. We're going to learn more about that right now and also about the 2014 info fair, Women's Health, Sex, and Gender Research Conference. Jean Shipman is the director of the Spencer S. Eccles Health Sciences Library. Let's talk about the info fair that's coming up and why is this important to researchers?
Jean Shipman: Scott, this is really going to be an issue for anybody applying for research grants and subcontracts, because it's going to be required more and more than researchers indicate how they're accounting for both sex and gender differences in their research.
Interviewer: This is kind of a new trend.
Jean Shipman: New in that NIH is going to start requiring that people look at tissue differences between men and women, particularly. Also, we've gotten funding to raise awareness about this issue from NIH and the Office of Research and Women's Health, particularly in the National Library of Medicine, as this is important that people become more aware.
Interviewer: Why does the NIH believe it is so important?
Jean Shipman: Every generation discovers something new, but we've discovered that we've been biased in our research in the past in using male reference standards for a lot of the design of research protocols and also not recognizing that there may be differential physiological differences in the research for men and women.
Interviewer: How has this played out in real world ways?
Jean Shipman: Well, an example is on 60 Minutes. They had an Ambien example where women were being double dosed because they were receiving the same dosage as men, but their physiological makeup requires less. We're seeing it highlighted more and more in the public culture as well as in true research.
Interviewer: Eventually this is going to become the way researchers are judged on their research if I understand correctly. Could you explain that?
Jean Shipman: I really predict that this could be a criterion in scoring for research grants, how much a researcher has considered these differences between men and women physiologically and biologically as well as their gender tendency. Where is their socioeconomic fallout for how they consider themselves and conduct their lives?
Interviewer: Let's talk a little bit about the 2014 info fair which deals with women's health, sex, and gender research. What types of things could a researcher learn at this conference?
Jean Shipman: We're hoping to make it a local application as well as national. Our keynote speaker is Dr. Caroline Clancy from the National Office of Veterans' Affairs, who is a well known researcher in this area. She's going to speak about her research but also the importance of considering this research difference in your protocol. We kick off the day with local experts, and we put a call out for contributors for posters and we'll have about 15 examples of research being conducted here at the University itself that deals with this topic. Those researchers are sharing their presentations for their research but also looking for partners in crime, other researchers who may have an interest that could join in their efforts.
Then we're going to have a keynote and then a follow-up panel of experts from the campus, both campuses of the University, who will talk about the resources that are available to local researchers and then we'll also have another panel that will highlight five of the posters with the researchers talking more specifically about how they have accounted for these differences in their research.
Interviewer: So some real good information on something that's going to be a concern of all researchers here very quickly, it sounds like.
Jean Shipman: It is. It will also highlight the need as well as get some real life examples and also identify resources available for you in the future.
Interviewer: What about the general public? Can the general public also attend?
Jean Shipman: We welcome the general public. In fact, this is sponsored by the Snyder Family's endowment to the library. It's a lecture series. The info fair has happened for about 25 years now. With their generous support, we offer this to the community as an awareness for them, too. As a general consumer, I hope that people can come away from this symposium saying to their private practice provider, "Hey, have you considered the difference in this dosage before you give me a treatment for a medication if I'm a woman?" Just to cause a little bit more conversation to happen between providers and consumers on this topic.
Interviewer: Any final thoughts on this info fair or this issue in general?
Jean Shipman: I really hope that people will leave with a different mindset. If we have encouraged our University as library partners, the Marriott Library and the Eccles Library are working together on this symposium along with the Center of Excellence in Women's Health on the campus, if we can just say that we've affected 20% change in people's opinion on this or their knowledge of this, we will consider it to be a very successful event.
Announcer: We're your daily dose of science, conversation, medicine. This is The Scope, University of Utah Health Sciences Radio.