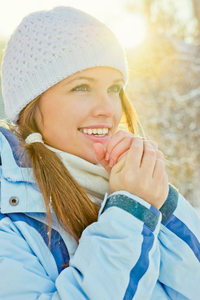 Get Some Light On Your Face
Feb 20, 2014
There can be side effects that come from not getting enough sun, especially in the wintertime. But can a little bit of light really make a difference to your health and mood? Dr. Kirtly Jones explains what these side affects are, why we need sunlight, and what happens when you have vitamin D deficiencies. She also talks about the difference between vitamin D that you get from the sun and supplements you might find in the stores.
Transcript
Interviewer: Can a little bit of light make a difference in your health and mood in the wintertime? Should you get outside, get some light? We shed some light on that next on The Scope.
Announcer: Medical news and research from University of Utah physicians and specialists you can use for a happier and healthier life. You're listening to The Scope.
Interviewer: We're talking with Dr. Kirtly Parker Jones about sunlight in the winter time, more specifically Vitamin D deficiency, and there's a lot of kind of side effects that come from not getting enough Vitamin D or enough sunlight, is that the case and could you tell me what some of those are?
Dr. Kirtly Parker Jones: Okay, well first of all you have to remember we evolved, all species, animal species, in sunlight. And there are some really important things that sunlight does. Number one, it sets our clock and particularly those of us in northern climates, it's curious to me that we have higher rates of suicide then southern climates, it's not just because people in the Mediterranean drink a lot of booze and hang out and do nothing. We've always know that people get more depressed and do less when there isn't much sunshine. So you need to set your clock and sunlight sets your clock and your activity. So people who get out in the sun feel a little bit more active.
Number two, our skin is our own vitamin D manufacturer. So it's the combination of sunlight on skin that helps us make vitamin D. So what should we be doing? I think everybody, except maybe on a red air day, or even on a red air day, you don't have to run around, needs to get out in the sunshine. Get your face, if you can, if it's not too cold, get your arms out in a little sun, it doesn't take very much. Get some sun on your eyeballs and get some sun on your skin, only 20 minutes can make a big difference in your mood, in your activity, in your sleep and in your bones.
Interviewer: Is the type of vitamin D that your skin is making and that your eyeballs are making better than the type that you get in your food, for mood and those types of things?
Dr. Kirtly Parker Jones: Well certainly it's more readily available and more bio-active and that's important. Actually it's harder for your skin to make vitamin D when you get older and you still need it. So I think there are good reasons to take vitamin D supplements. But a small amount of sun, particularly in the morning, can set your clock, make you feel better. Move around a little bit and get a little bit of some vitamin D and I hope my best friend who is a dermatologist doesn't hear me say this.
Interviewer: Tell me about the light box you have over there, what does that do? Is that to mimic the sun?
Dr. Kirtly Parker Jones: Yes, it is. So a light box gives full spectrum light to your eyeballs, it's not going to burn my skin, it doesn't have any UV in it, so it doesn't take much, half an hour is enough to help set your clock.
Interviewer: I have a friend that in the winter time, she gets very moody, somewhat depressed and as a result goes to Hawaii for a couple weeks in January.
Dr. Kirtly Parker Jones: You could buy a lot of light boxes for a trip to Hawaii, so I'm a big fan of the trip to Hawaii.
Interviewer: Is that why, she's not getting enough sun or does she have something that's different?
Dr. Kirtly Parker Jones: Yes, seasonal affective disorder is something that we see in northern climates as the days get shorter and the morning light is less remarkable and people don't get out in the sun. So the best thing for people with seasonal affective disorder is to get out in the sun. People are sensitive to low light and little light and shorter light, and if you are, sure go to Hawaii if that makes you happy, but if you don't have the money to go to Hawaii, you need to get a full spectrum bright light, and light boxes are relatively cheap and you can do that.
Interviewer: And then to get out in the sun, just go sit in your car for 20 minutes?
Dr. Kirtly Parker Jones: I wouldn't sit in your car, its better if you get yourself wrapped up, and besides, the sun can't get into your car anyway, what you want. So get yourself wrapped up and get some sunlight on your eyeballs and when you get warm enough because you've walked around, just push your sleeves up and get some sun on your arms.
Interviewer: Is it safe to say 20 minutes of sun can really change your mood in the winter time?
Dr. Kirtly Parker Jones: I bet you if I went and looked at the research that 20 minutes to an hour is recommended for people with seasonal affective disorder and even those of us who don't have seasonal affective disorder, you know how you feel, as a Utahan in particular when we have a week when there's no sun, people get crabby. So go find some sun and it's often not that far, it's not as far as you think, if you put your snowshoes on or go for a walk. So go for a walk or, and getting some bright light in your eyeballs. The sun is important to us.
Announcer: We're your daily dose of science, conversation, medicine. This is The Scope, University of Utah Health Sciences Radio.