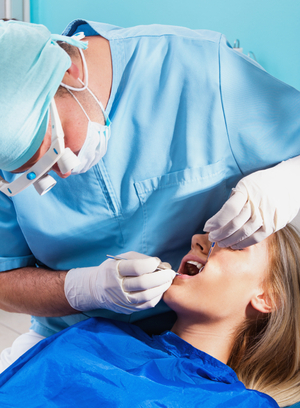 Oral Surgeon Finds a Place in the Ear, Nose and Throat Division
May 29, 2014
Dr. Bryce Williams is an oral surgeon, but he works in the ear, nose and throat (ENT) division. How are oral surgeons and ENT specialists related and how do they work together? Dr. Williams provides some insight on the connections the two types of doctors share.
Transcript
Announcer: Medical news and research from University of Utah physician and specialists you can use for a happier and healthier life. You're listening to The Scope.
Interviewer: Dr. Bryce Williams is an oral surgeon at the University of Utah Hospital but he's in the Ear, Nose and Throat Department. I don't see teeth in there anywhere so I was curious how exactly do oral surgeons and ENTs, how are they related to each other?
Dr. Williams: That's a good question. We work together in a lot of different areas. One particular area is sleep apnea. Otolaryngologists offer surgeries that are based mostly on the soft tissues, the tongue, the soft palate. Oral surgeons can offer changes to the upper and lower jaws through surgery, which can help to open to your airway, and so a lot of times it's beneficial for the patient for the ear, nose and throat surgeons and oral surgeons to work together. We also do facial trauma together. Facial trauma's closely tied to the teeth and so getting the teeth in the right spot helps get the bones in the correct position and so ear, nose and throat and the oral surgeons kind of come together on facial traumas as well.
Interviewer: So for sleep apnea, teeth are an important part, it sounds like. What about other breathing like athletics or stuff like that?
Dr. Williams: As far as breathing in patients that play sports or if they're having difficulty breathing while they're playing, the otolaryngologist can offer nasal surgery to those patients to help open up the nose and sometimes in those patients oral surgeons can offer procedure, a simple procedure done to the chin to help kind of pull the tongue forward, if the tongue appears to be an area that's closing off the airway.
Interviewer: Wow. What other ways do the oral surgeons work with ENTs?
Dr. Williams: A lot of times, we're dealing with cancer patients so sometimes oral surgeons will get together and remove teeth prior to radiation therapy for oral cancer. Oftentimes ...
Interviewer: ... you'll have to remove teeth.
Dr. Williams: Yeah, sometimes leaving bad teeth in the area where a jaw is being radiated for cancer, it can cause death of the jawbone if there's some bad teeth in there.
Interviewer: Is this the type of cancer caused by smoking and chewing tobacco products, that sort of thing?
Dr. Williams: Absolutely.
Interviewer: That can really mess up your mouth, can't it?
Dr. Williams: It's no fun.
Interviewer: Yeah. What other ways are you working with ear, nose and throat specialists?
Dr. Williams: Another way we work together is benign tumors of the jaw. Oftentimes ear, nose and throat surgeons will need intra-oral access or incisions inside the mouth rather than going through the skin to get to those lesions and oftentimes I can help out with exposing those lesions through the mouth.
Interviewer: So are there times where in the operating room, you'll go in and do some preliminary work and then somebody else will come in and do the rest of it?
Dr. Williams: Oh, yeah, every week.
Interviewer: Really.
Dr. Williams: Yeah.
Interviewer: So not just one guy doing it all.
Dr. Williams: No, I think collaborating gets different minds together, thinks of different options for the patient. I think it's overall better for the patient. Interviewer: Yeah, so there are options in a lot of these cases and you can bring a perspective that maybe they might not have.
Dr. Williams: Absolutely.
Announcer: We're your daily dose of science, conversation, medicine. This is The Scope, University of Utah Health Sciences Radio.