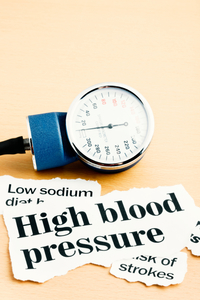 New Blood Pressure Medication Guidelines
Jan 28, 2014
A recent report changed when physicians should prescribe blood pressure medication. But does it also redefine what is considered high blood pressure? Dr. Miller tells you about the new guidelines, why they were changed and what they mean if you are currently on high blood pressure medication.
Transcript
Scot: New guidelines are out when to treat high blood pressure. The recommendations may surprise you. We'll explore that next on The Scope. Medical news, and research from University of Utah physicians, and specialists you can use for a happier, and healthier life. You're listening to The Scope.
We're with, Dr. Tom Miller, from the University of Utah Hospital. Dr. Tom, I understand that there are new guidelines for treatment of high blood pressure. What's going on?
Dr. Miller: You know, Scot, the new and long awaited guidelines state that while high blood pressure increases the risk of hear attack, stroke and pre mature death that's something that most people know. Lowering blood pressure with medication may not reduce these risks.
Scot: Oh, really. So, I come into a doctor's office, I have high blood pressure, I somehow through medications lower it that's not going to reduce my risk of heart problems?
Dr. Miller: Perhaps, especially for moderately elevated systolic pressures. This is the most common reason we start treatment. So, let's just talk about the two measurements of blood pressure to ground everybody again. Now, the upper, and larger number is the systolic pressure, most people probably know that, and the lower number is the diastolic. The systolic is placed above the diastolic when that pressures recorded.
So, an acceptable blood pressure is generally stated to be than 120 over 80. We call it pre-hypertension when it's between 120, and 140 over that lower number 85 to 90, and, finally, we call high blood pressure 140 over 90, and above.
Interviewer: All right. So, the definitions have changed?
Dr. Miller: Well, no. The definitions, and the latest recommendations have not changed for high blood pressure, but it's the value of starting medication that's changed. The thinking's changed.
Scot: Is it becoming more aggressive, or less aggressive?
Dr. Miller: Well, contrary to prevailing consensus, the task force could not recommend and systolic pressure--that's that upper number--that would trigger treatment in people younger than 60 years old. There just wasn't enough evidence for assigning a cut-off. Now, physicians, and hypertension experts have traditionally claimed persistently elevated systolic pressure greater than 140 should be treated first with lifestyle, Scot, and then probably with medication. And those with high systolic pressure should still be treated with medication for control, but it's this moderate to mild group that we don't know if it makes a difference.
Scot: And what about the lower number? Do doctors pay more attention to that? Is there some evidence there?
Dr. Miller: Well, what hasn't changed is treating diastolic pressures consistently above 90, and higher. Now, we still do that. There's pretty good evidence out there from studies done a long time ago that getting that diastolic pressure below 90 with lifestyle, and, or medication reduces the risk of those bad things happening.
Scot: All right. So, does this mean that it's for people to stop their blood pressure medications?
Dr. Miller: No. Now, this doesn't mean you should stop blood pressure treatment. That's not the take away. If you have a moderately elevated systolic pressure and you're on medication and it's controlled, the task force didn't recommend a change in the current threshold over 140. We just don't know for sure it lowers your risk for heart attack, stroke and death over the long haul.
Scot: So, it that for all ages or just older people?
Dr. Miller: That's a great question. The most eye-opening recommendation from the task force was not to start blood pressure medication in people older than 60 unless that systolic pressure is consistently greater than 150, not 140.
Scot: Why did they come to that conclusion?
Dr. Miller: Well, again, it's this lack of benefit. We don't really know if pressures in this range between up to 150 are going to make a difference in terms of outcomes. The other thing is as we grow older there's a greater side effect from medications. Those side effects can occur from having low blood pressure. We get dizzy, and feel punky. There are also issues about potency in men. There's a number of things that are concerning.
Scot: It sounds like a little bit more a conservative approach, then?
Dr. Miller: Well, this is a large change in our thinking about when to start a medication for blood pressure lowering. It really illuminates the weakness in the current body of knowledge. Contrary to the prevailing consensus, the task force could not really recommend a systolic pressure number that would trigger treatment in people younger than 60 years old. There just wasn't enough evidence.
Remember, this does not change the importance of lowering blood pressure through lifestyle modification. You can generally and significantly lower your pressure in this way. That's important. Lifestyle's still very important.
Scot: All right. Final recommendations?
Dr. Miller: Know your blood pressure. That's the key thing. Everybody really ought to know what their what their blood pressure is. To do that, purchase, as I've said on this show before, a reliable blood pressure cuff that takes readings automatically. The whole family can use it. Maintain a healthy weight. That's a body mass index between 18.5, and 25. Eat a diet high in fruit and vegetables. Exercise 30 to 60 minutes daily. Walking is great exercise. So is swimming.
Scot: My dog loves to hear that.
Dr. Miller: Yeah. If you smoke, stop.
Scot: Okay.
Dr. Miller: Realize that you may not need to take medications for moderately elevated systolic pressure. Finally, if you're considering starting blood pressure medication, or if you're already on it, this would be a good time to review the guidelines with your doctor.
Scot: We're your daily dose of science, conversation, and medicine. This is The Scope. The University of Utah Health Sciences Radio.