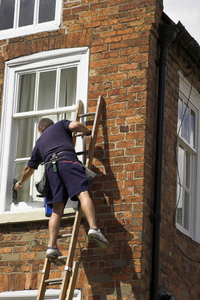 Fall Means Falls In The ER
Sep 20, 2013
Did you know that emergency rooms see more people with injuries from falling during the fall season? Emergency room physician Dr. Troy Madsen speaks from personal experience about how he landed in the ER after a fall and discusses how to avoid those accidents.
Transcript
Dr. Troy Madsen: In the ER fall means falls. I'm Dr. Troy Madsen emergency room physician at University of Utah Hospital, and I'll talk about that next.
Announcer: Medical news and research from University of Utah physicians and specialists you can use for a happier healthier life. You're listening to The Scope.
Dr. Troy Madsen: If I can say anything about what we see in the ER in the fall, it is that fall means falls. And here I am speaking from personal experience. It's been a couple of years ago, but I was working on my deck, trying to get things ready for winter, and I break through one of the boards, fall ten feet straight onto my back. That is not a good situation; you don't want to do that. I ended up in the ER, of course being in the ER, my own ER, somehow all patient privacy rules go out the window and everyone knew and within 15-20 minutes was in my room saying, "What did you do?" and "Wow, that was really stupid." So you don't want to end up in the ER with a fall.
Now the big thing I see with falls is, you know, not so much breaking through the boards on a deck, but ladders. Ladders can be a very dangerous thing and cause some very serious injuries. Some of the most serious injuries I've seen, spinal cord injuries, back injuries, severe head injuries have been from falls from 20, 30 feet up, off rooftops and off ladders. And I think what happens in the fall is we're getting ready for winter. We're thinking, okay, I've got to get the leaves cleaned out of the gutter, I've got to get my AC kind of prepped and winterized and ready to go for winter, get some things cleaned off the roof, you know, maybe repair some shingles, things like that. So people get up on the rooftops and when they're up there have some, you know, often times slip and fall.
The roof may not seem like something that could really hurt you or kill you, I mean, it's your home and you're thinking, hey, this is where I live, I feel safe here, but it can be very serious. A lot of times we're getting some rainstorms in the fall and things can be slick. So the biggest thing I can tell you with falls is, number one, if you're going to get on your rooftop make sure someone else is at home, at the very minimum. Because the worst situation to be in, again, the situation I was in, in my situation was, was I fell and no one was there. I was lying on the ground for an hour before I could actually get up and try and get some help. So make sure someone's at home, make sure they're available to call for help if something happens to you.
And then the second thing is, ideally that person is helping you out. They're next to you, they're stabilizing the ladder as you're climbing up, making sure it's on stable ground and helping you out if you have any situation there. Now some people may use a rope when they're on a rooftop, and this is for someone who feels comfortable with this, who feels comfortable with tying off some knots, who may have some equipment. If you're going to do this, make sure you know what you're doing. My big concern is sometimes in these situations, it may give you a false sense of security, you may be leaning back pulling on that rope where the knots aren't really secure and then that could lead to a fall, or you might trip over the rope. So, you know, do what you feel comfortable with, that is an option if you know what you're doing.
And finally, take your time. You know, don't rush through things, be sure and take the time to make sure the ladder is stable, make sure you've got the equipment that you need, that you're not rushing through a project potentially losing your balance. Don't underestimate the danger of a roof. Let's hope you don't fall this fall and end up in the ER.
Announcer: We're your daily dose of science, conversation, medicine. This is The Scope, University of Utah Health Sciences Radio.