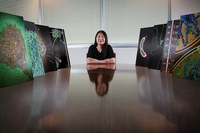 Can Scientific Animations Lead to New Discoveries?
Dec 10, 2013
University of Utah researcher, Janet Iwasa, Ph.D., has discovered that visual representations spark scientific discussions. Molecular animators are making movies starring cells, proteins, viruses, and more, and research as scientists are using them to focus their work.
Transcript
Announcer: Examining the latest research and telling you about the latest breakthroughs, the Science and Research Show is on The Scope.
Interviewer: Dr. Janet Iwasa, professor of biochemistry at the University of Utah, creates animated movies about the inner workings of the cell, that are so beautiful that they even captivate non-scientists. She was recently awarded a fellowship from TED, the organization that produces the wildly popular internet talks that are given by thought leaders who are challenged to deliver the talk of their lives. Dr. Iwasa is one of 21 TED fellows that hail from across the globe. Congratulations.
Dr. Janet Iwasa: Thank you very much.
Interviewer: So what exactly is the TED fellowship?
Dr. Janet Iwasa: So the TED fellowships is a program that was started by Ted, I think to bring some kind of up and coming kind of researchers and artists, thinkers to the stage and sort of introduce their ideas to this really influential audience.
Interviewer: How did it feel to be awarded the fellowship?
Dr. Janet Iwasa: It was definitely kind of a trip. It's really an exciting group to be part of and there are actually very few people who are doing academic research so I think it's going to be really exciting to be able to talk about some biology to an audience like that.
Interviewer: And you were saying that very few academics are actually awarded this fellowship. What do you think this the significance of that and how do you think that you can benefit from that?
Dr. Janet Iwasa: I read an article about TED talks and sort of a paper in [inaudible 00:01:29] that was doing some statistics. They found that a small percentage of the talks on the TED website are actually given by academics. Their estimate was something around 20%. But they found that people preferred these talks over talks by non-academics and that gave, and a lot of these academics tend to be scientists. And so, you know, there's this sort of interesting trend of, you know, thinking that maybe people are really interested in hearing biology or research from researchers and I think that's something that a lot of scientists don't really think is true, or kind of doubt that the public is really interested in, but this study is sort of interesting in that way that people do really seem to be interested in hearing about research from researchers.
Interviewer: How do you think this experience might benefit your work in particular?
Dr. Janet Iwasa: There are some projects that I think would be really nice to be able to put on a kind of a more open stage. So I'm really excited to talk about my project on animating the life cycle of HIV, since that is supposed to be a public oriented project and even though it's quite early in the project I think, you know, having some publicity for that would be incredible. Just to kind of show off the research, the immense amount of research that's gone into this and really how much we know about it, so that's something that I am planning on showing bits of that project, as well as talking about it.
Interviewer: Now one of your good friends, Mariah Meyer, who is at the Scientific Computing Institute at the University of Utah was a TED fellow last year. And actually you two are the only two from the University of Utah who have received this honor so far. Have you talked to her about her experience?
Dr. Janet Iwasa: She said one of the things that has been the most powerful experiences for her was really the networking and the inspiration that she gained from her fellows, her fellow fellows.
Interviewer: And what do you hope to get out of that experience?
Dr. Janet Iwasa: So I think it is probably for me a lot about networking, and in terms of the social and potentially, yes, I think it will be inspiring to be able to go there and see other people who are also kind of doing something different within their own fields. And I think it would also be great just to be able to give this five minute talk about sort of the wonders of cell biology and of molecular biology and reveal kind of the way that biologists view our research to a larger audience of non-researchers.
Announcer: Interesting, informative and all in the name of better health. This is The Scope Health Sciences Radio.