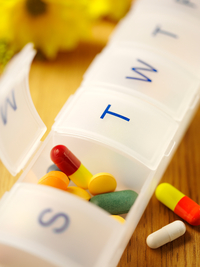 Poison that Looks Like Candy
Jun 9, 2014
Some of the most potent and poisonous substances can be found in grandma's pillbox. Dr. Tom Martin, medical director at the Utah Poison Control Center, offers advice on keeping heart medications out of the wrong hands. He gives advice on what to do if you suspect your child may have swallowed the medications.
Transcript
Interviewer: We all know that we have to be careful with prescription medications around the house, but did you know that heart medications are especially dangerous? That's next on The Scope.
Announcer: Medical news and research from University of Utah physicians and specialists you can use for a happier and healthier life. You're listening to The Scope.
Interviewer: I'm here with Dr. Tom Martin. He's the Medical Director at the Utah Poison Control Center. Welcome, Tom.
Dr. Tom Martin: Thank you.
Interviewer: Today, we're going to be talking a little bit about the dangers of heart medications around the house. Everybody knows that they need to keep medications locked up and away from where small children can get at them, but heart medications, I guess it's especially important we do that. Why is that?
Dr. Tom Martin: Well, they are particularly toxic in low doses. That means that they are very potent. They are prescribed to people who have a weakened cardiovascular system. They are often prescribed to older people and that means that many times there's grandchildren around and that's a bad combination.
Interviewer: Well, what is it that makes them so dangerous? You said that they're especially potent in low doses. Are the pills themselves always prescribed in low doses?
Dr. Tom Martin: No, not necessarily actually. Sometimes a pill can be one day's worth of the medication in a sustained-release preparation. So it actually can be a fairly large dose of medication, but it's made to be slowly dissolved and absorbed in the body. However, in a child that dose which could be appropriate for an adult could be very deadly.
Interviewer: When you say that there is sustained-release, a child might not exhibit symptoms right away.
Dr. Tom Martin: That's correct. So that's one of the really dangerous things about these, is that they are like time bombs in that a child can ingest one. The parent may just see the child with an open bottle, think they're acting okay, and not be too worried. And then within hours, sometimes as long as four to six hours, the child can become very sick, and maybe much sooner than that too. It just varies. It depends upon the formulation of the particular medication. But the sustained-release preparations really are very problematic for us.
Interviewer: What do some of the symptoms look like of a child that's been poisoned by a heart medication?
Dr. Tom Martin: Well, there's different types of heart medications, but generally I think the main concerns we have are that there would be severe drop in their blood pressure that can make them feel maybe very weak or dizzy or pass out or very drowsy, and sometimes it can throw their heart into a very abnormal rhythm. That usually would cause a very sudden change generally, although a very slow heart rate can come on gradually or a very rapid heart rate can come on gradually. There are other rhythms that can be very lethal and can come on very rapid and cause a child or an individual just drop down and pass out.
Interviewer: Wow. So once you start noticing that a child has symptoms of having being poisoned by a heart medication. How long do you have before things get really, really dangerous?
Dr. Tom Martin: Well, certainly we recommend anytime anybody thinks a child or a person who is not on these medications has had exposure, has swallowed any of these medications, they should call the poison center. They should call the 800 number which works throughout the United States and puts you in contact with your closest regional poison center because these can be very deadly.
We have a lot of experience with them and so we use our knowledge and our judgment with the experience to really try to manage these appropriately, and sometimes that can be, in some situations, managing individuals at home, but many times with these types of medications which have such lethal potential and they have the delayed effects, are notorious for having very delayed effects, it's often best to bring them into the hospital to watch them.
Interviewer: By the time the child may be exhibiting symptoms they probably have already absorbed a lot of what we might call the "active ingredient" that is actually causing these symptoms and poisoning them.
Dr. Tom Martin: Yes, so certainly by the time they become obviously symptomatic, so if a layperson can look at them and say, "Oh my goodness, they're sick." they probably are very sick at that point. Now, if they are just a little drowsy that's one thing, but if they are very weak or they are pale looking that would suggest that their blood pressures are very low and that would be very concerning and we wouldn't want that to happen at home if we can avoid. If that's going to happen we want to be in the hospital where we can treat that rapidly.
Interviewer: So once these symptoms become apparent in the child, they may have already ingested enough of the medication to, well, they've clearly ingested enough to make them at least sick and symptomatic. How worried should a parent be at that moment? I mean I know they are going to call the poison control center or they're going to go to the ER. I mean what's the prognosis for a child that's ingested some of these heart medications?
Dr. Tom Martin: For some of these medications one pill could kill. It's actually very uncommon for children to die from these overdoses because we are so cautious. We get them into the hospital right away, we treat them very expeditiously if they start to show signs and symptoms, and in a hospital setting we can generally support them and get them through this.
But not always. Sometimes they'll have enough absorbed that no matter what we do they still may end up getting very sick or even dying, but that's very uncommon.
Interviewer: What sort of treatments might a child encounter when they go to the hospital?
Dr. Tom Martin: Well, depending upon how soon afterwards and what kind of preparation they may have ingested, they may have their stomach emptied. So sometimes we might do gastric lavage, sometimes we might give them activated charcoal to bind the toxin and then pass it through their intestines bound to the charcoal. Other times there are special antidotes used for these medications. Some are very unusual.
Sometimes we use doses of medicine to raise their blood pressure that may be 10 to a 100 times the normal dose. Sometimes we use insulin, it has special haemodynamic properties or special beneficial properties on the heart, and sometimes we give doses of insulin that are to a 100 to 150 times the normal doses. And many times the pharmacists in the hospitals, if they're familiar with these protocols, they're very surprised by them, so we have to fax them protocols and fax them literature to support these unusual therapies.
Interviewer: That sounds like that could poison a child if they were to take that on its own.
Dr. Tom Martin: They are not innocuous treatments and they have to be watched very carefully.
Interviewer: This is an emergency situation, so you do what you need to do in order to save the life of the person that's been poisoned.
Dr. Tom Martin: That's right.
Interviewer: So it sounds like, based on our conversation so far, I don't personally take heart medication, but if I did this stuff would be in a safe at my house. This stuff sounds really dangerous for kids and I have four children at home. As an expert in poison control, where would you say that heart medications fall on the scale of danger of prescription medications?
Dr. Tom Martin: Towards the top of the scale. They are very dangerous. Fortunately we don't get too many children that get into high doses and so we don't see a lot of deaths, but certainly we do see occasional deaths and we certainly see deaths in adults who take them intentionally.
That's part of the problem with these medications are they are often prescribed to older people with deteriorating cardiovascular systems and as they go from being older to becoming elderly they end up losing their loved ones, they end up losing family members, they end up losing friends just naturally, and that often leads to depression, sometimes very severe depression, and now they have a very potent medication with them and they may be severely depressed and that's a very bad combination.
Interviewer: So, Dr. Martin, it's very clear that these things are very dangerous. But what are some ways that we can prevent children from getting access to them? Or what are some behaviors that might put kids at risk that we need to watch out for and maybe correct for in order to protect them?
Dr. Tom Martin: Whenever we prescribe potent medications we recommend the use of childproof containers. However, older people sometimes have arthritis in their hands and sometimes just have weakness so that they struggle with childproof containers.
And many times for that reason or because of convenience they'll put them in a pill-minder which is a way of organizing your daily medications with a little flip-top and it's very convenient for seniors to have their medication in that fashion, but that's very easy for a very curious child to get into, and of course children are very oral in the way they explore medications, just to put them in their mouth. And you'd think if it didn't taste good they'd spit it out, but their natural tendency is to just swallow it if it doesn't taste good and go for another one that looks different.
So that's important for grandparents to realize when their children's homes where there are grandchildren there that their behavior really has to change and they have to really mind those medications. You can't leave pill-minders out, you can't take pills out of containers and put them on your dresser because children will find some way to get up there and play with those or eat them thinking they're candy.
One grandmother used her pill-minder and gave it to the child to play with as a rattle because it rattled when he shook it. Obviously that could be very dangerous. If she turns her back and it happens to open, the candy falls to the floor and the child grabs it quickly and puts it in the mouth.
Interviewer: Wow. So it sounds like this is a good thing to be warned about and it's good for parents to be aware of, and from our discussion it seems that if there is even any suspicion that a child has gotten access to these pills to just call poison control right way.
Dr. Tom Martin: Well, I would say not only any suspicion of a child ingesting, but anybody who you think may have taken a potent medication like this that is not prescribed for them that they're not used to it or taken more of that medication. Even a double dose of some of these medications can be very toxic on somebody who takes them all the time, but they are so potent and there's this narrow very therapeutic window that they could get very sick with just a double dose.
Interviewer: Can you tell us what the number is, Dr. Martin?
Dr. Tom Martin: The number for the poison center is 800-222-1222.
Interviewer: So if you even suspect that a family member, a relative, a child, anyone has accidentally or intentionally exposed themselves to this medications in an appropriate way call the poison control center immediately.
Dr. Tom Martin: Yes, that's correct.
Announcer: We're your daily dose of science, conversation, medicine. This is The Scope, University of Utah Health Sciences Radio.