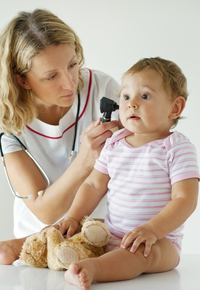 ER or Not: My Kid Has Something Stuck in Their Ear
Feb 9, 2017
Has your child gotten something stuck in his or her ear that both your kid and you can't seem to get out? For those hard-to-grab objects, emergency room physician Dr. Troy Madsen says you should consider either the ER or urgent care because there's a chance you could push it in further. Find out what you should do for all those other times when a foreign object gets stuck in your child's ear.
Transcript
Announcer: Is it bad enough to go to the emergency room or isn't it? You're listening to "ER or Not," on The Scope.
Host: Dr. Troy Madsen's an emergency room physician with University of Utah Health Care, and today, "ER or Not," kid stuck something in their ear. What do you think? Do you have to go to the ER for that or not? Dr. Troy Madsen, the answer is . . .
Dr. Madsen: ER or urgent care, just because it's something they could probably take care of in an urgent care, but you may end up in the ER because it's tough to get stuff out of kids' ears. When you figure, once a kid puts something in their ear, they're really irritated by it, so they're going to push on it. So, they're going to push it deeper and deeper in there. So by the time you know about it at home, you're probably not going to be able to get it out. You're probably not going to be able to see it because they've already pushed it in there.
You might try and take a look, but you're not going to try and shove some tweezers down there, and pull on something, and cut their ear up. So, maybe you go to the urgent care. The challenge, though, with kids, with trying to get stuff out is maybe they're going to cooperate, but they also might need some medication to calm them down a little bit, maybe to sedate them a bit, to get this thing out. So if it were me, I think I'd probably end up in the ER. Just knowing . . .
Host: Yeah.
Dr. Madsen: . . . that that was a possibility to avoid going to the urgent care and then getting sent to the ER.
Host: Got you. What about an adult with something stuck in their ear? Did you ever see adults or is it just kids?
Dr. Madsen: We do see adults, but usually, adults, the biggest thing I've seen are earbuds. So earbud headphones have the little, kind of the rubberized thing on the end of it and I've seen people who have gotten that stuck in their ear. And it's kind of funny. I don't know if they're just really shoving it in there to really hear their earbuds well, and then they pull it out, and then that little rubberized thing just pops off and gets stuck in the ear canal.
And I've seen several cases of that, where people come in, and they're reaching in there, trying to pull this thing out, and they can't, and they don't want to try and get some tweezers, I guess, and pull it out. It's usually really easy to pull those things out, but that's the most common thing I see.
Host: Yeah and it's probably best to let a professional, maybe, take care of that . . .
Dr. Madsen: Probably.
Host: . . . because you end up pushing it in further or damaging your ear, I suppose.
Dr. Madsen: You might. You know, but again, that's the sort of thing I think an urgent care could easily handle. You know, quite honestly, if you're related to a nurse or a healthcare professional, they could probably just take a look and take some little tweezers and pull it out. But I have seen it lodged fairly deeply, at times, and there it's a little more involved to get those out.
Announcer: Want The Scope delivered straight to your inbox? Enter your email address at thescoperadio.com and click "Sign me up" for updates of our latest episodes. The Scope Radio is a production of University of Utah Health Sciences.