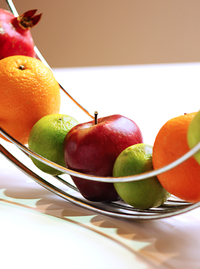 Which Fruits Are Best During Fall?
Nov 20, 2013
We know pomegranates are huge during the fall season. But apples also are harvested in the fall. That's when they're the tastiest because the sugar content is the highest. Oranges, grapefruits, and other citrus fruits are grown in the winter months and also considered "superfruits" for the fall. Registered dietitian and director of the Division of Nutrition at the University of Utah Dr. Julie Metos gives the facts about the best fruits for the fall season and explains why it's important to eat foods, especially fruits, that are in season.
Transcript
Julie Metos: I'm Julie Metos, Registered Dietician and Chairperson of the Division of Nutrition at the University of Utah. Coming up on The Scope, we'll talk about apples and other healthful fall foods.
Man: Medical news and research from the University of Utah physicians and specialists you can use for a happier and healthier life. You're listening to The Scope.
Julie Metos: Apples are harvested in the fall. That's when they're the tastiest. That's when their sugar content is the highest, and they're one of those foods that we really like people to consume daily, even, is the saying, right? That could be true because they have lots of fiber, they're low in calories, and they add a little sweetness. A perfect dessert or snack.
I have heard a rumor that green apples are better for losing weight because they have more acid. Not so much true on that one, but, you know, apples are a great weight loss tool because they fill you up. Anything that fills you up with few calories can really go a long way to helping you maintain your weight or lose weight.
Other fall foods that I come to find out are surprising to people are oranges, grapefruit, citrus fruits because they're grown in the winter months in the South, and those are also foods that we would consider superfoods because for the calories they have, they pack a powerful punch of vitamin C, of fiber, and they give you a nice hydration. They're very full of water. I think those are some of the foods that I would really encourage people to use as their basic fruits during the fall and the winter.
One thing that we really emphasize now is to buy foods in season. So seasonal foods are great in a number of ways. I mentioned that they taste better when they're in season. They haven't had to be stored for as long, so their sugars are nice and crisp and have come to the surface. They're in really great shape in terms of blemishes.
The other thing is that it's probably better for our environment. So we are eating foods that are more close to us. They're in season. They haven't had to be transported as far.
The last fruit that I want to talk about is pomegranate. Pomegranate is really hot right now. You can get pomegranate juice, pomegranate fizzies, and pomegranate ice cream.
The reason that pomegranate is so hot in the nutrition and the grocery world is that it's a really rich color. When we have those colors, it's our clue that we have those pigments. In this case, the pigment is lycopene, the red pigment. These pigments serve as antioxidants in our body and helps scavenge the by-products of metabolism that can harm our cells.
So we know pomegranates are really healthful. As dieticians, we always encourage to eat the fruit, not the juice. The reason is when you drink the juice, you're getting a big load of calories really quickly. We know when people drink their calories, they get more calories than when they eat them.
I think the pomegranate's a great example. Pretty easy to drink a cup of pomegranate juice, but to eat a pomegranate, that takes some work. So to get those little seeds out, you have to cut and get them out. It's a whole pleasurable experience of actually preparing the fruit, which is something that humans really satiate on: preparing their food.
So, to conclude, I'd say fruit is just something we want to think of as a great snack, a great dessert, a great way to satiate on the experience of how wonderful a fruit smells, tastes, and is to prepare. Remember on the side, too, that it's super nutritious, and it's something that we can enjoy every single day.
Man: We're your daily dose of science, conversation, medicine. This is The Scope, the University of Utah Health Sciences Radio.