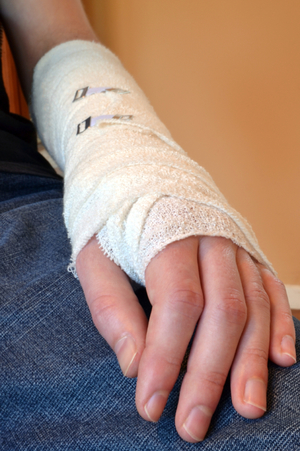 ER or Not: My Arm Might Be Broken
Mar 26, 2014
You think broke your arm. Is that a reason to go to the ER? Emergency room physician Dr. Troy Madsen talks about what to do if your arm is broken or you think it might be broken.
Transcript
Announcer: Is it bad enough to go to the emergency room, or isn't it? Find out now. This is E.R. or Not on The Scope.
Interviewer: Today, a broken arm. Dr. Troy Madsen, University of Utah Hospital, E.R. or not?
Dr. Madsen: So E.R. or not for a broken arm? If you look at it and it just looks like it's broken, you want to go to the E.R.. Your other option is urgent care and you're thinking, "Okay. I can get into an Urgent Care more quickly. Usually the copay is less, if I'm paying out of pocket it's less money." It'd be great to go to the urgent care and just get some x-rays. The problem is if you look at your arm and you say, "My arm is clearly broken. It is deformed." You are going to go to an urgent care. They're going to look at it. They're going to put you on ambulance and send you to the E.R..
Interviewer: Why is that?
Dr. Madsen: The big issue is that urgent cares are typically not equipped to give sedation. The problem is if you've got an arm that is out of place you need to get it back in place. In an urgent care, they don't have the sedation or the things in place to kind of put you out to where you can actually have someone cranking down on that arm and pushing on it to get everything back in alignment. They're going to see that and say, "Hey, this is beyond what we can handle here." They're going to send you to the E.R. and you're probably going to get two bills. Not the kind of thing you really want.
Interviewer: What about if it looks like you have a broken arm, should you splint it before you go to the E.R. or urgent care?
Dr. Madsen: I would. Whatever I could do to support it. One of the quick things you can do to support it would be some kind of sling. If you've got a shirt or just even a large towel or washrag, put it over your shoulder, get the sling under your elbow and under your wrist. That's going to hold things in place. You can splint it as well if you're out somewhere in the wilderness or just out walking around and you fall and break your arm or hurt it.
Just get two sticks or two pieces of wood or something. The thing we always try to do with splints is we try to support the joint above and below the injury. If you're talking about your wrist you're talking about your wrist and your elbow with your forearm. You want to support those things. That's going to keep the bones from moving around and causing a lot more pain.
Interviewer: I was playing roller hockey as a youth and broke my arm. My coach took a piece of cardboard, some skate laces and some of those otter pops. You know those long popsicles?
Dr. Madsen: Yeah.
Interviewer: And made a splint out of that. The cold, actually, was that a good thing to do as well?
Dr. Madsen: Okay. I was thinking the Otter Pops were for the splint but it was for cold.
Interviewer: I think it was for support and cold because they were frozen. I walked in and everybody in the E.R. laughed at it. They thought it was pretty neat, but was the cold a good idea?
Dr. Madsen: Sure. Cold is going to help some with the swelling. I actually kind of looked this up in terms of what research is out there with using cold with swelling. It's kind of mixed. Some people say, yeah, it works. Some say not so much. It probably helps just to numb it up if nothing else.
Interviewer: Sure. Reduces the pain a little bit maybe.
Dr. Madsen: I like that. The Otter Pop splint, it's kind of the two in one.
Interviewer: It was the two in one. What about taking some sort of aspirin or a painkiller before you go in if the pain is so bad? Is that recommended or not recommended?
Dr. Madsen: I would.
Interviewer: It's fine.
Dr. Madsen: Exactly. Tylenol is usually the safest thing. Sometimes if you talk to orthopedic surgeons they say maybe Ibuprofen delays bone healing so we try to avoid Ibuprofen with injuries that might be fractures. It's probably not a big deal, quite honestly. But at least take some Tylenol. Take something for the pain because obviously you're going to be hurting quite a bit in this situation.
Interviewer: Any other considerations with a broken bone?
Dr. Madsen: The biggest consideration is making sure you can move your fingers and you've got blood flow to your fingers. If you touch your finger and you push down and it doesn't go from white to red on your fingernail, or if you're just not moving your fingers, that's much more serious. In that kind of situation I'd call an ambulance and get to the E.R. because we're talking about some potentially serious nerve damage or potentially damage to the artery there. That's something where we have to address that very quickly. Otherwise you can get someone to drive you in, get in there and get it addressed.
Announcer: We're your daily dose of science, conversation and medicine. This is the Scope, University of Utah Health Sciences Radio.