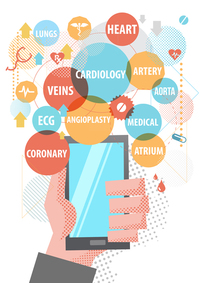 Social Media Has the Power to Revolutionize Medicine
Apr 17, 2014
How can patients and physicians best utilize social media for everyone's benefit? Dr. Farris Timimi, Medical Director for the Mayo Clinic Center for Social Media, talks about the incredible power of social media in medicine, why you need to engage in it, and has a couple tips on how to best utilize it regardless if you're a patient or physician.
Transcript
Farris Timimi: I'm not supporting Facebook. I'm not endorsing Facebook. But I'm saying it's foolhardy for providers not to recognize our capacity, to put content of value that is scalable, shareable, archivable in the path of the patient where they spend their time.
Announcer: Medical news and research from the University of Utah physicians and specialists you can use for a happier and healthier life. You're listening to The Scope.
Host: We're with Farris Timimi. He's the Medical Director for the Male Clinic Center for Social Media and Social Media in Medicine. Why should somebody be interested in being friends with their doctor on Facebook or following them on Twitter?
Farris Timimi: It's more than the intimacy of a patient and a provider engaging in a social platform. It truly is the power of one-to-one versus one-to-many. And its intent is not to replace the intimacy of a patient sitting with a provider in a clinic. It's to extend that conversation beyond the confines of geography and time. If we put content of value in the path of our patients where they spend the majority of their time, we can engage them no matter where they spend that time.
Host: What type of information would you think a patient could find out from their physician on social media?
Farris Timimi: One of the more powerful examples for me, personally, is picking a bike helmet. I have a six and a seven-year-old. We see our pediatrician Chris [inaudible 00:01:15], and Chris talked to us about a bike helmet. It's a five minute conversation where Chris talks about why over the ears, flat against the forehead, a finger breadth beneath the chin strap. If I film Chris showing that conversation, I've now made Chris more efficient. Instead of Chris saying, "Here's how to pick a bike helmet," he could say, "Watch my video on YouTube." Moreover, if you are a parent who cannot have the means to or capacity to see a pediatrician, I put content of value in your path. And if by doing so I can prevent one bike helmet preventable injury that could be catastrophic, it's worth the three minutes of video time to edit that film down.
Host: Help me out here. I'm a patient. What's the way I can get the most out of social media and my healthcare provider?
Farris Timimi: In particular for those whom geography will isolate, who suffer from rare diseases and have no community in their immediate capacity, social media provides a platform for engagement. If you're unfortunate enough to suffer from a rare disease, you could find peers you can engage with. You can also have the power to be your own expert in your own disease. And that's what's changed about out platform for engagement. In the old days, and remember, Twitter is 7 years old, the Internet is 25 years old, in the old days, the only expert in the room was the provider. I think more and more of us are recognizing that our patients have the capacity to be the lived experts of their disease, and social media can now make that a reality. So it is showing that if you suffer from a chronic disease and have no access to the Internet, you don't do as well. If you have financial issues and don't have access to the Internet, you do more poorly when you retire. So engagement and conversation has real power for the crowd.
Host: When it comes to actually engaging with patients, you speak of the bike helmet video where somebody does a video once and it's viewed many times.
Farris Timimi: Right.
Host: Do you think physicians should also be interacting with patients one-on-one on social media platforms, or should they be thinking more about, how can I help many people at once?
Farris Timimi: I would encourage providers not to practice medicine online. The thing I tell people is, "Don't practice on the Internet no matter how good your intent." That's not what this is for. This is for one-to-many engagement. So a high salt diet causes heart failure and high blood pressure. Patients need to know that. Here's the simple changes that you can make in your diet to make a more responsible diet and manage your weight more effectively. Obesity is devastating. Here are some guidelines on how to address that. We have access to content that has value. We are struggling as providers because our time for patient engagement is becoming more and more narrow. Here's a tool that we can use to help you, not to replace you sitting down with a patient, but to spread the information and content you have to a much wider audience. One-to-one has real value. One-to-many is not to replace that. It's to augment that.
Host: Gotcha. Since you're really not to practice medicine via social media, what type of interaction could you expect from your doctor on these types of social media?
Farris Timimi: In general, the utility of social platforms from a patient-provider interaction could serve one of two purposes. From a provider's perspective, if there's repetitive content the provider shares over and over again, putting it online and telling the patient, "Here is the video for my bike helmet you can watch," makes that provider more efficient.
The second metric we focus on for the patient-provider interaction is conversation elevation. So if you have a complex or nuanced issue you need to address with a patient, putting that material in a YouTube video that, that patient can share with their family who may not be able to be there, with their grandson who's going to go to the grocery store for that mother who has heart failure, extends the conversation significantly. Then when you sit down with that patient, instead of beginning that conversation at ground zero, you begin it at point five. You have a different, more meaningful level of engagement. So if you think about looking for opportunities in practice, they got people separate by time and space, you need to work on a project or archetype. And that's a great opportunity for social media to be a tool of real value.
Announcer: We're your daily dose of science, conversation, medicine. This is The Scope, the University of Utah Health Sciences Radio.