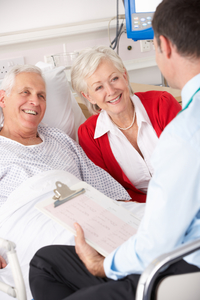 Community Hospital CEO in Grand Junction Talks About the Hospital's Future
May 27, 2014
Smaller hospitals face unique challenges in providing the best care to their patients. In some instances, their survival depends on overcoming those challenges. Chris Thomas, CEO at Community Junction Hospital in Grand Junction, Colo., talks about what that locally owned hospital is doing to meet its challenges and provide the best care to the Grand Valley for many years to come.
Transcript
Announcer: Medical news and research from University of Utah physicians and specialists you can use for a happier and healthier like. You're listening to The Scope.
Chris Thomas: Hi. I'm Chris Thomas. I'm the president and CEO at Community Hospital.
Host: What is it that makes Community Hospital unique?
Chris Thomas: I think the fact that we are a local owned community. We're directed by a board of directors that lives here. The physicians that are on our board practice here and at the end of the day, every dollar that we make stays here. So, that has really made us a part of the community. We have done some really exciting things with other businesses in town. We've really tried to be the community's, with a little c, hospital.
Host: Let's talk about some of those interesting partnerships. You have some really innovative partnerships with the school district and the county. Tell us what those are about, how they came about and what some of the results have been.
Chris Thomas: Well, you know as healthcare costs have continued to rise businesses have really struggles and many of our government entities have struggled also with double digit increases. And so in the past what they've done to lower their cost to healthcare is pass more dollars on to their employees with higher premiums, higher deductibles and they've just ended up with plans that were really tough for the employees. For example, the school district ended up with a plan that had a $6000 deductible for single, almost a $12,000 for a family and premiums of almost $8000 a year. So, for our teachers, the first $20,000 of healthcare was out of their pocket before their benefit kicked in.
What happened was, they weren't going and when they did go they were train wrecks. So, the school district really saw their healthcare costs going up and really weren't improving the health of their employees. They went out and looked for a way to lower their costs. That's what brought use together and we brought together basically an employer sponsored clinic. So, in the past as we recruited physicians, that really set the stage for being able to provide that service.
In essence, what the school district did was they brought primary care for their employees. They brought that through Community Hospital directly and then we provide primary care, meds and also lab service to the employees at no cost. So, now there's no reason for the school district employees and their families to not see a physician. And one of the things I've said around this community is the most expensive place to receive healthcare is in our emergency department. The most effective, cost conscious way to receive care is at our primary care offices. And so I think this has been a perfect match of two organizations.
Host: I agree and it sounds like you, if I understand correctly, really had some great results from that. You and the school district.
Chris Thomas: We really did. As far as the school district is concerned, the first year they lowered their health costs $2.4 million. Almost 29% lower premiums, costs, expenses for the school district. That's important. Those are the people that are teaching our kids. They've got $2.4 million now to go towards other ventures within the organization. For the hospital it was a real win for us because not only did we enroll 1800 of their members into our clinics, we saw a 69% increase from that work group utilizing community hospital. So, it was a huge win for us also.
Host: Great win for both sides of the community. Again dollars stay in the community. That's a really phenomenal model and then you took that model and offered a variant of it to the county.
Chris Thomas: Yeah. We went one step further with the county. They kind of watched for a year and so we stepped in and were able to offer the same clinic model to the county. Then because our costs are significantly lower than the other hospital in town, upwards of 40% lower for many services, the county wanted to take advantage of that so we entered into an exclusive provider organization where we're the only in network hospital for the county. They put that out to their employees and 86% of their employees chose that plan. So far in the first three months of that partnership, they've saved about $40,000 on their clinic expenses and almost 28% on their hospital expenses.
Host: Again, a lot more money for the government to use for other purposes than providing healthcare.
Chris Thomas: Absolutely. Maybe lower our taxes?
Host: Yeah that'd be nice, right?
Chris Thomas: That'd be a novel idea, wouldn't it?
Host: So tell me about some other things you have in store for the future. A new hospital for Grand Junction?
Chris Thomas: You know we've been here for about 54 years and we've been very fortunate. We've grown quite a bit especially over the last couple of years. We're outgrowing our old facility so we went ahead and sold the old campus to the university here in town. We did that a couple of years ago as move toward a new campus. So, hopefully in the near future we'll be moving into a new hospital. Private rooms, state of the art facility that will really help us move forward.
Host: And it's a beautiful campus. We were out there yesterday and I think it's really coming together nicely.
Chris Thomas: Yeah it's going to be a nice facility. We already have a 90,000 square foot medical office building that's been built and is open and that's a joint venture. Again, that's one of the things that we've really tried to do is not necessarily compete with our physicians and other organizations, but really partner. And so, that facility is a joint venture. There's a new surgery center that is a joint venture with physicians and it's just been my position that I would rather partner and be successful. We don't need to own everything. We'd rather have great facilities, great services and great partners.
Host: Tell us about some of the lead services that you offer to the community.
Chris Thomas: You know, historically Community Hospital's been kind of a bread and butter type of hospital. We do a lot of orthopedics, in fact this past year we were the third ranking hospital in the state of Colorado for orthopedic care. General surgery, GI, med, surgery. We stopped delivering babies about ten years ago and that's probably the most requested service I get so it will absolutely be in the new hospital. We recently partnered with five OB/GYNs that are now part of our system and so we're excited to get them out to the new campus, delivering babies at our facility. And then of course we want to look at other opportunities that make sense, that improve the health of the community and improve the health of our organization.
Host: Tell me about some of the accomplishments you've had to date.
Chris Thomas: I think the thing that I'm most proud of is the team we put together, the clinical awards we've received and just becoming an organization that has attracted some great people. We've recruited some great physicians.
Host: That sounds like the growth in both the number and quality of physicians really improving quality is part of what set the stage for a partnership like this.
Chris Thomas: It really did. You know when I got here 6 years ago there was a core group of physicians that were very loyal to Community Hospital but I think their average age was probably about 55. So, we went to the board of directors and said, "Hey we better get busy and start thinking about the future." So, we've got a couple of things going for us. One, great community, great place to live. So, to get a physician to take a look at Grand Junction was pretty easy and then we just developed some clinics and some practice models that were successful. We'll have almost 54 employee providers by the end of the summer and we started with four.
Host: That's outstanding. That's really phenomenal growth. What was it that made you say, "Our next step might be to look for a partnership with a larger medical center?"
Chris Thomas: We sit here in Grand Junction, Colorado. We're a community owned. We're really not affiliated with any other health systems and we really feel like a small community hospital really needs to have some partners if we are going to be around, basically. So, we started exploring those opportunities, talking about what we were looking for in a partnership, what we hoped to gain and boy, it lead us right to Utah.
Host: So tell me about the affiliation with Utah and what you see it bringing to Community Hospital and to Grand Junction over the next few years?
Chris Thomas: I can tell you that throughout the organization, everybody is really excited about the partnership with University. When we had our strategic planning retreat this past year with our board of directors and probably about ten physicians, especially the physicians [inaudible 00:08:01] talked about the comfort they have with the University of Utah healthcare, the ease they have at transferring their patients, getting information back. So, they were all very impressed with their working relationship with Utah and they were very excited that we were talking about this partnership. And for us, I think it brings access to one of the best academic medical centers in the country. We're a small community hospital so our ability to do research and look at best practices is limited. Now with this partnership we hope to really tie into what the University of Utah has been doing around really setting the bar for great healthcare.
Host: What do you see some the key services that you will work with University of Utah to bring to this community or provide links to?
Chris Thomas: Sure. We're really excited to, what we call difference scopes of work, with the University. Our first one we're going to start as soon as possible is telemedicine. We really want to take advantage of the specialists that are in Salt Lake that can support our physicians here, so our hospitalist, our emergency room physicians, our ICU physicians. We'll start that right away and we're going to start with neurology and pulmonology and probably tele-burn with the University. I see that expanding to other services.
Down the road, I really look forward to having our nurses and our clinical people be able to rotate through Salt Lake, spend some time there with University staff. And we feel like in two, three, four days with the University Hospital, our staff can probably as many cases as they may see in a year at Community Hospital. So, I think it's really going to help them stay engaged as professionals, advance their skills. So when that need arrives at our hospital, we'll be ready.
Announcer: We're your daily dose of science, conversation, medicine. This is The Scope. University of Utah Health Sciences Radio.