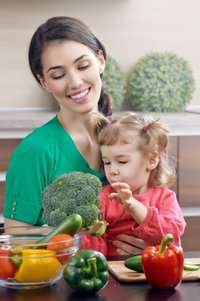 Vegetarian Diet for Kids
Nov 13, 2013
Vegetarian diets can be perfectly healthy for kids of all ages, even infants, but it's important to not let them be a french-fry-vegetarian, which focuses only on not eating meat. Beans, tofu, diary, and egg should always be present in a healthy vegetarian diet. Registered dietitian Dr. Julie Metos from the University of Utah explains the different types of vegetarian diets and tells you which ones your child shouldn't be on. She also discusses the vegetarian alternatives for protein and nutrition that comes from meat.
Transcript
Announcer: Medical news and research from University of Utah physicians and specialists you can use for a happier and healthier life. You're listening to The Scope.
Interviewer: We are there with Dr. Julie Metos, Registered Dietician and the Chair of the Division of Nutrition at the College of Health. Kids, and vegetarian diets: is it healthy for them? Are they getting enough protein?
Dr. Metos: Oh, sure. Vegetarian diets can be perfectly healthy for kids of all ages, starting from when they're infants. And just like with all kids, we have to pay a little more attention to their nutrition overall. So I'd say yes, they definitely can be healthful.
The one thing you want to avoid is being a french fry vegetarian. What that means is that you're not having an overall healthful diet, you're just focusing on not eating meat. So I think it's really important for all of us when we eat to think of all the foods and the food groups, same with being a vegetarian. So what you need to do if you're a vegetarian and with kids is really encourage vegetables. And so I think that's one thing that gets missed overall, especially for adolescents.
Now there are two types of vegetarian patterns that aren't so healthy for kids. One is if you're macrobiotic, it's possible to be healthful for kids, but it's difficult and that's a common type of vegetarianism. The other is the raw food diet, which is a very strict vegetarian or vegan diet. What happens is that kids have really little stomachs compared to adults, and so when you have a lot of volume, like a raw food diet is a lot of volume for the number of calories you have, they can often get too full before they get what they need out of food.
If they're starting when they're very young it's usually the parents. They might be doing it for religious reasons, or environmental reasons or out of tradition. Maybe they were raised that way, and that's often a very healthful thing because they have a lot of generational knowledge behind them. What I often see also is when kids are about seven or eight, or maybe preteen, they decide that they don't want to eat animals anymore.
Interviewer: What other kind of food choices are more appropriate for a vegetarian diet in children?
Dr. Metos: Well they're going to have to rely a lot of legumes, like beans, black beans, pinto beans, kidney beans, garbanzo beans, things like that for protein. Things like tofu, tempeh, they're going to have to be sure to have plenty of oils in their diet. If they have dairy foods in their diet, like milk, yogurt, kefir, then that's a pretty balanced diet. If they have eggs in their diet, they'll be just fine. When the dairy group or the egg group goes, then it gets a little bit more difficult, and they have to rely even more on some of the soybean and bean type products.
Interviewer: Got you. Okay. So side effects, are there any?
Dr. Metos: Well there are certain vitamins and minerals that can be deficient if the diet isn't carefully planned. So one is B-12. B-12 is a vitamin that's only found in animal foods. It's also found in supplements, of course. You can take B-12 supplements. And it's also found in brewer's yeast.
The other nutrient that's a concern for all children, but especially vegetarian children is Vitamin D. Again, if you have dairy foods in the diet, no problem. If you don't, you'll want to consider supplementation and talk to your pediatrician. The other food that can be deficient is the mineral zinc. It's a common problem for lots of children, but zinc is found in meat foods but it's also found in whole grains, so if kids have whole grains they should be just fine.
Interviewer: You mentioned a little bit about processed foods.
Dr. Metos: Right. One thing that's happening is a lot of individuals are taking up a vegetarian diet. So in turn, food manufacturers have made a lot of vegetarian products. Now that's great. If you go to a barbecue, you might want to have a veggie burger instead of a hamburger. But what happens is sometimes vegetarians rely too much on processed foods and they're going to have a lot more sodium. They may have a lot more preservatives that they might try to be avoiding, and they might just become so convenient that they forget to eat vegetables.
And I always tell people, because I come from a background of working mostly with adolescents, my favorite thing that I always hear from adolescents is that they want to be vegetarian but they don't like vegetables.
Interviewer: Of course.
Dr. Metos: That's not going to work. You've got to start liking them. So if your child wants to be vegetarian or you're a vegetarian family, there are a couple suggestions I'd make. One is learn a lot about food, so that you can rely on whole foods, whole grain foods, lots of fruits and vegetables.
The second is if you run into problems with their growth, visit with the pediatrician, and get a referral to a dietician.
And third, have fun with lots of different food options. Don't make things too strict for your family. We don't want to run into problems with weird food behaviors or kids feeling nervous or tense about their food choices.
Announcer: We're your daily dose of science, conversation and medicine. This is The Scope, University of Utah Health Sciences Radio.