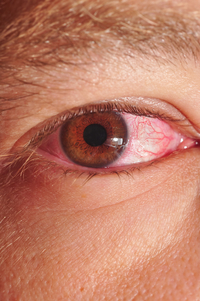 What's Up with Bob's Eye?
Feb 11, 2014
Bob Costas stepped down from hosting Olympic coverage for the first time since 1998 because of a painful case of pink eye. Dr. Troy Madsen from University of Utah Hospital talks about Bob's pink eye, how he likely got it and why he believes it's lasting longer than Costas expected. He also tells you why you should NEVER wear contact lenses if you have pink eye.
Transcript
Man: Medical news and research from the University of Utah physicians and specialists you can use for a happier and healthier life. You're listening to The Scope.
Interviewer: Bob Costas's eye infection. Is it pink eye? We're with Dr. Troy Madsen, Emergency Room Medicine at the University of Utah Hospital. Dr. Madsen, you actually think what Bob Costas has is pink eye. Why is that?
Dr. Troy Madsen: Well, one of the big reasons I think it is, is because it started in one eye, and then it spread to the other. And that's pretty classic with pink eye. You wake up one morning, and it's in one eye. It hurts. It often just itches like crazy. You just want to itch it, and just itching it just seems to make the pain even worse. And then typically from there it's going to spread to the other eye.
Interviewer: So he thought it was going to clear up? Obviously, getting that information from somewhere, we can only assume a doctor, and it hasn't. Does pink eye normally take a while to play out?
Dr. Troy Madsen: It usually does, but I've been a little surprised at how severe this seems to have been. We often think pink eye is being caused by a bacteria. It may be caused by a virus. It's always hard to say. There's not a lot of testing we can necessarily do to tease that out.
Interviewer: So it could be either one?
Dr. Troy Madsen: It could be.
Interviewer: Same symptoms?
Dr. Troy Madsen: It could be. And that's the big challenge with it. If it's a virus, there's not much you can do for it. It just runs its course and gets better eventually. If it's a bacteria, we start you on antibiotic drops, but, you know, regardless, if I see someone who looks like they have pink eye, I'm giving them antibiotic drops. Just with the idea being that if it's a bacteria, at least I can treat that. Usually, it's going to get better within maybe three to four days.
His has gone on a little bit longer than I would've expected. Maybe it's some sort of a virus that's doing this. It's just going to have to run its course, and the antibiotics won't do much good for it. Or maybe it's just a bad bacterial infection, and it's just taking time for those antibiotics to really work.
Interviewer: So how could he have possibly gotten pink eye?
Dr. Troy Madsen: Usually, you're going to get pink eye from another person. I mean, that's usually how it's transmitted, and usually it's by contact. So if you shook the hand maybe of someone who had pink eye who had touched their eye, and it may not even have been someone who you look at and say, "They had pink eye." It may have been someone who had a very early case that had just started to develop, and the bacteria were there.
So I don't think it's some the hotel rooms. You know, I don't think you pick something up from the water, from the stray dogs, or from whatever else we're reading about.
Interviewer: So just person-to-person transfer?
Dr. Troy Madsen: Generally, just person-to-person. Generally, through contact, through maybe shaking hands with someone who had it or is in the early stages of it.
Interviewer: So do you feel the glasses are just a distraction trying to kind of hide it, or is there some other purpose to those?
Dr. Troy Madsen: I think there's definitely a purpose. Trying to wear contact lenses with pink eye, which I assume he does.
Interviewer: He probably does, sure.
Dr. Troy Madsen: If he's wearing glasses right now, unless he had Lasik done at some point or something, you know, then maybe he's just wearing glasses for a distraction. But contact lenses with pink eye are just unbearable.
Interviewer: Gotcha.
Dr. Troy Madsen: You can't wear them. It's just going to hurt too much. The other problem you run into is if you have a contact lens in there and you have a bacterial infection, it's just going to hold that infection in, and it's going to prevent those antibiotics from getting dispersed all over the eye and really treating that infection well.
Interviewer: If it truly is an infection, he probably would want to throw out his contacts if he wore contacts?
Dr. Troy Madsen: Exactly.
Interviewer: Because they're going to have that in there. If he pops that back in, bam.
Dr. Troy Madsen: Yep. That is exactly right. So if you're a contact lens wearer and you got pink eye, it can often be much more serious as well because you can also get an ulcer on the cornea. You actually get it where it erodes away the front part of your eye and can cause a really serious infection there.
That's the other thing we always look for if you come in the ER. I'll get in there with a very detailed exam with a microscope, essentially, looking into your eye and looking for any evidence of that.
Interviewer: If somebody comes into the ER with pink eye, what do you do?
Dr. Troy Madsen: If it all looks very straightforward pink eye, then I'll get them on antibiotic drops. It's a drop they're going to use, you know, four to five times a day. You got to use it four to five times a day to really get that to work. I would tell them, obviously, "Take precautions with work. Avoid hand contact with a lot of people where you could be spreading this to family members, friends, or coworkers."
And then telling them, Expect that this is going to last for a few days." It's going to get worse before it gets better. Use the drops in both eyes just because the one eye looks bad, you could already have an infection in the other eye." So just make sure you're treating both eyes to prevent something from developing. Expect that it's going to be painful. You may need some pain medication, but it is going to take a few days to really start to see this clear up.
Man: We're your daily dose of science, conversation, medicine. This is The Scope, the University of Utah Health Sciences Radio.