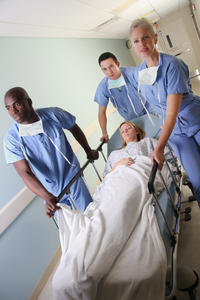 ER or Urgent Care?
Sep 24, 2013
It can be hard to know whether to go to the ER or urgent care for your condition. Dr. Troy Madsen, University of Utah Hospital emergency department physician, gives some guidelines for making that decision.
Transcript
Announcer: Medical news and research University of Utah physicians and specialists you can use for a happier and healthier life. You're listening to the Scope. Scot: Sometimes it's a tough decision to make. Should you go to the Emergency Room or is Urgent Care going to be good enough to take care of whatever it is you have? Here with Dr. Troy Madsen, Emergency Medical Physician at the University of Utah Hospital. The question today: Emergency Room or Urgent Care, how can one make that decision?
Dr. Troy Madsen: So one way to really think about the ER is if this is something that involves your ABC's. When we talk about ABC's we're talking about airway, breathing, and circulation. If you're having trouble breathing, if your airway is tight, like from asthma or allergy, if it's a circulation issue, meaning a heart issue, if you're having chest pain. Those are all things that absolutely I would go to the ER for. One thing we think about as well is strokes. That involves the circulation too, so if you're feeling numbness or weakness, any difficulty speaking, again that's a reason to go to the ER and in those situations I would call 911 to get an ambulance and get you there quickly. If it's something besides that you're probably okay in an Urgent Care. I think the biggest thing to think about between an Urgent Care and an ER, number one is an Urgent Care can take care of a lot of things, but if it requires a specialist, if it requires some kind of an emergent, more serious intervention, they really can't take care of it there. So when we're talking about things Urgent Cares can take care of, we're talking about sprains, cuts, if you need to just have something sewn up, if you need a tetnus booster, maybe if you've just got some mild abdominal pain, they can check some blood work on you. But if you need anything more, or if you need to have a CT scan done or need to have surgery, need to have any specialists involved, they're really not equipped to handle that. So that's kind of the biggest thing in my mind, I think about, in terms of saying, hey, you're probably okay to go to an Urgent Care, versus going to an ER. Announcer: We're your daily dose of science, conversation, medicine. This is the Scope. The University of Utah Health Sciences Radio.