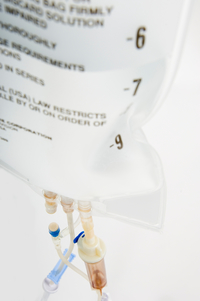 Clinical Trials Another Option for Cancer Patients
Jun 18, 2014
Participation in clinical trials for the treatment of advanced forms of cancer has become "the norm" for many patients at the Huntsman Cancer Institute. Dr. Sharma explains that for patients who have exhausted other available therapies, clinical trials may show promise. This segment of The Scope explores the pros and cons, the costs, and where patients can find out more about clinical trials in Utah and around the world, specific to their particular situations.
Transcript
Interviewer: You're a point in your cancer treatment where you're interested in maybe seeing if there are clinical trials that exist. What do you need to know? We'll examine that next on The Scope. Medical news and research from University of Utah physicians and specialists you can use for a happier and healthier life. You're listening to The Scope.

Let's talk about clinical trials for treatment of diseases such as cancer. There are a lot of them going on, but you might wonder, "How can I get involved with one?" We're with Dr. Sharma from Huntsman Cancer Institute. If somebody is interested in finding out what clinical trials are out there because they have a certain sort of cancer what would they do? Where do you even start?
Dr. Sharma: It's a complex topic, and certainly patients can get confused and have a lot of questions. I think there are a couple of different ways to do this. One is if they are currently being treated by an oncologist. Most oncologists in the United States are actually quite aware of clinical trials in general, so that would be a starting point. The other starting point is electronic media, the wonderful electronic media we have. I would point at two different sources. One is if you can get on the Huntsman Cancer Institute website we have very clear delineation for what clinical trials are available, the descriptions, and all of the different kind of selections. Patients can select their own cancer type and actually search for what clinical trials might be available at the Huntsman Cancer Institute.

Another great source for clinical trial information is a website called clinicaltrials.gov or gov, which is actually run by the National Cancer Institute. Patients can actually search for clinical trial information around the country, around the world on this website by different kinds of search terms using their own cancer type or other kind of keywords and can come up with a lot of information.
Interviewer: Aren't clinical trials dangerous?
Dr. Sharma: Clinical trials in general it's been shown, I'm restricting my comments to the cancer clinical trials, are generally not dangerous. Clinical trials are different phases. Phase 1 trials would be the earliest form of clinical trials. Phase 3 trials or Phase 4 trials are the later forms of clinical trials. As we go down from Phase 1 to Phase 3 trials we get more and more experience with the particular agent in human beings. Obviously you would de-risk, or have less risk potentially once there is more experience with the patients, however, it's been shown over the last 20 to 30 years review of all of the clinical trials in cancer that the chance of having serious side effects is less than 1%.
Interviewer: Wow, okay. Do most people, then, find that even in a Phase 1 trial that the tradeoff of possibly treating their cancer outweighs any side effects?
Dr. Sharma: There are pros and cons to participating in, for instance, a phase one trial. The pros, of course, are that in a lot of cases patients who have exhausted other normally available therapies are able to get access to newer clinical trial agents which is obviously a pro. The other thing that has been shown to be a pro of participating in phase one clinical trials is that by and large patients get extremely good medical care because we monitor the patients on a very close basis. The cons of participating in a clinical trial, like an early phase clinical trial, is that the patients might be exposed to a higher risk of unknown side effects although we try our hardest to minimize these. In most cases we're able to do that. There is a risk, potentially, of having some unknown side effects that would have to be taken care of.
Interviewer: If somebody's on a clinical trial does that mean that that's the only treatment they're getting? Do they have to give that up in lieu of getting standard treatment?
Dr. Sharma: No, absolutely not. This another thing that is very, very important for us to point out. In a lot of cases a clinical trial itself can incorporate standard of care. In other cases it might be appropriate once they've exhausted standard of care. Standard of care treatment's very important and we are really focused on making sure that the patients have the full spectrum of their options available with their pros and cons of each approach. Participation in clinical trials does not in any way compromise the delivery of standard of care treatment.
Interviewer: What's the cost? Is that something that the person's going to have to pay out of pocket, or does insurance cover clinical trials?
Dr. Sharma: This is a great question, actually, because in the United States most of the times clinical trials have two different kinds of costs. One is costs related to the drug and specialized tests that they have to do to monitor these patients. Those are all covered by the clinical trial itself, so the patients are not responsible for those. The second part of the cost is what we call usual medical care, which they would have received irregardless whether they were on the clinical trial or not. Those have to be borne through their insurance companies. By and large we haven't found that participating in a clinical trial in any way increases the cost to the patient.
Interviewer: Any other thoughts as far as if it comes to clinical trials and somebody's interested in pursuing that route?
Dr. Sharma: I think that most in the cancer field clinical trials are part of main stream cancer care because, unfortunately, a lot of the medical therapies we have in patients with advanced disease are not curative, so we're in desperate need of new higher participation rates for clinical trials at the Huntsman Cancer Institute. About 17 to 20% of our patients participate in clinical trials which is a very high rate. Nationally the rate is 3 to 5%, so we certainly encourage patients to have a look and explore all of their options and whether or not the clinical route might be appropriate for them in their particular situation can be determined.

Our aim is to bring clinical trials to the community as well, so we're working with the Inter-mountain Cancer Care Program to bring clinical trials to the community. We have a very nice set of clinical trials here at the Huntsman Cancer Institute, and they can certainly approach their own oncologist or come here for an opinion regarding participation or appropriateness in their own situation.
Announcer: We're your daily does of science, conversation and medicine. This is The Scope, University of Utah Health Sciences Radio.