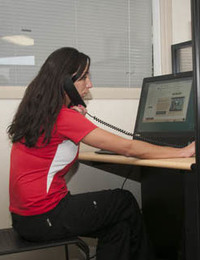 First-of-Its-Kind Health Information Station Transforms a Community
Aug 27, 2014
Erica Lake, associate director of the Hope Fox Eccles Health Library, is excited about how a new, first-of-its-type kiosk is transforming a community. The Health Information Station, serving the Sugarhouse Health Center, is bringing the benefits of the information age to a diverse, multilingual community. A user-friendly interface may bridge the online gap for a less tech-savvy populous.
Transcript
Announcer: Medical news and research from University Utah physicians and specialists you can use for a happier and healthier life. You're listening to The Scope.
Interviewer: If you've been into the Sugar House Health Center recently, you may have noticed a new addition. It's called a health information station, and you're wondering, "What do I do with that thing?" We're going to find out right now. Erica Lake is the Associate Director of the Hope Fox Eccles Health Library. Tell me about the health information station. You're pretty excited about this.
Dr. Lake: I am. As far as we know, it's the first type of information station of its kind. Health information kiosks have been used for decades in different health care facilities and in community settings, but it usually involves just having some set Internet sites on there or set health risk assessments for a particular disease, and what we're offering is a different way to access information. We have a live video chat system, and it's through a Skype phone so people don't even have to know how to use a computer. They just have to know how to use, well, an old-fashioned phone. Pick up the phone and start talking and you'll see the video screen pick up automatically. It rings the Hope Fox Eccles Health Library. That's at University Hospital, and our staff members are there. You'll see them on the video. We can remote the computers that are at the Sugar House Health Center so we can do the navigating and the searching for the patron who's there, so they don't have to worry about knowing how to get around and click on different health information sites that we're showing them.
Interviewer: Is that a big problem, people that don't know how to use the Internet? To me, it seems like if I went to the doctor, I got some information, I would just go home and find out what I want to do. Why is the station there?
Dr. Lake: For a lot of people, of course, they can do that. But then there's a huge segment of our population that doesn't even have access to a computer, so that's one reason why we wanted to kick off this new service at the Sugar House Health Center is because we know that there's a fairly large patient population there that doesn't have access to their own personal computer. Even if you do have access to a computer, you may not be as comfortable with navigating it and searching and going from authoritative health sites and finding those online.
Interviewer: What's the other advantage of having it right there in the health center?
Dr. Lake: Studies have found that the majority of people seeking health information do it immediately before or after an appointment with their health care provider, so that's why we're so excited to have it at the clinic. We're capitalizing on that time when people are already thinking about their care. They've just walked out of their appointment. They're thinking about what was discussed or they're about to go into their appointment and they're trying to get some questions together about what they want to ask. On either end of that time, they can utilize the health information station.
Interviewer: That's pretty handy. Has the usage been pretty decent so far?
Dr. Lake: Well, we're just getting started, but all of the staff there at the Sugar House Health Center has been wonderful and they're really enthusiastic about it. They're the ones who are going to be encouraging their patients during the appointment to go out there and set aside some time to use the station.
Interviewer: So one of the ways I can think I would use it is after I talk with my doctor a lot of times, it's a quick conversation and maybe I didn't quite catch everything or there's always that one more question that I forget. Is that another use for this?
Dr. Lake: Right. Yes. That happens frequently. Of course we know that appointments are usually . . . the average is 12 minutes long, so you may not have time to ask all the questions that you want to ask or let's say you have another question that's for a family member and it may not be appropriate to ask that during the time, but you want to go on and get a little bit more information. You can utilize the health information station that way.
Interviewer: Sounds a great way to get some solid advice from people that know. It's legitimate and real and research based. Any other thoughts on the kiosks or the information stations, the health information stations as you call them? Love the name, by the way.
Dr. Lake: Well, we hope that we'll introduce people to a lot of new resources that are online. There are lots of videos and images and things that you can look at. Let's say you don't want to read some information. You want to be able to look at a diagram on something to understand your condition a little better or you want to be able to watch a video about a procedure that you're going to be having. We can show you those.
We can find information in all different languages. We know that there are a lot of fairly unique non-English language requirements at the Sugar House Health Center. Burmese is one, and we can help those patients. Then, a lot of people think that they just need basic information but there are plenty of patients that we've helped that are either further along in a condition and they're ready for reading the biomedical literature itself and they want to be able to review those studies themselves. We're able to offer that tailored assistance.
Announcer: We're your daily dose of science, conversation, medicine. This is The Scope, University of Utah Health Sciences Radio.