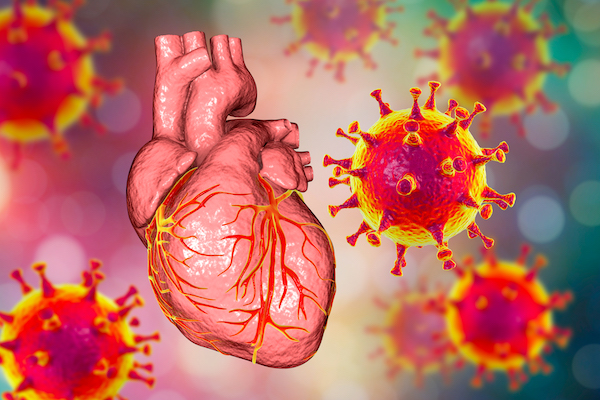 Now that hundreds of millions of doses of COVID-19 vaccines have been administered in the U.S., an abundance of safety data has been collected. While this data shows that COVID-19 vaccines are safe and effective at helping prevent infection, extremely rare adverse reactions can occur.
Myocarditis and pericarditis are conditions that have occurred following COVID-19 vaccination in a very small number of people. Most cases are mild, and individuals often recover on their own or with minimal treatment. Myocarditis and pericarditis are much more common if you get COVID-19. The risks to the heart from COVID-19 infection can be more severe.
What is myocarditis and pericarditis?
Myocarditis is a rare condition that causes inflammation of the heart muscle. Pericarditis is inflammation of the outer lining of the heart. These responses have been reported as very rare adverse reactions to coronavirus mRNA vaccines. They are not unique to COVID-19 vaccination.
Myocarditis and pericarditis are typically caused from infection with a virus, including viruses that cause the common cold. The cause of these conditions is not always known.
What are the symptoms?
Chest pain
Shortness of breath
Fever
Who does it impact?
Post-vaccine myocarditis and pericarditis are more common among young people ages 12 to 21 years old. According to a study published by the American Heart Association, myocarditis and pericarditis were more commonly reported among males (90%).
What is the association with COVID-19 vaccines?
Rare cases of inflammation of the heart have occurred after the second dose of mRNA vaccines (Moderna and Pfizer-BioNTech). Symptoms typically occur within a week after the second dose of the vaccines. The association is so rare that, according to a study in Israel, there were only 54 reported cases of myocarditis among more than 2.5 million people vaccinated—or 0.002%. As of July 2021, there were 1,000 reported and 300 confirmed cases of myocarditis or pericarditis in the U.S.
What are the outcomes of post-vaccine myocarditis and pericarditis?
Data collected from the study found that symptoms of post-vaccine myocarditis and pericarditis are generally mild, and symptoms often resolved on their own or with minimal treatment. Less than 20% of patients in the study were admitted to the ICU; among those patients, only two needed medication to support the heart or help with blood pressure. Overall, recovery in the hospital was short, minimal medication was needed, and patients recovered quickly. No deaths were reported.
Is myocarditis more likely to occur after COVID-19 infection?
Myocarditis and pericarditis are more typically reported in children who develop multisystem inflammatory syndrome (MIS-C) following COVID-19 infection. MIS-C is a condition that causes different parts of the body to become inflamed, including the heart, lungs, kidneys, brain, and gastrointestinal organs. Children who develop MIS-C are much more likely to be admitted to the intensive care unit (ICU) and need medication. The CDC reports at least 5,900 cases of MIS-C causing 52 deaths among children in the U.S.
Similarly, a study in the U.S. and a large study in the U.K. that included adults found that myocarditis is more common after COVID-19 infection than after vaccination.
Should children still get vaccinated?
The Centers for Disease Control and Prevention recommends that everyone who is eligible to receive a COVID-19 vaccine should get one. This includes people with heart disease since they are at increased risk for complications from COVID-19. The risks of COVID-19 illness far outweigh the risks of experiencing a rare adverse reaction to vaccination.