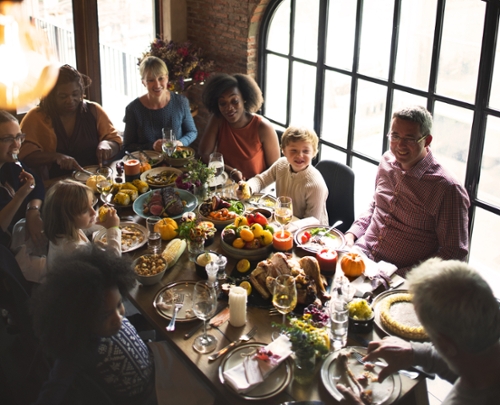 Updated November 2021
As the holidays approach and families come together, it gives us the chance to share love, laughter, and…family health information. Your family's health history may seem like the last thing on your mind when you're making merry. But knowing this information can save lives.
The genetic counselors at Huntsman Cancer Institute (HCI) encourage you to take advantage of these get-togethers to learn about your family health history.
Why is family health history important?
If you have a family history of cancer, you may be at higher risk. Having this knowledge means you can take steps to reduce your risk. You may need extra cancer screenings to find cancer early, when it is easier to treat. Or you may need to take specific actions to prevent cancer.
For example, if your family has a history of colon cancer, you may need to have a colonoscopy earlier and more often than a person without a family history of colon cancer. Or, if you have a certain genetic mutation that puts you at very high risk of breast cancer, you may choose to get a preventive mastectomy.
How do I ask my family about their health history?
Try these tips:
Be prepared. Write down questions you want to ask. See the CDC Family Health History Checklist for ideas. Think about what information would be most helpful for you to know about your family history. You may even want to practice this conversation with a friend.
Find the right time. It is often best to talk one-on-one or with a small group. You may want to ask relatives ahead of time to plan to speak with you.
Be flexible. If family members do not want to share their medical history, think of a different approach. You may want to write a letter or email. Tell the family member your questions and why this information is important to you.
Ask follow-up questions. If you learn there are family members who have or had cancer, try to get more specific info:

The type of cancer and how the family member is related to you
What age the family member was when diagnosed with cancer
If the family member has passed away, the age at death and cause of death
Results of any cancer-related genetic testing
What should I do after I learn my family health history?
Talk to your doctor. If you have a family history of cancer, your doctor can use the information to come up with a plan to reduce your cancer risk. Your doctor may also refer you to a genetic counselor. Genetic counselors are trained professionals who help you understand your medical and family history. They can talk with you about personalized cancer screening and prevention options and whether your family may need genetic testing for cancer.
We encourage you to celebrate with your family, but also take the time to share important health information. It may be the best gift you give each other this year.
From our family to yours, Happy Holidays!
To learn more or to schedule an appointment with a genetic counselor, contact HCI's Family Cancer Assessment Clinic at 801-587-9555.