Volunteers: An Important Part of the Cancer Care Team
Volunteers are important members of the Huntsman Cancer Institute team. These caring people support us in many ways:
Offering personal attention to patients and families during their time at the hospital
Working with services such as the G. Mitchell Morris Cancer Learning Center
Assisting with laboratory research and clinical trials
Making donations to help patients
Helping at fundraising and special events
Benefits
The greatest benefit comes from helping others. You can gain valuable experience working with some of the world's best cancer professionals. Huntsman Cancer Institute offers volunteers these other benefits:
Meal voucher after meeting shift requirement(s)
Free volunteer uniform shirt and name badge
Free annual flu shot
Free parking
Volunteers must be reliable, committed to service, and available on a regular basis. We encourage people who have been affected by cancer to apply. People who have had cancer must be out of treatment for at least one year before volunteering. Except for some positions, all potential volunteers must complete an application and provide two letters of reference.
Be at least 16 years old
Interview with a volunteer coordinator
Work at least one 3-hour shift each week for 6+ months
Pass a criminal background check
Get an annual flu shot, provided free by Huntsman Cancer Institute
Be current on immunizations
Sign a confidentiality agreement
Complete online training about patient privacy policies, hospital safety, and infection control guidelines
Huntsman Cancer Foundation Events
Huntsman Cancer Foundation events would not be possible without amazing volunteers. From Park City PowderFest in March, to Huntsman SportsFest in June, to our Annual Gala, we welcome people who can share their time and energy with us. As a volunteer, you help fund the lifesaving work at Huntsman Cancer Institute. If you are interested in joining our outstanding community of volunteers, please contact us.
Donate Blood
ARUP Blood Services provides all blood products to Huntsman Cancer Institute patients. Donating blood is a lifesaving gift to cancer patients. Some cancers or cancer treatments like chemotherapy, blood, and marrow transplant, require frequent blood transfusions. Contact ARUP to learn about upcoming events to give blood.
In-Person Cancer Hospital Volunteers
Cancer Hospital Patient & Family Advisory Council: Provide feedback about your experience as a patient, or family member of a patient, to help us improve patient care. Work with care providers and other council volunteers to develop plans and review materials. Read more in the Patient & Family Advisory Council brochure.
Cancer Learning Center: Put together books and information for patients in the Cancer Learning Center.
Infusion Center: Help staff by offering warm blankets and pillows to patients receiving chemotherapy treatments. Stock supply carts and kitchen areas.
Junior Volunteers: People ages 16-18 assist staff with various administrative duties in the Linda B. and Robert B. Wiggins Wellness & Integrative Health Center. Assist with projects in the volunteer workroom.
Outpatient Clinic Assistant: Help staff with clinic needs, including escorting patients.
Surgery Waiting Room: Share the status of patients in surgery and give other helpful information to families in the waiting room.
In-Person Research Volunteers
Clinical Trials Office
Specimen processing: Work with the team to track and organize lab kits, patient specimen records, and lab materials. Carry materials between research and clinic labs.
Administrative Support: General office duties such as getting the mail, filing, compiling and updating spreadsheets, archiving documents, and ordering and stocking supplies.
Research data: Work with a team to collect and file electronic medical, pathology, and specimen records.
Lobby Information Desk: Greet and assist visitors while sitting at the lobby information desk. This includes giving directions and answering general questions.
Population Sciences Administrative Office: Have general office duties, including filing medical records and data entry. Some knowledge of medical terminology is helpful.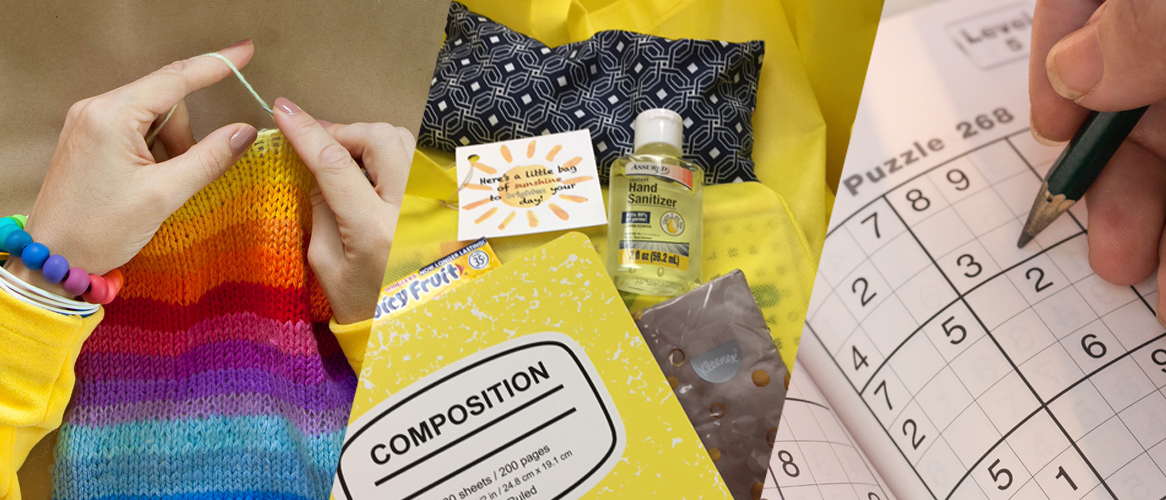 Please contact Volunteer Services to discuss current health restrictions impacting In-Kind Donations and delivery options.
Note: All items donated must be made or prepared in a smoke-free environment
Activity Books: Activity books are great ways for patients to relax and pass the time. Patients also like coloring books for adults, along with colored pencils.
Activity Bags and Comfort Packets: Put together an assortment of personal essentials and comfort items for patients who have to stay in the hospital for an extended amount of time. All items must be new. These small totes or bags can include any of the following.
Journals
Coloring books for adults
Crossword, Sudoku, and Word Find activity books
Lip balm
Pens, pencils, colored pencils, small pencil sharpeners
Playing cards
Travel-size hand lotion
Travel-size hand sanitizer bottles
Blankets: Make "graduation" quilts or blankets (4' x 5' or 5' x 6') for patients after their last chemotherapy or radiation treatment. Quilts may be sewn, tied, or made from fleece with simple cut and tied edges. We cannot accept used blankets.
Books: We accept new or gently used books in English or Spanish for the clinic waiting rooms.
Gift Cards: We accept gift cards for gasoline or groceries to assist patients in financial need.
Hats: We cannot accept used hats. Please ensure donations are adult sizes. Make, or buy, knit hats for the fall/winter. Brimmed hats and caps for spring/summer are preferred. Hats should be made of soft fabric that will not irritate sensitive skin.
Head Scarves: We cannot accept used scarves. Make, or buy, head scarves of soft fabric that won't irritate sensitive skin.
Medical Pouches (JP Bags): A medical pouch holds a patient's JP drain and tubes next to the body to keep them from rubbing and irritating the skin. View a medical pouch pattern.
Neck Pillows: Make, or buy, neck pillows for patients. View a neck pillow pattern.
Sleep Masks: Make eye masks for patients to help with comfortable sleep or resting. Masks must be made with entirely new materials. View a sleep mask pattern.
Patient and Family Food Pantry
Volunteer Services maintains shelf-stable food items to help loved ones of patients while they stay in the hospital. Our patient-family kitchens in the Huntsman Cancer Institute Hospital have a microwave, toasters, and refrigerators. We collect the following donated items:
Applesauce
Bread
Canned soups, chili, stew
Canned tuna and chicken
Chips
Crackers
Breakfast bars
Fruit cups
Granola bars
Jelly/jam
Microwavable macaroni and cheese
Microwavable prepared meals
Peanut butter
Pop-Tarts
Frequently Asked Questions
What do you look for in a volunteer?
Huntsman Cancer Institute seeks caring, dependable, and committed people who can be flexible about their assignment. We will match your skills and interests with one of our many service opportunities.
What is the minimum age to volunteer?
Volunteers must be at least 16 years old.
How much time must I give?
Many volunteer positions require a commitment of at least one 3- or 4-hour shift each week for a minimum of six months.
Do I need a physical exam before working as a volunteer?
No physical exam is required. Your immunizations must be current and you must have an annual flu shot. Huntsman Cancer Institute provides flu shots to volunteers for free.
What if I am sick or go on vacation?
We ask that you notify Volunteer Services and your placement area if you must miss a shift.
Where will I park my car?
Huntsman Cancer Institute provides free parking for volunteers.
Want to volunteer with us? Here is what you need to do to apply:
Complete and submit the application below.

You will need to provide contact information for two references as part of the application. They will receive a link to the form they need to fill out.

Attend an orientation meeting. This includes topics about patient confidentiality as well as health and safety issues. You will also get training specific to your assignment.
Sign a confidentiality agreement.
Pass a criminal background check.
Meet certain health requirements, including being up to date on all immunizations.
Get an annual flu shot.
Volunteer Services
Huntsman Cancer Institute Hospital
1950 Circle of Hope, Room 1110
Salt Lake City, UT 84112
801-587-4050 (Office)
801-581-2603 (Fax)
Email: volunteerservices@hci.utah.edu