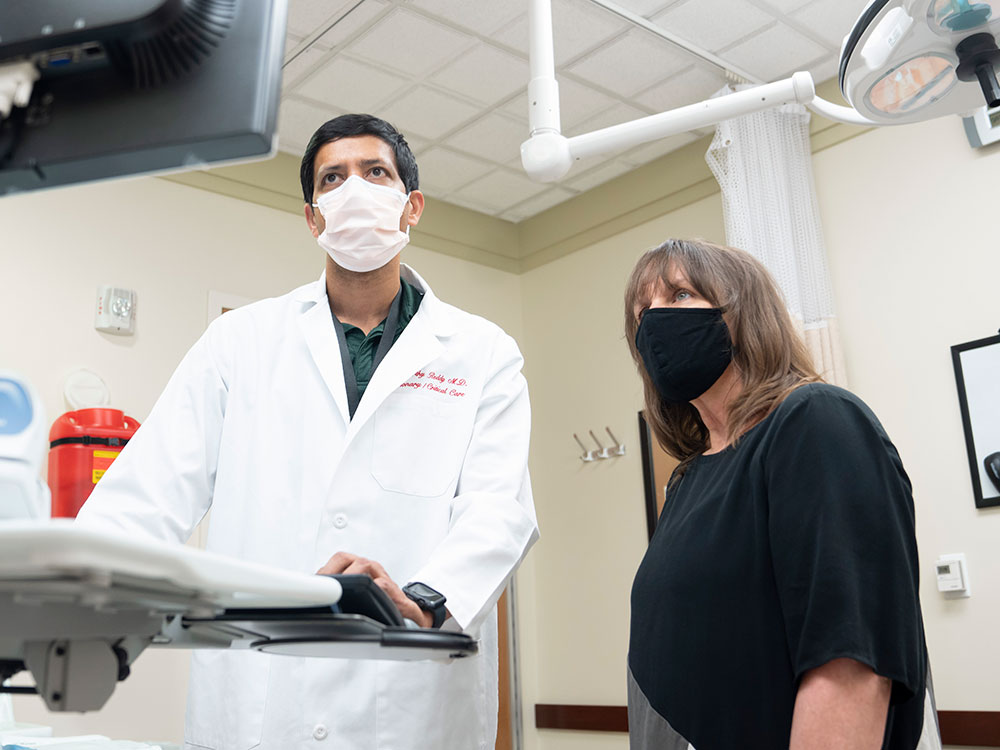 "We all do things that are not healthy," says Lynette Phillips, patient at Huntsman Cancer Institute at the University of Utah. "We don't eat the right things or we engage in risky behavior, thinking it'll be just this one time and that we will stop tomorrow, but we keep going in a pattern. I knew I had to stop smoking. I told myself I had to over and over again. And I'm proud to say it has been almost seven years since I smoked my last cigarette."
Lung cancer is the leading cause of cancer death in the United States. Most symptoms don't show until it has spread, so finding lung cancer early, when it is easier to treat, is paramount. Some current or former smokers are eligible for a screening procedure to check for cancer.
"I decided to get my lung cancer screening because of my smoking history and age," says Lynette. "I was a teenager in the 1980s and I started smoking when I was just under 18. Later in life, I knew there was a chance I had done some permanent damage."
Lynette knew it was time to talk to her doctor. She had turned 55 and had smoked for 30 years.
"If you smoke a pack per day of cigarettes for 20 or more years, and are at least 50 years old, talk to your doctor about receiving a lung cancer screening," says Chakravarthy Reddy, MD, pulmonologist at Huntsman Cancer Institute and associate professor of internal medicine at the University of Utah. "If the two of you decide that a lung cancer screening is right for you, your doctor will order a low-dose chest CT. This is a quick, painless scan of your lungs, similar to a series of x-rays."
During her lung cancer screening, Lynette was positioned on her back in a CT machine. She was asked to hold her breath a few times so the radiology technician could get a clear picture of her lungs.
"The screening was fast and very convenient. I was in and out of the clinic within probably 15 minutes," says Lynette.
After the screening, Lynette and Reddy reviewed the results together. "We discussed the results in person and I learned I have a couple of small nodules in my lung that we're going to keep an eye on," says Lynette.
"Nodules are abnormal spots in the lung," says Reddy. "The majority of them are not cancer, but a few can be early forms of cancer. Your doctor can determine the best way to manage them."
In March 2021, the United States Preventative Service's Task Force updated the screening guidelines from age 55 to 50 years and the minimum smoking history from 30 to 20 pack years, which means one pack of cigarettes smoked per day every year. Patients who are eligible should get the screening every year. Huntsman Cancer Institute and University of Utah Health community clinics offer this outpatient procedure in many locations throughout Utah.
"The easiest cancers to treat are those we find early, when they're smaller," says Reddy. "Lung cancer screenings are an important tool. They are quick and could save your life."