Huntsman Cancer Institute is proud to announce that five of our employees have received 2022 University of Utah Staff Excellence Awards. Staff Excellence Awards recognize superior service and ongoing contributions by full-time employees. A'Lisha Finch, Amy Olsen, Melanie Ward, Shawn Newton, and Sean Strope, MPAS, PA-C, are among this year's award recipients.
The award recipients will be honored at an upcoming ceremony. Congratulations have also been extended by senior leadership, including Mary Beckerle, PhD, CEO of Huntsman Cancer Institute.
"I would like to personally congratulate each of our 2022 award recipients," says Beckerle. "This award is highly competitive. We have so many talented individuals here at Huntsman Cancer Institute. It is wonderful to see and be able to highlight your important contributions. I, like so many others, am proud to have you on our team."
Learn more about the award recipients.
A'Lisha Finch, director of business operations
A'Lisha has been a part of Huntsman Cancer Institute for 21 years and done everything from patient registration to financial counseling. She was recently named the new director of business operations for Huntsman Cancer Institute's hospital.
One of Finch's favorite things about her role here at Huntsman Cancer Institute is the culture and being a mentor to others.
"Working here has made me a better person," says Finch. "The people that work here are special because they want to give back. They are here because they care about others. I love training and coaching employees and seeing them shine. You can see their role fulfills them."
Julia Benyon, MHI, BSN, senior director of outpatient services, emphasizes Finch's impact. "She is the type of employee that every leader dreams about having on their team," says Benyon. "She has an incredible work ethic, and she clearly loves her job, her team, and Huntsman Cancer Institute."
Shawn Newton, medication access coordinator technician
"I'm always going to do my best to try and help patients navigate these difficult situations," says Newton.
A pharmacy technician for 15 years, Newton has been a part of Huntsman Cancer Institute for six years. During his time here, his proudest moments have occurred while helping patients receive life-saving medications, on time, for the smallest cost as possible.
"It's my goal to provide this level of care to every patient that comes through the Huntsman Cancer Institute's doors," says Newton. "I care about these people, and I care about good outcomes. What drives me to do what I do is that I care about the people we are treating."
Newton's supervisor, Zach Tolman, CPhT, appreciates how motivated and caring Newtown is. "Shawn doesn't stop at completing his work. He reflects on situations and investigates the interplay of various elements. What really makes a difference is that when he talks to us, he starts the type of conversations that lead to improvement."
Amy Olsen, digital communications specialist
"My dream job was to run social media for a hospital, so the fact that I'm doing that is incredible," says Olsen.
Olsen has worked for Huntsman Cancer Institute since November 2018, but she has worked in health care for most of her life. Her passion for cancer care runs deep. In her free time, she volunteers as a board member for Millie's Princess Foundation, a foundation that helps families with children who have cancer. Olsen has used her knowledge and previous experience as a phlebotomist to help Huntsman Cancer Institute exponentially increase blood drive attendance.
"Everyone's been touched by cancer," says Olsen. "We all want to help, but I am never going to be the person in the lab or clinic. But what I get to do is be the person that tells the world about the incredible things that are being done here. I'm never going to be the one to cure cancer, but I still get to be a part of it. That's why I love my job."
Sean Strope, MPAS, PA-C, neuro-oncology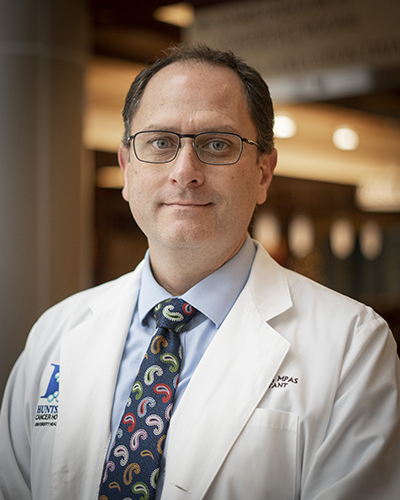 Strope has been a part of Huntsman Cancer Institute since October 2010. With neuro-oncology, he enjoys working with talented doctors, nurses, medical assistants, organizers, and schedulers on his team.
"It's been a wonderful experience being able to work with those people. It's inspiriting to see how dedicated they are. Nobody thinks that their role is a small role. It's a great environment to work in," says Strope.
Sean has been a part of many incredible achievements in his 12 years here at Huntsman Cancer Institute. One of his proudest moments was watching the growth of the glioblastoma clinical trial.
"Getting access for patients to have the opportunity to participate in trials has been a huge part of what's happened since I've been here," says Strope. "It has been an opportunity to assist patients, their families, and their loved ones during an incredibly difficult and stressful situation in their lives."
Melanie Ward, associate administrator for Cancer Center Support Grant (CCSG)
Ward has been with Huntsman Cancer Institute for 11 years. She started as an administrative assistant after serving in the military. She is now in charge of grants and continues to contribute to Huntsman Cancer Institute's mission, one of the many reasons she loves working here.
"I love that I get to play an integral role in telling Huntsman Cancer Institute's story," says Ward. "I collect and analyze data that shows the National Cancer Institute everything we are doing. I get to tell them about our success stories and our exciting scientific achievements."
"Melanie's dedication to Huntsman Cancer Institute's vision shines through her interactions with her colleagues. Melanie is thorough, passionate, and kind," says Avery LeBaron, administrative assistant for CCSG. "She inspires me to always do my best in support of my colleagues and Huntsman Cancer Institute's commitment to delivering a cancer-free frontier."
"My goal is to make a positive impact," says Ward.
Cancer touches all of us.