(SALT LAKE CITY)—Diana Kuh, Ph.D., has a simple description for healthy aging: Keeping moving, keeping your marbles, and keeping your spirits up.
Kuh, a British academician and researcher who is one of the world's foremost experts on aging, believes healthy aging can be understood by examining the biological, social and psychosocial risk processes in early life that influence health, aging and chronic disease risk in later life. She pioneered this approach, known as "life course," to understanding healthy aging.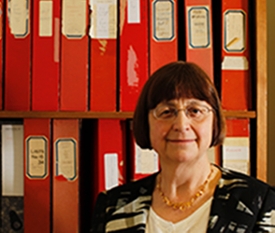 On Tuesday, March 25, Kuh will share her perspective on healthy aging as the keynote speaker at the University of Utah Center on Aging's 8th Annual Research Retreat. Her address, "A life course approach to healthy aging: what do life course studies tell us and what are the research gaps?" takes place at 8:30 a.m. in the University Guest House Conference Center. The conference is free and open to the public, but registration is requested.
A professor of Life Course Epidemiology at University College London (UCL), Kuh has made seminal contributions to the study of aging, which include leading the British Medical Research Council's (MRC) National Survey of Health and Development (NSHD) – a longitudinal study that has tracked 5,000 British people since their births in March 1946 – and directing the MRC Unit for Lifelong Health and Ageing at UCL. (MRC is a British government agency similar to the National Institutes of Health.) She also is the principal investigator of the Healthy Ageing across the Life Course (HALCyon) research network, an interdisciplinary group of scientists from nine British studies looking at three aspects of healthy aging: physical and cognitive ability, psychological and social well-being, and the underlying biology of aging. She is co-director of a new National Institutes of Health-funded program that brings together longitudinal studies to investigate lifetime influences on aging.
In a broad range of 300 publications, Kuh has shown the importance of childhood development and lifetime socioeconomic factors, lifestyle and health experience on later adiposity (body fat), cardiovascular and reproductive function, strength and physical performance, quality of life and survival.
The theme for this year's research retreat is "Successful aging: Years to Life and Life to Years," according to Mark A. Supiano, M.D., professor of internal medicine, chief of the Division of Geriatrics and executive director of the Center on Aging. As baby boomers have begun to retire, aging has become an issue of primary importance in health care and many other aspects of American life. This "graying of America" will have an important impact in Utah, too, which currently has the sixth fastest growth rate in the nation for people 65 and older.
Ken Smith, Ph.D., University of Utah professor of family and consumer studies and director of the Utah Population Database, is a demographer conducting research on exceptional longevity. "To understand aging and how we might minimize its effects, it is important that we think about lifestyle and socioeconomic factors spanning conception to our years as senior citizens," he says. "As a leading expert, Dr. Kuh will discuss our understanding of this life course approach and will kick off key discussions with local experts at the symposia."
The conference kicks off on Monday, March 24, 2014, with a poster presentation session (3 p.m.-6 p.m.) showcasing Center on Aging members' research on various aspects of aging. On Tuesday morning, March 25, after Kuh's keynote address, three concurrent symposia will begin at 10 o'clock:
"Whose death is it anyway: What is a "good death" and how is it realized?" Presented by: Patricia Berry, Ph.D., R.N., associate professor of nursing; Lee Ellington, Ph.D., associate professor of nursing, Maija Reblin, Ph.D., assistant research professor of nursing, Katherine Supiano, Ph.D., LCSW, associate professor of nursing (all U of U College of Nursing)
"Early life conditions and later life health" Presented by: Heidi A. Hanson, Populations Sciences, Huntsman Cancer Institute at the University of Utah; Michael S. Hollingshaus, Ph.D., U of U Pedigree and Population Sciences Department; Ken R. Smith, Ph.D., director, Pedigree and Population Resource (Utah Population Database), Population Sciences, Huntsman Cancer Institute, U of U professor of family and consumer studies
"Predicting disability and promoting rehabilitation in older adults: Implications for maintaining cognitive and physical function" Presented by: Elizabeth Fauth, Ph.D., Department of Family, Consumer, and Human Development, and the Center for Epidemiologic Studies in the College of Education and Human Services, Utah State University; Kara Dassel, Ph.D., Gerontology and Interdisciplinary Program, U of U College of Nursing; Lee Dibble, PT, Ph.D., Departments of Physical Therapy, Occupational Therapy, and Exercise and Sports Science, U of U College of Health; Sydney Schaefer, Ph.D., Department of Physical Education and Recreation, College of Education and Human Services, Utah State University, and Department o Physical Therapy, U of U College of Health
Three more symposia run from 11:15 to 12:15:
"Managing Hearing and Balancing Issues in the Elderly: A Multidisciplinary Approach" Presented by: Richard Gurgel, M.D., U of U assistant professor of otolaryngology; Janet Holmberg, PT, DPT, NCS, coordinator of balance rehabilitation, Intermountain Hearing and Balance Center; Mitch Uddy, master's in audiology, clinical audiologist, University of Utah
"Livability Beyond the Doorstep: Housing Options for Older Adults in Utah" Presented by: Anne E. Palmer, Ed.D, MPA, research associate U of U Division of Geriatrics, executive director, Utah Commission on Aging; Reid Ewing, Ph.D., professor of city and metropolitan planning, U of U; Andrea Garfinkel-Castro, doctoral student, metropolitan planning, policy and design, U of U
"Tackling the Trilogy of Falls, Frailty, and Cognitive Impairment" Presented by: Kara Dassel, RN, Ph.D., U of U associate professor of nursing; Linda Edelman, RN, Ph.D., U of U assistant professor of nursing; Natalie Sanders, DO, U of U assistant professor of medicine/geriatrics
Education about aging has become an increasingly important part of health care training, with both the U College of Nursing and School of Medicine incorporating geriatrics and gerontology into their curricula. The nursing college has a highly regarded interdisciplinary program in gerontology and is home to a Hartford Center of Geriatric Nursing Excellence, one of nine original centers, to train future nursing practitioners and educators in the field of aging. Supiano has used a grant from the Reynolds Foundation to get more geriatrics content into the medical school curriculum and is director of the U's MSTAR (Medical Students Training in Aging Research) Program.
For information and to register for the aging retreat please visit www.aging.utah.edu.