SALT LAKE CITY – The USTAR Center for Genetic Discovery is partnering with California based Omicia, Inc, to make patient genome analysis as routine as a blood test. The center, co-directed by Mark Yandell, Ph.D., and Gabor Marth, D.Sc., was launched this month with $6 million from the University of Utah and the state-funded Utah Science Technology and Research (USTAR) initiative.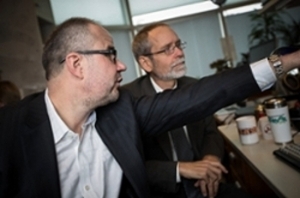 The center is creating and implementing a genetic discovery pipeline with a goal of accurately translate a patient's complete DNA sequence, revealing the genetic causes of health disorders within seconds. Presented in an easy-to-interpret format, the information will empower health care professionals to prescribe the best, most cost-effective ways to control existing conditions, and prevent or delay the onset of new ones.
"What we want to be able to do is help the kid who is born with a hard-to-diagnose genetic disorder," said Yandell. "Our genome interpretation tools will be able to identify that disorder and guide treatment."
Compared to 10 years ago, sequencing the human genome has plummeted in cost by 1 million-fold and can be completed in a fraction of the time. Yet there are still barriers preventing DNA sequence information from routinely being incorporated into patient care.
"Current systems are not prepared for the increasing amounts of data we will be seeing within the next few years," said Marth, a computer scientist who was instrumental in the success of high profile projects such as the Human Genome Project, HapMap Project, and 1,000 Genomes Project. He relocated to the University of Utah from Boston College to apply his skills in a medical setting.
"At some point all of humanity will be sequenced, and potentially more than one genome per individual," he continued. Marth and Yandell, professors in human genetics, will lead efforts to tame the big data to come not only from personal genomes, but also tumor genomes and "metagenomes" from infectious disease agents such as viruses and bacteria.
Knowing the DNA sequence of a cancer patient's tumor, for example, may reveal a personalized treatment plan for combatting the disease. Pinpointing tiny sequence variations in personal genomes will expose inherited diseases that, in some cases, may be life-threatening.
Together with Omicia, Inc., the USTAR Center for Genetic Discovery is building a web accessible informatics platform, called Opal, to distill genome data to clinically relevant findings. Opal is powered by VAAST, a proven disease gene finder algorithm invented by Yandell. Launched less than two years ago, VAAST has successfully identified causes of inherited diseases, including hard-to-diagnose rare diseases, and is used at 251 institutions worldwide.
"We are building the information highway that is necessary for taking genetic DNA information from the sequencing machine all the way to clinical use," said Marth.
The same features that make VAAST a robust genome interpretation tool makes it a powerful engine for disease discovery. The center is collaborating with Utah Genome Project investigators, who leverage an enormous collection of genealogical and health records dating from pioneer times, to search for the genetic bases of cancers, immune, lung, heart, and other inherited diseases.
"Once we identify the genetic causes of disease, we can work towards better diagnoses, more effective treatment, and sometimes curing those diseases," said Lynn Jorde, Ph.D., Executive Director of the Utah Genome Project.
The USTAR Center for Genetic Discovery eventually anticipates commercializing its full suite of software tools, and becoming a top genomic health data service provider for medical centers nationwide.
"We believe the information technology platforms developed by the USTAR Center for Genetic Discovery could become the industry standard," said University of Utah Health Sciences Associate Vice President for Research, Dean Li, M.D., Ph.D.
Listen to an interview with Gabor Marth on The Scope Radio.
About the USTAR Center for Genetic Discovery
From DNA to diagnosis, the mission of the USTAR Center for Genetic Discovery is to integrate patient genome information into health care. The USTAR Center for Genetic Discovery is developing big data management, disease discovery, and genome interpretation tools for research and clinical applications. The center is funded by the University of Utah and the Utah Science Technology and Research (USTAR) initiative.