(Salt Lake City) —A group of high school students crowded around a picture of a cocaine user's brain at a Brain Awareness Week presentation at Horizonte Instruction and Training Center, a high school in Salt Lake City. Within an otherwise pink orb, was an ugly, fist-sized black spot—the result of a blood vessel that burst and killed surrounding brain cells. The onlookers laughed nervously and shifted in their seats.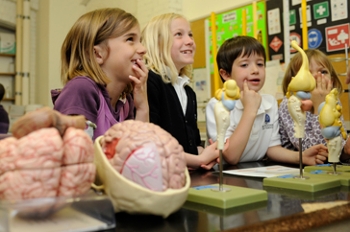 "You can't see your own brain, but you want to make sure it stays nice and pink," said one student, a senior. "It makes you think about your lifestyle a lot."
An annual tradition, dozens of University of Utah neuroscientists will be teaching more than 1,500 K-12 students along the Wasatch Front about the brain and brain health during Brain Awareness Week, which runs from March 10 – 15 this year.
The week's activities will culminate in Brain Awareness Day on Sat. March 15, where the public is invited to take part in educational hands-on activities. Admission is not required to participate from 10:00 a.m. to 3:00 p.m. in the atrium of the Leonardo museum, 209 E. 500 South in downtown Salt Lake City.
Brain Awareness Week is part of a global campaign, presented locally by graduate students and faculty from the University of Utah's Interdepartmental Program in Neuroscience. The event is sponsored by The Brain Institute.
"The goals are to get kids and the community excited about science and to teach about the importance of brain safety," said Judd Cahoon, event chair and neuroscience graduate student. "These presentations could be the only time you get to hold a real human brain in your hand. That's not something you quickly forget. "
Activities include looking at brain cells through microscopes; comparing brains of various animals; and touching real human brains donated for educational purposes by body donors. Participants at the Leonardo can play Mindball, a game where electrodes are taped to participants' foreheads so they can move a ball with their thoughts. School activities will stress the importance that nutrition and exercise have for brain function, wearing helmets to prevent head injury, and avoiding drugs.
The message of the effects of drug abuse is a particularly pressing one. A 2013 report by the National Institute on Drug Abuse reveals that 50 percent of 12th graders and 20 percent of 8th graders have participated in illicit drug use. "We want to teach students that the use of drugs has lasting consequences on the brain," said volunteer Tiffanie Dahl. "Students should not only know that they shouldn't use drugs, but why avoiding drug use is important."
Utah Brain Awareness Week surveys show that drug abuse presentations make a lasting impression on many students. "Grad students are just a little older than us and are kind of peers," said the student who was moved by the cocaine user's brain. "They make us a little more comfortable, and we want to know what they have to say."
Brain Awareness Week events
Monday, March 10, 7:50 a.m. to 2:30 p.m. – Jordan High School, 95 Beetdigger Blvd., Sandy
Monday, March 10, 2:30 p.m. to 4:00 p.m. – Guadalupe Elementary, 340 Goshen St., Salt Lake City
Tuesday, March 11, 8:10 a.m. to 2:30 p.m. – Emerson Elementary, 1017 Harrison Ave., Salt Lake City
Wednesday, March 12, 9:10 a.m. to 1:55 p.m. – Neil Armstrong Academy, 5194 Highbury Pkwy., West Valley City
Thursday, March 13, 7:45 a.m. to 2:30 p.m. – West High School, 241 N. 300 W., Salt Lake City
Thursday, March 13, 11:30 a.m. to 2:50 p.m. – Salt Lake Center for Science Education, 1400 Goodwin Ave., Salt Lake City
Saturday, March 15, 10:00 a.m. to 3:00 p.m. – The Leonardo, 290 E. 500 S., Salt Lake City