(South Jordan) — Lindsy Chatterton and her husband David were thrilled to welcome a third baby to their South Jordan family seven months ago. As the couple adjusted to the world of 2 a.m. feedings and constant diaper changes, there was one aspect of life with a newborn that Lindsy dreaded: Bundling up her daughter —born a month early —for check-ups at the doctor's office.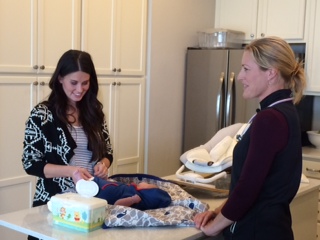 With their third baby, the trip to visit a pediatrician became extra hectic, as Lindsy juggled baby gear while also keeping the family's 6- and 2-year-olds in tow. Hiring a babysitter seemed like a hassle for a short check-up, so when the Chattertons learned that the University of Utah Health Care's South Jordan Health Center was launching a new program offering house calls for newborns, they were excited to try out the service.
"I think it's a great idea," said Lindsy Chatterton. "It makes it easier to not have to trek all of the kids out of the house to the doctor's office. And with my daughter born early, I hated taking her out (because of exposing her to germs, etc.). With home visits, it's a comfort thing. It's nice to be in your own home and have doctors come to you."
In an effort to expand services to better accommodate the needs of patients like the Chattertons, University of Utah Health Care's South Jordan Health Center this fall officially launched home visits for new moms and dads and their newborns. The visits are a throwback to another era of health care when doctors regularly made house calls, said Amy Williams, M.D., a pediatrician at the South Jordan Health Center who led the development of implementing home visits as a starting point for what she hopes will be other mobile medical care options in the future.
The idea is ideally suited to the changing face of health care today, said Williams, as health care providers adapt to providing several options that best suit patients in need of excellent care. For newborns in particular, keeping them at home can lessen their exposure to potential infectious diseases in their first weeks of life. The services for home visits don't cost extra and what happens during the home visit is identical to what occurs in the exam room of a traditional doctor's office, she noted.
"It provides better access, less stress on families, and an opportunity for providers to work directly in a family's home where they may be more relaxed to bring up questions and concerns," Williams said.
Home visits for newborns are one of several initiatives at the South Jordan Health Center designed to offer more flexible patient care.
"University of Utah Health Care is excited to be among few large health care providers to add the options of home visits to our patients who have a diverse array of needs," said Michael Bronson, director of University of Utah Health Care's South Jordan Health Center. "We are proud to offer innovative and high-quality services to all of our patients, who turn to us as a leader in health care."
For one patient, Tiana Van Dyke, the new home visit service proved particularly helpful when her son Ander arrived early in August. Van Dyke said she appreciated the care and attention Williams provided. Being able to stay at home with both her newborn and his 2-year-old brother made the appointment easier than going to the clinic, she said.
"I feel like I know my doctor better. The fact that she's coming to my home and seeing where we live, it feels like she really cares," said Van Dyke. "And it's nice that I don't have to bring him to a waiting room and worry about him being around other people."
For more information on home visits through University of Utah Health Care's South Jordan Health Center, visit: http://homevisit.uofuhealth.org.