SALT LAKE CITY — For the 10th consecutive year, University of Utah Health ranks in the top 10 of the prestigious 2019 Vizient Bernard A. Birnbaum, MD, Quality Leadership Award.
The award recognizes academic medical centers for demonstrating superior quality and safety performance as measured by the Vizient Quality and Accountability Study, which has been conducted annually since 2005. The award was presented on Thursday, September 19th at the 2019 Vizient Fall Connections Summit held in Las Vegas.
This year, hundreds of academic medical centers and community hospitals were included in the study, which measures superior performance based on the Institute of Medicine's six domains of care: safety, timeliness, effectiveness, efficiency, equity, and patient-centeredness.
In addition to its placement on the top 10 list, U of U Health also ranked 2nd in Vizient's Ambulatory Care Quality and Accountability Awards. This is the fifth year in a row the U has ranked in the top five in this category.
This award recognizes excellence in delivering high-quality outpatient care in five ways: access to care, capacity management and throughput, quality and efficiency, a continuum of care, and equity. Those recognized as top performers have adopted world-class practices and solutions to optimize the patient experience.
"A track record of 'Top 10 for 10' for inpatient quality and 'Top 5 for 5' in ambulatory care is an incredible achievement. I want to thank all of our faculty and staff who made this recognition possible," says Michael Good, CEO of University of Utah Health. "Even more significant is what this means in terms of the patient-centered culture we have created. This honor means we're listening to our patients and offering them better, safer, and more convenient care. And we're determined to keep getting better."
"This wonderful national accomplishment and significant milestone is a great example of what's possible when we embrace opportunities to collaborate and work together," says Gordon Crabtree, CEO of University of Utah Hospitals & Clinics. "We have our vigilant, unified care teams to thank for constantly propelling us forward. Together, we are transforming the way we care for patients in Utah and in surrounding communities."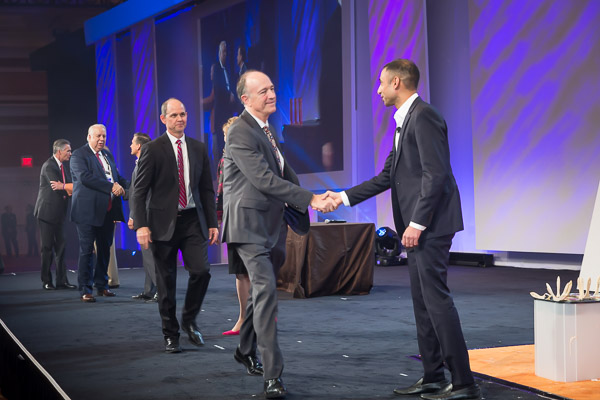 The 2019 Vizient Quality and Accountability Study Rankings place U of U Health in the company of the nation's top academic medical centers:
Rush University Medical Center
NYU Langone Medical Center
Mayo Clinic – Rochester
University of Utah Health
Hospital of the University of Pennsylvania
UC San Diego Health
Memorial Hermann – Texas Medical Center
Stanford Medicine
University of Texas Medical Branch at Galveston
Oregon Health and Science University
Vizient, Inc. is the largest member-driven health care performance company in the U.S. In previous years, the Vizient Excellence Awards were known as the University Health System Consortium Awards.
The composite scoring system uses patient-level performance data from a variety of sources, including the Vizient Clinical Data Base, the Vizient Core Measures Data Base, the Hospital Consumer Assessment of Healthcare Providers and Systems (HCAHPS) survey, and the Centers for Disease Control and Prevention's National Healthcare Safety Network.
###
University of Utah Health is the state's only academic health care system, providing leading-edge and compassionate medicine for a referral area that encompasses 10% of the U.S., including Idaho, Wyoming, Montana and much of Nevada. A hub for health sciences research and education in the region, U of U Health touts a $356 million research enterprise and trains the majority of Utah's physicians and more than 1,250 health care providers each year at its Schools of Medicine and Dentistry and Colleges of Nursing, Pharmacy and Health. With more than 20,000 employees, the system includes 12 community clinics and four hospitals — University Hospital; University Neuropsychiatric Institute; Huntsman Cancer Hospital; and the University Orthopaedic Center. For 10 straight years, U of U Health has ranked among the top 10 U.S. academic medical centers in the rigorous Vizient Quality and Accountability Study, including reaching No. 1 in 2010 and 2016.