The Huntsman Mental Health Institute and the Ad Council today unveiled their most comprehensive communications initiative yet, designed to create a more open, accepting and proactive society when it comes to mental health.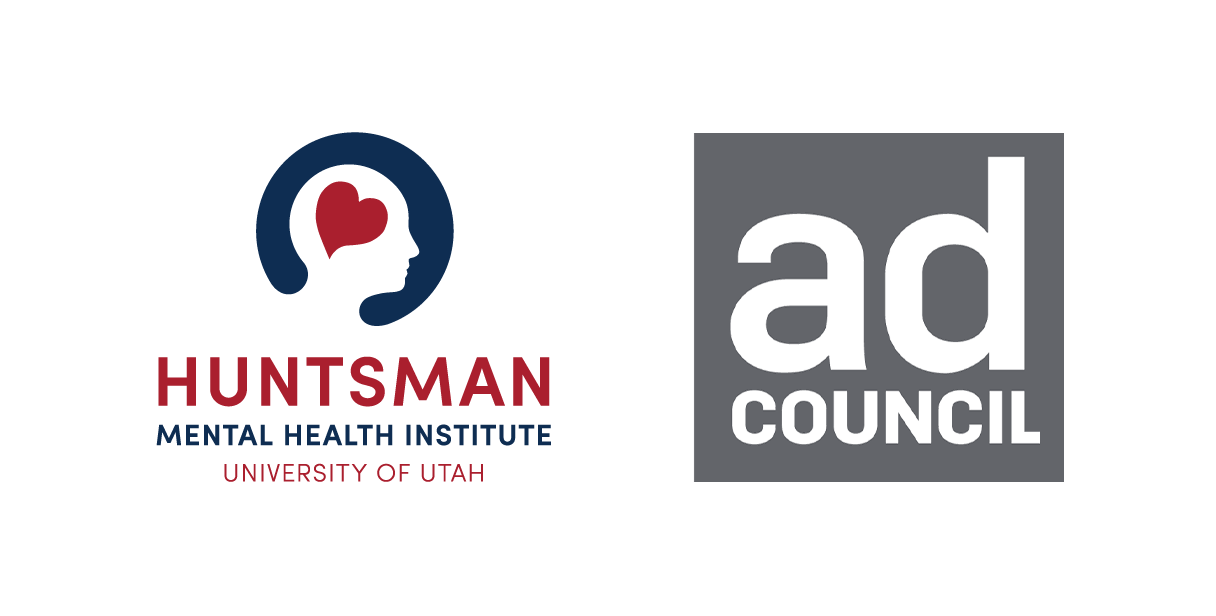 Through extensive market research, the new "Love, Your Mind" campaign was developed to resonate with the nearly 70 million adults across the U.S. who are likely to experience mental health challenges – while also holding attitudes and beliefs that may discourage them from seeking help. Building on the Huntsman Mental Health Institute and the Ad Council's long-term commitment to advancing mental health, this latest effort convenes experts, media platforms and influential voices to change the conversation around mental health at an unprecedented scale.
"Love, Your Mind" offers free mental health resources on LoveYourMindToday.org, or ConAmorTuMente.org in Spanish. The campaign is releasing multiple national PSAs designed to resonate with specific audiences among the 70 million, beginning with content tailored for Black men and for Hispanic men (in both English and Spanish), who are overrepresented among this group.
"People of color in our country frequently experience racial battle fatigue: a systemic racism-related repetitive stress injury that is strongly correlated with mental health challenges," said Dr. William A. Smith, chief administrative officer for justice, equity, diversity, and inclusion at Huntsman Mental Health Institute. "We're proud to launch the 'Love, Your Mind' campaign with an initial focus on reaching Black and Latino men, acknowledging their experiences, and offering them the mental health tips and resources to help them thrive in life."
"There's a mental health crisis in our country that has been laid bare by the challenges of the last several years: the COVID pandemic, economic uncertainty, and the ongoing movement for racial justice," said Lisa Sherman, president and CEO of the Ad Council. "With the 'Love, Your Mind' campaign, we are offering people inspiration and actionable steps they can take to make their mental health a priority and experience how that benefits every area of their lives."
The message of "Love, Your Mind" inspires individuals to nurture their relationship with their minds the same way they care for their closest personal relationships. The campaign's creative assets were developed pro bono by creative agencies FCB New York and FCB Chicago and directed by award-winning director Calmatic. The project was co-produced by project3 and Prettybird. Plural* is also producing audio spots in both English and Spanish.
"Supporting your mental health must be normalized," said Mike Williams, Executive Creative Director, FCB New York. "It must – because your mind is the most valuable asset you have and caring for it, nurturing it, strengthening it, can ultimately get you to where you want to go in life."
All "Love, Your Mind" PSAs and activations promote LoveYourMindToday.org, a new website that helps individuals explore specific emotions and scenarios that can affect their mental health, along with suggesting self-care strategies and coping practices. The website also features stories from a variety of people reflecting on how they have navigated their own challenges, assuring site visitors that they are not alone in their struggles.
Beginning today, the campaign will appear nationwide in advertising inventory made possible by donations from the media, including TV, radio, out-of-home (OOH) and digital formats. Pro bono support will be provided by iHeartMedia, Kargo, PatientPoint, Phreesia, Pinterest (with custom creative developed by VidMob's creative intelligence technology) and TikTok (with creator content facilitated by Whalar), among others. Additionally, a robust collaboration with RAB will also extend the reach of the campaign to radio stations across the United States. IPG Mediabrands is the media agency of record, as an extension of IPG's longstanding support of the Ad Council's mental health efforts.
Adobe has also donated Adobe Express Premium Plan subscriptions for use in developing campaign assets, allowing campaign partners to amplify the message of "Love, Your Mind" by accessing custom Adobe Express templates to easily design and share content.
Stephen A. Smith (host of The Stephen A. Smith Show) and Eric Bigger (personal development coach and host of "Bigger Talks" podcast) are among the influential voices who have committed to amplifying the campaign through their platforms.
To complement mass media reach through the national PSAs, the campaign has also partnered with agencies who have deep expertise in engaging the Black community (House of JOY), Hispanic community (Latinovations) and the faith community (Values Partnerships). Upcoming activations developed in partnership with community-based organizations and leaders include:
A mental health summit in New York City on November 9, developed in partnership with iHeartMedia, which will feature remarks from Charlamagne tha God, Dramos, Q Ward, and Ramses Ja, inviting talent, creators, brands and advertising and media industry leaders to create content on behalf of the campaign
A "Mann to Man®… Love, Your Mind" series on MannTV, hosted by actor and comedian David Mann in conversation with Anthony Evans, Kirk Franklin, Lance Gross and Israel Houghton, debuting on November 9
A first-of-its-kind mental health e-learning hub for faith leaders, launching on November 14 with a virtual symposium hosted by Bishop T.D. Jakes
Spoken-word poetry PSAs created in collaboration with the "How Sweet the Sound" gospel music competition, which will be released in November
A special event hosted by Mike Alfaro, creator of "Millennial Lotería," that welcomes actors, comedians and influencers @MexicanGueys and @LGNDFRVR for "Entre Hermanos (Between Brothers) …Love, Your Mind," which will air on LATV (Latino Alternative Television) platforms in early December
Ongoing partnership with NAACP, including promotion of this summer's mental health panel featured on The Hub mainstage at the NAACP national convention
The "Love, Your Mind" PSAs and resources were developed by Huntsman Mental Health Institute and the Ad Council in consultation with a panel of experts. The campaign is also supported by leading mental health organizations including the American Foundation for Suicide Prevention, the American Psychiatric Association, the American Psychological Association, the Massachusetts Association for Mental Health, Meadows Mental Health Policy Institute, Mental Health America, National Alliance on Mental Illness, National Association for Behavioral Healthcare, National Association of Social Workers, the National Council for Mental Wellbeing, Peg's Foundation, Steinberg Institute, The Jed Foundation and The Kennedy Forum.
"Love, Your Mind" is the latest effort from the Ad Council's Mental Health Initiative, which unites brands, marketers, media companies and nonprofits to address the mental health crisis throughout the U.S. The initiative is supported by a generous founding investment from Huntsman Mental Health Institute, with additional contributions from Adobe.
The initiative's Mental Health Toolkit – developed with and for community leaders, grassroots groups and mental health nonprofits to advance their work on mental health – is now available to the public with community-specific fact sheets, messaging guidelines and downloadable social assets. Resources for employers to support mental health in the workplace are also available through the Health Action Alliance, a joint initiative of the Ad Council, the CDC Foundation and the de Beaumont Foundation in partnership with Meteorite.
For more information on the campaign and to access free mental health resources, visit LoveYourMindToday.org or follow the campaign on Instagram, Facebook and TikTok.
ABOUT HUNTSMAN MENTAL HEALTH INSTITUTE
Huntsman Mental Health Institute at University of Utah Health brings together 75 years of patient care, research, and education into one of the nation's leading academic medical centers focused on mental health. Nestled in the campus of University of Utah, Huntsman Mental Health Institute serves the community with 1,600 faculty and staff in 20 locations providing inpatient and outpatient services for youth, teens and adults as well as a comprehensive crisis care model which includes the nationally recognized SafeUT app and the 988 crisis hotline for Utah. Our mission is to advance mental health knowledge, hope and healing for all. Learn more at HMHI.utah.edu and join the conversation on Instagram, Facebook, TikTok, X and LinkedIn.
ABOUT THE AD COUNCIL
The Ad Council convenes creative storytellers to educate, unite and uplift audiences by opening hearts, inspiring action and accelerating change around the most pressing issues in America. Since the non-profit's founding, the organization and its partners in advertising, media, marketing and tech have been behind some of the country's most iconic social impact campaigns – Smokey Bear, A Mind Is a Terrible Thing to Waste, Love Has No Labels, Tear the Paper Ceiling and many more. With a current focus on mental health, gun safety, the opioid epidemic, skill-based hiring and other critical issues, the Ad Council's national campaigns encompass advertising and media content, ground game and community efforts, trusted messenger and influencer engagement, and employer programs, among other innovative strategies to move the needle on the most important issues of the day.
In November 2022, the Ad Council announced a new Mental Health Initiative, uniting brands, marketers, media companies and nonprofits to address the mental health crisis throughout the U.S. at scale. With a founding investment from Huntsman Mental Health Institute, the multi-year initiative aims to change social norms and create a society that is more open, accepting and proactive when it comes to mental health.
To learn more or get involved, visit AdCouncil.org, join the Ad Council's communities on Facebook, Instagram, LinkedIn and X, and view campaign creative on YouTube.
ABOUT FCB
FCB (Foote, Cone & Belding) is a global, award-winning and integrated marketing communications company with a heritage of creativity and success dating from 1873. Named Cannes Lions 2022 #2 Global Network, 2022 Ad Age A-List, 2022 Fast Company Most Innovative, Cannes Lions 2020/2021 Global Network of the Year, Adweek 2020 Global Agency of the Year and the #1 Global Network on The Good Report, FCB focuses on creating Never Finished campaign ideas that have the power to transform brands, businesses and communities. With more than 8,000 people in 109 operations in 80 countries, the company is part of the Interpublic Group of Companies (NYSE: IPG). Visit fcb.com or follow @FCBglobal on Instagram and X and FCB Global on Facebook and LinkedIn.