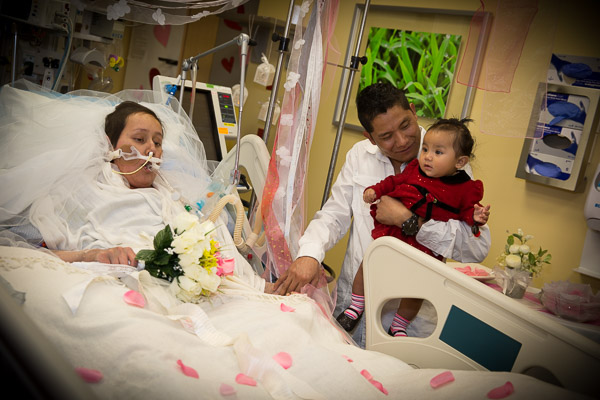 The Medical Intensive Care Unit transformed into a wedding chapel Wednesday night, complete with fresh flowers, pink decorations and teary-eyed guests. A "Just Married" sign hung above the entrance of a patient room, and nurses and other staff watched from the doorway or peered through the window to witness the joyous scene.
Maria, the bride, wore a veil as she spoke her vows from her hospital bed, and her groom Carlos beamed as he stood by her side. Maria's care team cheered as U of U Hospital chaplain Genny Rowley pronounced the couple husband and wife.
When Maria and Carlos told hospital staff they wished to marry, a team of social workers, chaplains and medical providers jumped into action. They brought in a notary to witness the couple filling out their paperwork and obtained a letter from Maria's physician explaining why she couldn't go to the courthouse. They even had the hospital cafeteria bake a wedding cake.
"There were kind of a lot of hoops to jump through, and we were happy to facilitate all those hoops," Rowley said.
It was unique moment in the MICU but not unheard of. Chaplain Susan Roberts estimated that one patient per year requests to be married while staying at the hospital. Sometimes it's for legal reasons; other times it's because the couple has grown close during a trying time and they wish to seal the deal.
"It's been a tough week here in the MICU, so to be able to help create this bright spot is really wonderful," Rowley said.
Nursing Director of Critical Care Colleen Connelly was among the wedding guests. It's not just the health of people that her team treats but their emotional needs as well, she said.
"The staff tried to make it as special an occasion as possible, and we're incredibly honored to be allowed to be part of this special time in their lives," Connelly said. "I have the most fantastic team. They've been decorating all day."