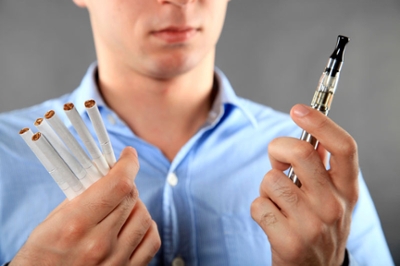 Some proponents of electronic cigarettes claim the devices help people quit smoking, but a new study blows smoke on that idea.
Researchers at University of California, San Diego surveyed 1,000 California smokers over one year to see whether "vaping," as smoking electronic cigarettes is called, could help wean the smokers off regular cigarettes.
They found that smokers who used electronic cigarettes were significantly less likely to quit smoking for a month or more than those who never used electronic cigarettes. People who "vaped" were also less likely to cut down on the number of cigarettes they smoked.
"Substituting one habit for the other is the risk you run with e-cigarettes," says University of Utah psychiatrist Jason Hunziker, MD.
The liquid in electronic cigarettes is available in varying strengths of nicotine concentration, so users may be getting more of the drug than they realize. "The more you use a vaporizer with more nicotine, the more dependent on it you become," Hunziker says. "That would make it harder to avoid nicotine in any form, which could lead back to smoking regular cigarettes."
The new study follows research published earlier this year that found that electronic cigarette devices operated at high voltage produced high levels of formaldehyde, a known carcinogen that can increase the risk of leukemia, lymphomas, and nasal and sinus cancers.
Medical experts say the prospect of unknown risks is one of the biggest concerns about electronic cigarettes. "The regulation is poor in regard to the liquid that they are vaping," Hunziker warns. "We don't know if there are toxic substances being inhaled that could be just as bad or worse than smoking traditional cigarettes."