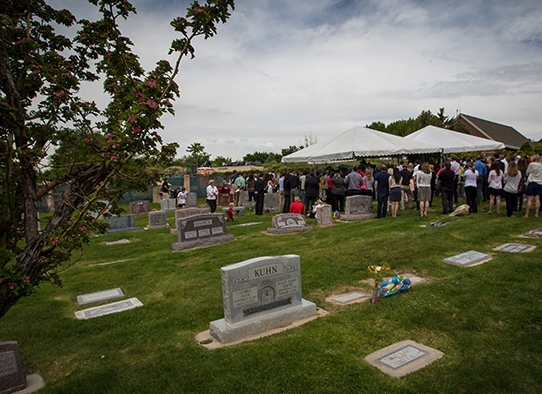 A beloved son who died after a battle with sarcoidosis. A military man whose final act of service was donating his body to medical science. A grandmother who had depression and wanted to contribute to research that allays suffering.
These are a few of the people who were honored at a memorial service Friday at the Salt Lake City Cemetery for donating their bodies to advance science and education at the University of Utah School of Medicine.
The annual service provides a chance for students and faculty to pay their respects to donors and their families whose gift contributed to their educations in ways a textbook simply can't touch.
"They taught us that behind every disease, behind every cog and wheel of the human body, there's a person," said first-year medical student Ryan Watkins of the donors.
Other students employed a similar theme, noting that their "first patient" served as a teacher they will never forget, a person who inspired them and helped launch their medical careers.
"It just gave me a whole new appreciation for what Neil did," said Murial Andersen after the service. Her husband Neil donated his body after dying with Alzheimer's disease in August.
The event included speakers, musical performances and an open-mic session in which families were invited to share their thoughts. One woman said some of her family members had anxiety and trepidation about donating, but she believes attending the tribute has given them peace.
"I wanted to thank all the families for the donation their loved ones made," said bioengineering student Stephanie Lietzke, explaining why she wanted to be there. "I'm grateful for the opportunity they gave us, and I think it's really important that the families know we treat them with respect."
The donors' remains were cremated and are either buried at the cemetery or given back to families. Find information about the Body Donor Program.