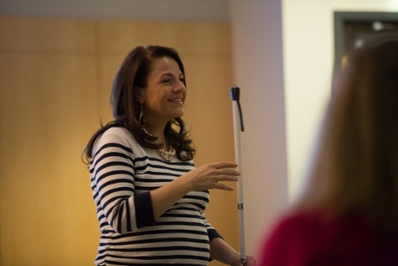 In a recent survey, people ranked vision loss as one of their top fears, right up there with cancer and Alzheimer's. But, 4.1 million Americans already live with "low vision," meaning they have trouble seeing even with their glasses or contacts. As we age, our risk of vision loss increases dramatically, and many of us watch as mom or dad struggles with aging eyes.
But vision loss means more than loss of sight.
Isolation: Forty to fifty percent of older adults with low vision limit their activities.
Falls: 24,000 Americans over age sixty-five get injured in falls.
Mental Health: Older adults with vision loss suffer depression or anxiety at twice the rate of the rest of us.
What Can I Do to Help Mom and Dad?
"There are many things we can do to help people adjust to their new reality," says Lisa Ord, LCSW, PhD, of the John A. Moran Center. She heads the Patient Support Services Program created to address many issues that accompany vision loss. "It is important to process the emotional issues that come with vision loss. Many people go through a form of grieving. Fortunately, there are lots of resources available. From support groups to counseling services to assistive vision devices, many issues can be resolved." She suggests people start by attending Moran's "Orientation to Vision Loss" seminar, where you and family members can learn about the multitude of services available.
For Many, Vision Loss Doesn't Mean the End of "Seeing."
Today there are many devices available that allow people with low vision to continue to read, surf the net, watch movies, do all kinds of things. A certified "Low Vision Occupational Therapist" can make an on-site assessment of a home and suggest ways to make it easier for someone with low vision to live independently. Additionally, a low vision ophthalmologist can recommend devices to bring out the most of the vision remaining.
But What About You?
"Caregivers need to remember to take care of themselves, too," reminds Dr. Ord. "Caring for someone losing their sight can be exhausting and sometimes frustrating." The Patient Support Services program offers services to help you navigate your new role, too. Counseling and support groups are available and open to family members. "Making your mental health a priority will make things easier for everyone," she says.
There is Hope.
Vision loss is scary but it helps to know that it doesn't have to stop you. Dr. Ord hears from people all the time who say that, thanks to Moran's program, they have a renewed sense of hope and greater amount of freedom in their life. So tap into your resources and get your loved one feeling good again.