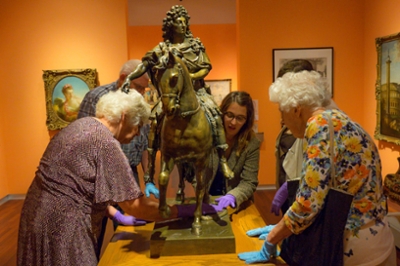 A diagnosis of "low vision," defined as vision that can't be corrected with standard eyeglasses, contact lenses, medication, or surgery, changes everything—from a person's confidence to the way they navigate the world.
Causes and Signs of Low Vision
It can happen at any age, but as we grow older, our risk of vision loss increases dramatically. Age-related macular degeneration accounts for almost 45 percent of all cases. Other causes include cataracts, glaucoma, or diabetic retinopathy.
Signs of low vision include difficulty recognizing faces, getting around a supermarket, choosing clothing and matching colors, cooking and adjusting dials—in fact, most of the activities we take for granted with good vision.
But vision loss means more than loss of sight. It can also lead to
Isolation: 40 to 50 percent of older adults with low vision limit their activities.
Falls: 24,000 Americans over age 65 get injured in falls.
Mental health issues: Older adults with low vision suffer depression or anxiety at twice the rate as the rest of us.
Living with Low Vision
While it can be frightening and challenging for the person with low vision and for families and caregivers, low vision doesn't have to signal an end to feeling independent and enjoying life.
"There are plenty of things we can do to help people who have lost their ability to see adjust to their new reality," says Lisa Ord, LCSW, PhD, of the John A. Moran Eye Center.
Ord heads Moran's Patient Support Program, created to address the myriad issues surrounding low vision or vision loss.
"It's so important to process the inevitable emotional issues that come with this change. Many people go through a form of grieving. Fortunately, there are lots of excellent resources available—from support groups and counseling services to assistive devices and home visits that can resolve a lot of important issues and open the door for people to move on," Ord explains.
Resources to Help You Cope
For many, vision loss doesn't mean the end of "seeing."
Devices that allow people with low vision continue to read, surf the internet, watch movies, and more, are widely available and getting better all the time. Certified low vision occupational therapists can assess a home and help create ways to make it easier for someone with low vision to get around and live independently.
"We have some great success stories," notes Ord. "One of our patients is a successful sculptor who makes her living with her work. As her vision changed and work became more challenging, we helped her adjust her studio lighting and find ways to work with different backgrounds so that she can see contrast. She has learned to do close-up work with a magnifying screen and wear a visor to focus what vision she does have. You'd be amazed at how a few well-planned adjustments can work wonders."
In addition to practical information (for instance, did you know that verified low-vision citizens of Utah are entitled to discounted cab vouchers?) the program arranges cultural outings, including "touch tours" at art and natural history museums or a night at an opera rehearsal.
"Our entire team is here to help people make it through and learn all about the resources and tools available to help them keep exploring life and moving forward," says Ord. "Low vision does not have to take the joy out of life. In fact, it can open new doors."