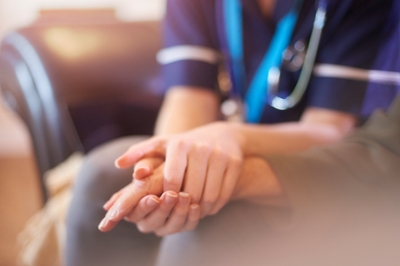 Many people equate palliative care with the end of life. It is so much more than that. "Palliative care is a medical specialty to help those people dealing with a serious illness," said Holli Martinez, FNP-BC, ACHPN, FPCN - program director for University of Utah Health's Palliative Care Service. "You can be seen by palliative care and still be seeking aggressive, life-prolonging medical treatment. It's about improving and maintaining quality of life."
One of the key tenets of palliative care is care on the patient's terms. To that end, early in the process the team will meet with the patient to discuss what they want in terms of medical care and interventions. "We will work with them to fill out what is known as an advance directive," said Martinez. "This is a document that lays out what kind of care they want in the event they become incapacitated or cannot speak for themselves for any reason."
Of course, that directive is not set in stone. Since palliative care is an ongoing process the conversation regarding the patient's wishes is always evolving. What they wanted at the time of their initial diagnosis may change over the weeks, months, or even years following. "They may change their minds about certain interventions after receiving treatment over a certain length of time," said Martinez. "Or they may have had something change in their lives that change their perspective. A significant amount of time is talking with the patient and their family about what is important and what tradeoffs they are willing to endure for the possibility of more time."
When a patient has six months or less to live they may choose to enroll in what is known as hospice, or comfort, care. This does not mean that care is ending or that there is "nothing more to do," but rather that the type of care needed is transitioning. "There is a lot that happens in hospice," said Martinez. "The team brings the same level of professionalism, medical expertise, and time as those working to optimize a disease or prolong life."
The goal of hospice is to ensure a peaceful, dignified death on the patient's terms. The hospice team looks at the physical, emotional, and even spiritual needs to help create the most comfortable and comforting situation possible. This may include moving a patient from the hospital to a care center or to their home. It may include planning for pain management or life-prolonging measures. It could even include planning for the last moments of life. "Hospice helps patients who are terminally ill live as high of a quality of life as possible, until their natural death occurs," said Martinez.
Health care is a spectrum of treatments, and interventions. Palliative care and hospice are an important part of that spectrum, but distinctly different parts of it. "Both are about treating the whole person," said Martinez, "however, palliative care is appropriate for all stages of serious illness while hospice care is reserved for those who are toward the end of their life."