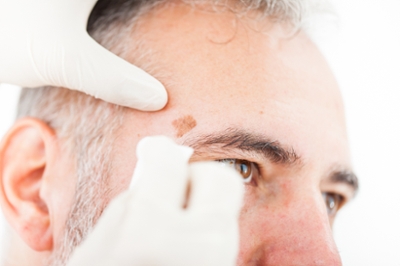 The words "cancer surgery" do not bring to mind a same day procedure in which the patient is awake for the whole process. That is exactly what to expect when undergoing Mohs surgery, a procedure used to treat common types of skin cancer in a way that is less traumatic for the patient and provides the highest cure rate. "Mohs surgery is the most effective surgical treatment for non-melanoma skin cancers," said Adam Tinklepaugh, MD, a dermatologist and Mohs surgeon with University of Utah Health.
Mohs surgery involves removing skin cancer layer by layer until no cancer cells remain. After the removal of each layer, the cells are frozen and analyzed by the Mohs surgeon to determine when enough tissue has been removed. It can be a time-consuming process. "It usually takes only 1-2 removal layers, or stages, to completely treat a skin cancer with Mohs surgery," said Tinklepaugh. "We tell all of our patients that they should expect to spend approximately 2-6 hours in the clinic on their Mohs surgery day."
Once all of the skin cancer cells are removed, it's time to close the wound and repair the remaining skin. This is done with the goal of preserving as much healthy skin as possible. Depending on the size of the wound it can take between an hour to an hour and a half for the repair to be complete. "Patients should expect the smallest amount of scarring possible," said Tinklepaugh. "Fellowship-trained Mohs surgeons perform on average more facial skin reconstructive surgeries than any other medical specialty."
That's right; the same surgeon that removes the skin cancer is also the surgeon that repairs the skin. They also are the ones who analyzes the skin. Mohs surgery is unique in that the same doctor is both the pathologist and surgeon. "All fellowship-trained Mohs surgeons are dermatologists and extensively trained in dermatopathology and facial reconstructive surgery," said Tinklepaugh.
Recovery from Mohs surgery usually involves simple wound care, which can be performed at home with simple supplies. The surgeon and their staff will review exactly what patients need to do before going home. "I always recommend that patients gently wash their surgical site with soap and water and cover their stitches with petrolatum ointment," said Tinklepaugh. "Each surgeon has their own preferences, but overall wound care for skin cancer surgery is similar for most patients."
The majority of skin cancers treated with Mohs surgery are basal cell carcinomas and squamous cell carcinomas that typically don't require additional treatment after they are removed. Certain types of melanoma can be treated with Mohs surgery, but this is performed by a few Mohs surgeons with additional training and equipment. Occasionally, Mohs surgery requires supplementary therapies like radiation or chemotherapy or collaboration with other surgeons.
"Fortunately, most fellowship-trained Mohs surgeons have a network of other physicians that are able to assist in their patient's care," said Tinklepaugh. "These additional treatments are usually provided by radiation, medical, and surgical oncologists"