If you've never experienced back pain, you probably know someone who has. It is among the most common and costliest of health care conditions. In 2016, Journal of the American Medical Association (JAMA) reported that costs due to back pain trail only diabetes and heart disease in total health care costs in the United States.
To better treat lower back pain and lower the cost, University of Utah Health is streamlining treatment by no longer grouping every patient with an aching back into one group in need of one kind of care.
Like other health care systems, we identified the fact that too many patients receive an MRI exam, spinal injections, or visit a specialist too soon when looking for pain relief. These steps are taken before back pain patients have tried recommended strategies involving education on pain management and exercise that are provided by physical therapists. Not only are these treatments effective for many patients, the approach can streamline the process. Scheduling tests, procedures and specialty physician visits can involve long wait times along with high costs and a high level of frustration for patients. Directing patients towards early, effective strategies that help patients take control of their back pain can get them out of the health care system and back to life sooner and at lower cost.
A team of our physical therapists and physiatrist MDs evaluated what could happen if we implemented a "high value" pathway for patients dealing with lower back pain. For the past 2 years we let many patients with back pain chose a path that offered them the option of getting physical therapy first, before specialized care began. Only those patients who were not satisfied with their recovery would then proceed to more expensive care.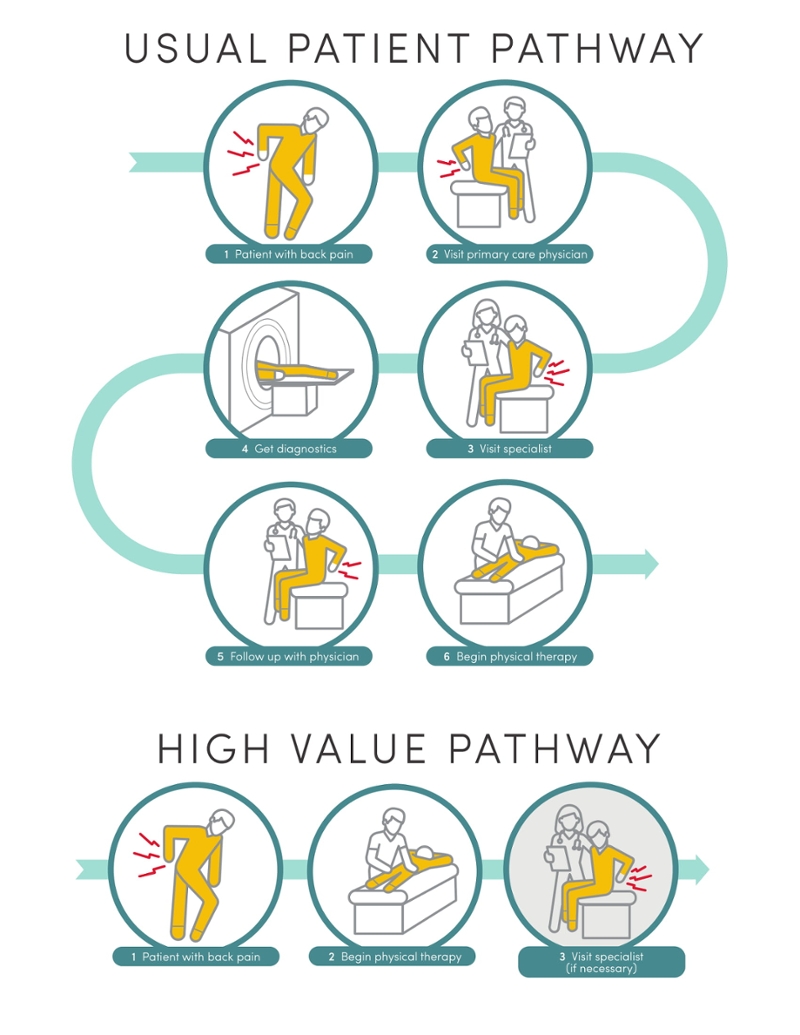 The results are encouraging. Patients trying physical therapy first, have shown a 54% reduction in use of x-rays, a 66% reduction in use of MRI exams, a 70% reduction in consultation with spine surgeons, and a 71% reduction in injections when compared to patients pursuing specialist care first.
Now we're beginning a 5 ½ year study of lower back pain treatment that builds off those results. There are several treatments patients can try before considering more expensive care such as mindfulness, cognitive behavioral therapy as well as physical therapy. Each of these treatments help patients self-manage pain without expensive or invasive procedures. Clinicians don't have a lot of good data to help patients make the best decision about which type of treatment may benefit them most. Our new study aims to supply that data. In May, we received a $9.5 million grant from Patient-Centered Outcomes Research Institute (PCORI) to determine which non-invasive treatment works best for individual patients with chronic back pain.
I'm leading a team of physical therapists, psychologists, social workers and primary care providers who treat chronic pain, including experts in cognitive behavioral therapy and mindfulness, and biostatisticians who will examine which type of treatment benefits which patients the most. Our goal is to uncover guidelines to aid clinicians. We will follow the treatments and results of about 900 patients.
We're eager to perhaps ease the global burden of lower back pain while we stay focused on delivering the highest value care to patients in our health care system every day.